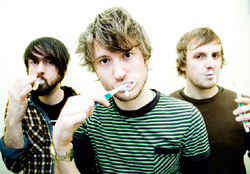 Grungy Leeds alt-rockers Dinosaur Pile-Up prep to shred all over the intimate Hope with as much youthful abandon as their name suggests. RESCHEDULED from earlier date.
One of those bands that seem destined (even determined) to remain at middling popularity, Dinosaur Pile-Up do so not because of lack of talent or any avant-garde leanings – rather, their super-palatable brand of vibrantly melodic rock is stubbornly reminiscent of the nineties stylings of Foo Fighters and Weezer, rather than the contemporary rock climate. Far from being stale retro kids though, Matt Bigland's Yorkshire three-piece reek of the unadulterated youthful vigour of teen imagination and passion. From early track titles like 'Love Is A Boat And We're Sinking' through to June's sophomore effort Nature Nurture, whose cover consists of some poor feller face-planting, the focus is on goofy teenage abandon – all beefy power chord progressions, punchy drums and big choruses about trainers and killer whales.
This playful focus on the visceral thrill of teeny rock music ensures DPU remain a rock band who put, before 'experimentation' and 'artistic integrity', fun. And there'll be bags of it in The Hope's stuffy upstairs – expect brightly-coloured, beer-soaked tees all round as Bigland and co share the joy of youth to the tune of Dave Grohl-esque riffage and mosh-lite singalongs. Rockin'.
£7.50 adv + BF, 18+, 20:00.
See drinkinbrighton.co.uk for more information and to buy tickets.