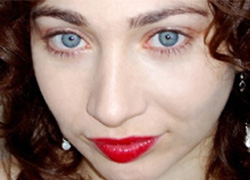 Queen of quirk Regina Spektor brings her eccentric vocal stylings and eclectic anti-folk songwriting to Bexhill's De La Warr.
While Regina Spektor – brought up in Soviet Moscow – has long been included amongst the various and varied artists in the 'anti-folk' scene (her husband was the guitarist with The Moldy Peaches and she rose to fame by playing at NY's anti-folk East Village), her renown for charming eccentricity and, well, quirkiness, has shot her higher than most of her peers, once lauding her as "the Joni Mitchell of her generation". Affecting her extensive vocal range with unusual techniques and stuttering rhythms, often donning various accents like so many colourful jackets, she trots through her vibrant ditties with a captivating enthusiasm – songs otherwise exploring pop-Freudian themes, literary references and meatballs in refrigerators. Together with a vibrant sonic palate, this formula has seen her release six highly acclaimed studio albums in twelve years – the fourth of which, Begin To Hope, was nominated for the Shortlist Music Prize.
Her date at Bexhill's De La Warr comes at the tail end of promoting her 2012 album What We Saw From The Cheap Seats, but the recent emergence of non-album track 'You've Got Time' (soundtrack for new Netflix series 'Orange is the New Black') shows that her notoriously prolific musical output is already catching up with her. Whether or not Bexhill's roomy interior can contain Spektor's bursting talents remains to be seen, but you can count on an unflinchingly vigorous showmanship and a set list full of alternative anthems.
£25 adv + BF, 19:00, last train back to Brighton at 23:30.
See www.dlwp.com for more information and to buy tickets.