It's been an unusual time for all of us, but one great thing that has fallen out of it is the chance to show that with a bit of imagination there are new ways to have an awesome time; even when we can't go out!
Spectacular two-day digital music festival experience 'Tomorrowland Around The World' will unite some of the biggest names in electronic dance music on one bill, along with the world's best technology in 3D design, video production and special effects.
Taking place on 25th and 26th July 2020, for one weekend only you're welcomed to join guests from every corner of the world for an entertainment spectacular with no borders or boundaries, inviting those of all ages, from all places to be part of this world-first event!
Tomorrowland has listened to the requests received over the past few months from its community around the globe to do something special during the two sold-out weekends of Tomorrowland Belgium. In an inspired response Tomorrowland introduces a brand new platform inviting  visitors to join in with a never-before-offered two-day festival experience.
With just a PC, laptop, smartphone or tablet, festival visitors can easily navigate a magical and newly created Tomorrowland site to explore with friends a jam-packed schedule with plenty to do, see and experience, no VR goggles required!
Following the Tomorrowland tradition it's all about music and spectacular shows – with 8 different stages including Atmosphere, Core, Freedom Stage and Elixir, as well as 3 brand-new stages  created especially! Each stage will bring together music from the world's best artists in dance and electronic music;  from all genres – and some of the fireworks and laser shows Tomorrowland is known for!
Expect a chance to get involved in a huge range of interactive experiences, from inspirational webinars to games and workshops related to lifestyle, food, fashion and the Tomorrowland Foundation. All this together with the performances, and 'Tomorrowland Around The World' will be a full day/weekend experience, taking place between 3pm and 1am CEST. There will also be a 'time-zone-friendly' option for visitors from Asia and North or South America.
Michiel Beers, co-founder of Tomorrowland explains more:
"Tomorrowland Around The World is the result of a gigantic team effort of hundreds of people who are working around the clock to create a never-before-seen interactive entertainment experience. Since we started this project and all ideas came together, we immediately felt an enormous energy and lots of positivity from everybody involved."

"We truly believe that we can bring the spirit of Tomorrowland and entertainment at the highest level to people and homes around the globe. We hope that hundreds of thousands of people will unite in a responsible way and that small Tomorrowland gatherings at people's homes – from Canada to Australia, from Japan to Brazil and everywhere in between – will be organised. Especially during the weekend where normally Tomorrowland Belgium would take place, we really have the power to unite the world."
Tomorrowland  invites you to get involved to experience this unprecedented digital festival with friends – dress up in your best festival outfit, put up tents in your back garden to create your own DreamVille, set up a big screen, invite loved-ones for a  barbecue with music and an amazing festival experience, decorate your balcony or throw a party in your living room! This weekend it's all about uniting through the power of music in a responsible and safe way!
More about this all-new Tomorrowland location will be revealed in the coming weeks, and tickets will go on sale on Thursday June 18th via tomorrowland.com.
The details:
Taking place on Saturday July 25th and Sunday July 26th, 2020.
Between 3pm & 1am CEST. ('Time-zone-friendly' version for visitors from Asia and North and South America).
All ages and places.
Accessible exclusively on Tomorrowland.com.
Line-up announcement Monday June 15.
Day ticket costs €12.50.
Weekend ticket costs €20.00 –  includes a week of video-on-demand content to relive the entire experience.
Special People of Tomorrow packages and Home Party packages will be available, look out for info and updates at the office site.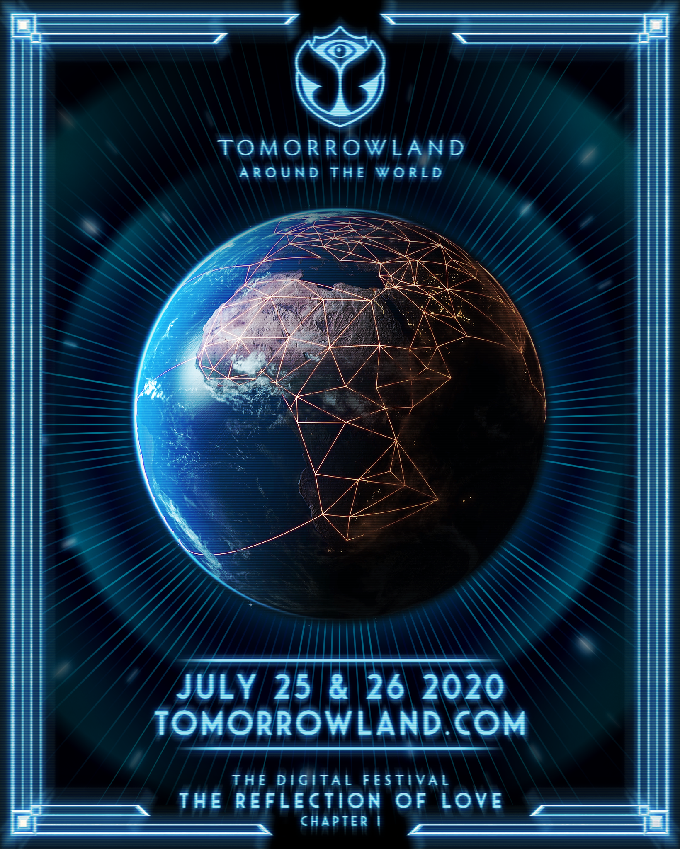 From Tomorrowland 2019…