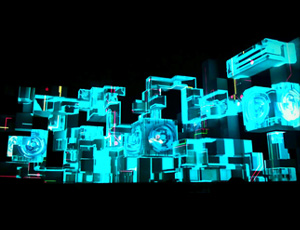 Electronic auteur Amon Tobin brings his supreme audio-visual experience to Sussex for one of his last UK performances.
Brazilian-born, Montreal-based producer Tobin has been pushing the envelope of electronic music for almost two decades now, especially since his signing to seminal label Ninja Tune in 1996. Spanning jazz breakbeat, drum'n'bass and hyper-tense electronica, his own albums as Tobin or alias Two Fingers have seen fairly universal critical acclaim, notwithstanding a pocketful of film and video game soundtracks, which show off Tobin's unbeatable talent for dense, nail-biting arrangements.
ISAM, a collaboration with London-based visual artist Tessa Farmer, focuses on marrying Tobin's intricate arrangements with a super-complex 'beyond 3D' visual installation for live performance. Basically gunning for electronica's mantle for the supremely epic light show, ISAM revolves around top of the range projection technology over a gargantuan construct of interlocking, warped cubes. The visuals are dextrously tied to Tobin's live knob-twiddling for a perfectly synchronised exercise in audio-visual entertainment. ISAM 2.0 essentially scales this up to match Tobin's expanded back catalogue, with a new set of Two Fingers tunes bolstering an already monstrous experience.
Overall, ISAM 2.0 is an experience so meticulously geared for the viewing that it's unmissable, almost regardless of taste for Tobin's particularly grizzly approach to virtuoso electronica. The train down to Bexhill is a short price to pay for the utmost peak of live performance technology around.
£32.50 adv + BF, 19:30-22:30. Last train to Brighton at 23:31.
See dlwp.com for more information.