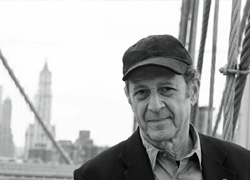 Steve Reich, minimalist pioneer and one of the most influential living composers on pop music, re-imagines the songs of Radiohead in the first week of its world premiere.
Whether or not you've picked up a classical record in your life, you've probably heard the ghost of his influence over countless pop and electronic records over the last fifty years. Named one of "a handful of living composers who can legitimately claim to have altered the direction of musical history" by The Guardian, Reich's experimentation with minimal composition, tape loops and phasing in particular has been completely saturated into pop music's consciousness for decades. Take Brian Eno, heavily indebted to Reich, whose touch on pop, punk and techno music's palettes since the 70s is undeniable – see David Bowie. And as the only remotely classical artist billed at last summer's Bloc festival, alongside the biggest names in electronic music and, err, Snoop Dogg, his crucial importance to dance and electronic music is widely accepted.
So, despite being able to witness one of pop music's foundational artists live, his performance of Radio Rewrite lets you see music history folding back on itself. Radiohead, one of countless generations of pop music influenced by Reich, are also one of the only pop artists to influence Reich himself. After hearing Jonny Greenwood's performance of his own seminal piece 'Electric Counterpoint', Reich took such an interest in the band that he's prepared a piece directly reinterpreting two of their songs: 'Everything In Its Right Place' (from 2000's Kid A) and 'Jigsaw Falling Into Place' (from 2007's In Rainbows). The performance at the Dome will be the third ever, days after its world premiere at the Southbank in London, and it will doubtless be an affirmation of both artists' incredible position in the world of contemporary music, as well as a cracking bit of music for all.
Reich and the London Sinfonietta will also perform a number of the composer's most seminal works, including 'Electric Counterpoint', 'Clapping Music' and 'Double Sextet', as part of a masterclass in creating beautiful, rich music from its barest elements. One for fans of pop, classical, and anyone with ears.
Tickets from £10, 19:30.
See brightondome.org for more information.