Freebutt, 20 April 2010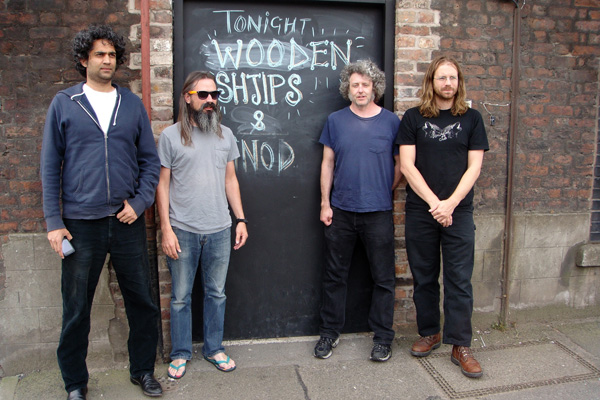 We here at XYZ do jolly well love a good genre mash-up, that colossal breaking down of musical barriers that has the ability to produce something quite extraordinary sounding. Tonight's gig pleases us greatly, for these particular genre-bending San Franciscan psychedelic/garage/whatever journeymen have not only chosen to play in Brighton, but have chosen to play the too-small-for-a-band-this-epic Freebutt.
What quickly becomes apparent as the band pile headfirst from soundcheck into song is that they are playing this music as much for themselves as for tonight's enraptured audience. Keyboardist/sampler Nash Whalen in particular seems to have consumed a few too many, shall we say, substances this evening and he appears totally lost in the walls of noise he is creating, noise that hugs Eric Johnson's desert-flavoured, drone-like guitar riffage quite suitably. Witnessing the band play 'Motorbike', it's as if your body is torn between speeding up and slowing down, the repetitive nature of the song lulling you into a false sense of security before suddenly that familiar floaty guitar solo begins to whine away as if by magic.
The songs themselves seem to never end, the subtlest of tonal progressions interjecting the psychedelic drone to ensure things are kept interesting throughout. The band are neither the greatest talkers nor dancers, rear-of-stage filmic projections representing the visual highlight. One finds it beneficial to, at times, close the eyes and let the music take you on a journey. And boy, what a journey! 'Loose Lips' in particular conjures up images of some kind of freak drug-trip across Death Valley at sunset, not that many of us have had the dis/pleasure but you get the idea!
It only seems natural that such a band could have originated from the Bay Area, home after all to psychedelic greats such as The Grateful Dead and Jefferson Airplane (a song by whom Wooden Shjips are named after). In time, they too may come to represent all that is eclectic about San Francisco. One thing is for certain, they will never play a room as small as the Freebutt again!
What did you think of the gig?
Dave: 9/10 "It was epic!! It was so cool seeing them in such a small venue; thank god they beat the ash cloud!!"
Peter: 9/10 "That was really fun, the guitarist looks like that guy out of The Wire!"
Ed: 10/10 "It was great; I almost fell asleep, but in a really good way."
Stuart: 9/10 "I think they went down really well, people seemed mesmerised! I hope they come back and play in Brighton again soon."
Words by Oli Robertson
(Photography credits: Sanae Yamada)