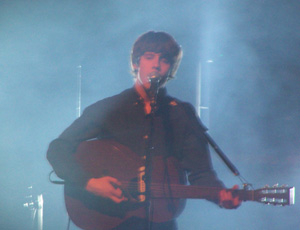 I think Jake Bugg has got to be the coolest teenager ever: he's got a number one album under his belt, a nearly completely sold out tour and is dating a model- what 18 year old doesn't want that? Even though Jake Bugg has all these things and more, he was still very humble at the fact that we had all come to see him play the Brighton Dome.
It was very refreshing seeing the Nottingham raised teen live for myself as his voice is so pure and natural- like his stage presence. I also didn't realise he had such a broad audience: down at the front were the excitable teenagers, to one side of me there were parents who had brought their children as young as five and on my other side there were people as old as or older than my grandparents and somehow, Jake had catered for all ages.
I was hoping that Jake wouldn't act cocky or come across 'too big for his boots' as I was worried this might ruin my perception of him, but I was very pleasantly proven wrong as he came across as a real gentleman. Even though there was little crowd interaction, he still thanked us after every song and when he did interact, it was humorous and the perfect fit for the tone of the evening. Jake uttered 'You're all lovely singers… Well some of you' which provoked laughter from the crowd and the usual ruckus from the standing area, but it was these types of comments from Jake that made the audience warm to him even more.
Jake's set was immaculate and not to be flawed- he performed the whole album for us and even a brand new song, which was an immediate step up from the tracks on his debut- if that's possible. It's incredible to think how far he has come since this time last year and there's no stopping his race to the top. I was overjoyed that he played some of the not- so- popular tracks from his album such as Fire and Simple as this and not straight into the obvious crowd pleasers, such as Lightning Bolt, Two Fingers and Taste It, so there was a nice build up to what was going to be this sudden increase in tempo and when it came to these most popular tracks, it was something really special and something we will always remember. Jake's vocals and music were exquisite and smoothly exhibited and I consider the Brighton Dome to be the ideal scene for him to display his talent.
I'm glad I was able to see Jake Bugg in a smaller venue, before he gets too big, but from tonight I can tell that he will always stay true to his roots and himself. Jake is a true musician and obviously not in it for the money or the fame and you can notice who/what his influences are and it's clear he wants to share that with the rest of us. After seeing him in Brighton, I would most certainly jump at the chance to see him live again as it's a real treat for everyone and if you ever get the opportunity to watch him play- take it, as you most certainly will not regret it.