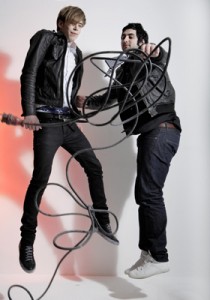 Concorde2, 8 May 2010
Either there a lot of young Tories at Concorde2 tonight, or someone has been slipping something into the bottles of water clenched tight in hipster hands, as the mood of celebration in the air is palpable. Though the doors have only been open for around an hour, the dance floor is already teaming with twisted bodies flailing into each other with wilful abandon, and even those on the fringes seem transfixed by the thundering slabs of bass and relentlessly propulsive synth lines emanating from the stage.
Digitalism are a German duo signed to the electro Shangri-La of Kitsune Maison recordings, and despite only having released one proper album (back in 2007), their stock remains high. Their album arrived on the coat-tails of both Justice's "Cross" and LCD Soundsystem's "Sound of Silver", and warranted comparisons with both due to its fusion of dance beats with a strong indie influence (they even produced a cover, of sorts, of The Cure's "Fire In Cairo").
Combining punky guitars with minimal techno is hardly a new idea, but it is the style, power and above all hooks employed by Digitalism that set them apart from an army of pretenders. "Magnets" throbs with glitchy urgency while tracks like "Zdarlight" build gradually from gently unassuming beepiness, to an eventual full on assault that pummels the crowd into submission.
There are a couple of unexpected touches, including a sneaky drop-in of "It's Like That" by Run DMC and Jason Nevins which comes as a welcome relief from the bass and synth bombardment. But for the most part it is Digitalism's show and they are not taking any prisoners. Even more poppy tracks like "Pogo" are shorn of some of their lighter, more melodic elements in favour of an all out visceral assault of heavy, chest rattling bass that jerks the crowd into one another in a sea of limbs.
Predictably "Idealistic" gets the biggest response of the night; its gradual build up synth hooks, distorted guitar samples and Balearic piano sounding fresh and vibrant in a live setting in spite of its ubiquity in TV ads and clothing stores. Keen not to outstay their welcome, they bid the crowd 'gute nacht' and depart leaving a crowd energised and ready to dance till the early hours.
What did you think of the gig?
Claire: 9/10 "They were really good, I can barely walk now though!"
James: 8/10 "Yeah, wicked. They were just relentless, and the whole crowd seemed really up for it."
Jen: "They didn't really seem to be on long enough, but I think I might have missed the start, so maybe that's why!"
myspace.com/digitalism