De La Warr Pavillion, Bexhill, 8 May 2010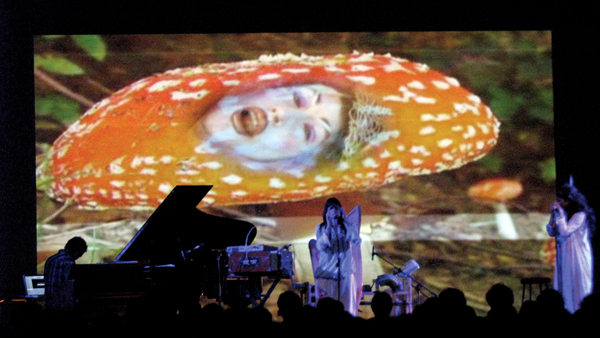 Magic realism. A waking dream. A trip down the rabbit hole. Or even The Magic Roundabout, given the whirling merry-go-round that spins as the VT backdrop rolls and sisters Sierra and Bianca Cassidy with their band take the stage.
CocoRosie were formed and recorded their first album in Sierra's bathroom in the artsy and sleazy Monmatre district of Paris when Bianca prodigally turned up on her doorstep. Within three months they had produced "La Maison de Mon Reve"; their lauded debut. Their sound is a beautiful cacophony, crossing many genres. Bianca's vocals are a combination of Bjork, Portishead's Beth Gibbons and Billie Holliday with a dash of the innocent – a child singing nursery rhymes. In contrast classically trained Sierra summons a warm, wafting, effect-laden neo-classical vocal accompaniment, a surprising and effective counterpoint to her sibling.
Instrumentally there's a similar nod to various styles. Sierra operates a bizarre static squeezebox type affair, deftly fiddling with the unseen innards before straddling a harp. The drummer appears to have a child's percussive toy attached to his unorthodox drum kit. Other percussion is provided by an excellent beat-boxer who lends a pleasing lo-fi sound and illustrating the trip/hip-hop leanings of the band.
When there's a lull in her performance Sierra skips about the stage impishly in her pyjamas whilst Bianca tends to stand dead still. The unbuttoned military jacket she's wearing gives her the look of Tchaikovsky's soldier from The Nutcracker, and as she sings she scowls and twists and turns her fingers this way and that, as if washing the vocals from her hands.
They have a dedicated and esoteric following, the attendee's tonight range from be-feathered and tie-died couples through to Shoreditch trendy types to families with young children. The beautiful modernist De La Warr Pavilion offers a fitting setting for something that is very much a musical aesthetic.
And what of the performance? Avant-garde, innovative, full of passion and zeal – there's a brilliant re-imagining of "Rainbowarriors", "Hopscotch" lights up the stage and a great cover of the dance classic "Turn Me On" is a highlight, but at times Bianca's caterwaul seems at odds with the strands of classical, jazz, hip-hop and fairytale. Regardless, they still remain a powerful, visceral live experience.







Words and photography by Ed Isaacs
cocorosieland.com