Racecourse, 30-31 January 2010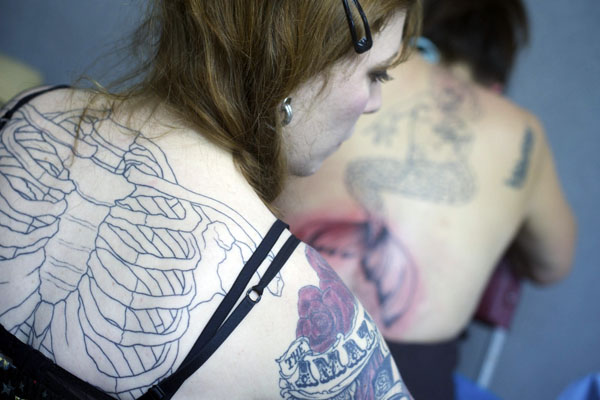 It is not often you get the chance to have fantastic tattoo artists from all around the world come to you. The Brighton Tattoo Convention is a great chance to be able to take your pick of the amazing talent available and get a world class tattoo. Of course there were also artists from Nine, Angelic Hell and Skin Candy, to name a few, who were flying the Brighton flag and representing local talent.
The temperature outside was freezing but with the amount of lamps blazing and guns buzzing inside, the heat began to rise enough for flesh to come out and play.
There were some amazing works of art on people and you would need ten pairs of eyes to be able to take in even half of the painted bodies on display.
There were some great stalls from well-known names such as Toxico and Wildcat and some great independent retailers such as Bow And Crossbones and Sacred Stitches which can be found at several Brighton locations such as Inka and IN2U. Surprisingly there were no piercing stalls at the event considering the two adornments are quite closely linked, there was certainly enough interesting metal work on display from the largest ear stretching's humanly possible to implants in every conceivable place on the body.
Those brave enough to nip outside to reach the building that housed the art exhibition were rewarded with the sugar skull exhibition. Various artists from different disciplines entered their uniquely painted skulls to be auctioned on eBay for charity in March. Especially entertaining were the skulls entitled 'Edamned', a horned skull sliced up like edam complete with cheese knife and mouse and 'Gore Blimey'.
Far and away the most successful artist of the weekend was Jose Lopez who won the large black and grey, small black and grey and best of the day with his amazing portrait work.  All the way from Lowrider tattoo in America, Jose has been tattooing for 17 years and his black and grey work is astounding in its detail. Exhibiting at the convention is sure to give you great exposure, but three wins with such fantastic craftsmanship means Lopez is likely to be booked up for some time.
The Flash competition was won by local artist Gemma Pallat with her colourful depiction of a cockerel. Gemma is available for custom work and you can view her portfolio on Facebook including the winning design.
The large colour category was won by a blonde chap called Peder, by Noi Siamese from 1969 based in Oslo. This is a studio that is no stranger to prizes and seems to excel in colour work.
Nicki Nerreter was the proud owner of a tattoo by Mirek Stotker, which won best small colour. Stotker Tattoo is based in London so not too far to go to get some work by an award winning artist!
Although the winning designs were all extremely well done it would have been good to see some more innovative work entered into the competition. A great example of something a bit different was spotted on the arm of Amanda who informed us her tattoo was done at the Grasshopper in Harrow.
If you didn't make it this year be sure to check the convention out next time it hits our pebbly shores!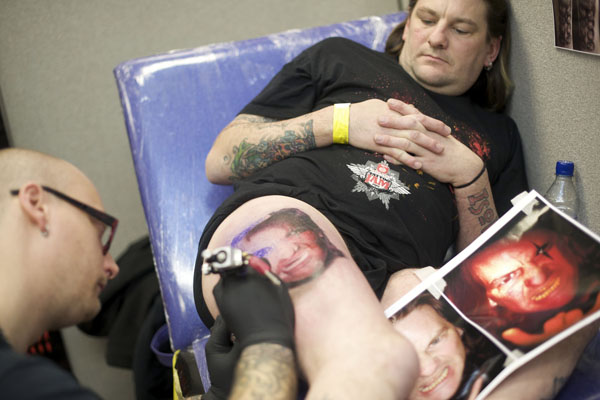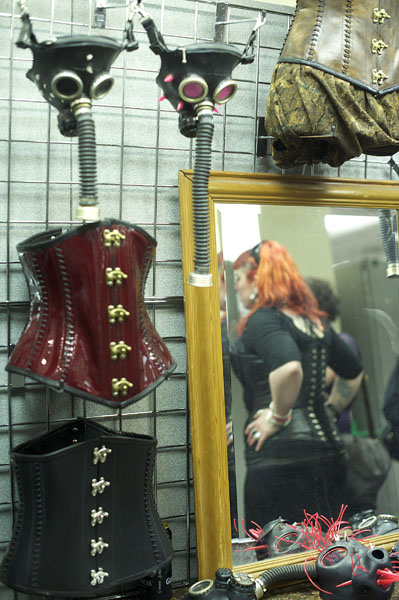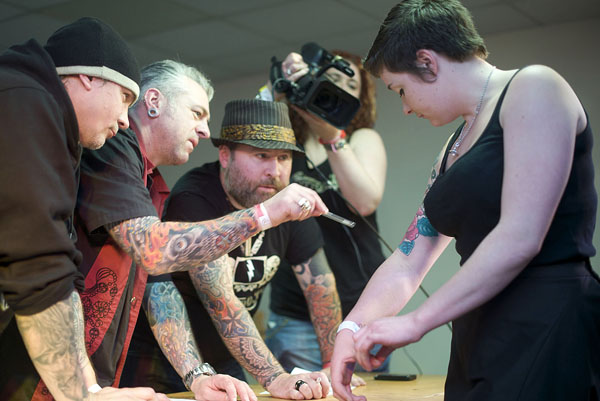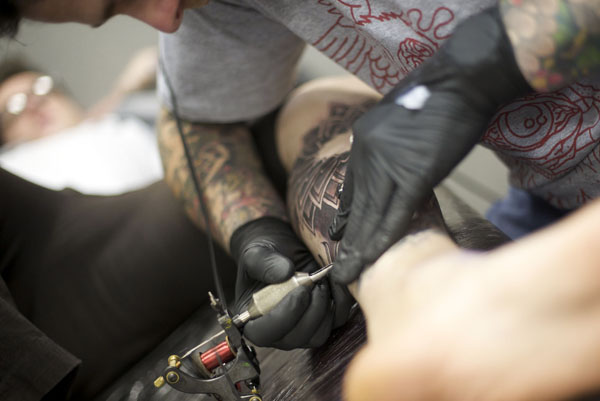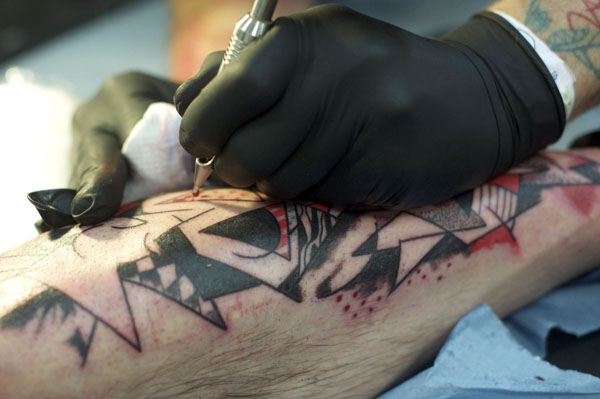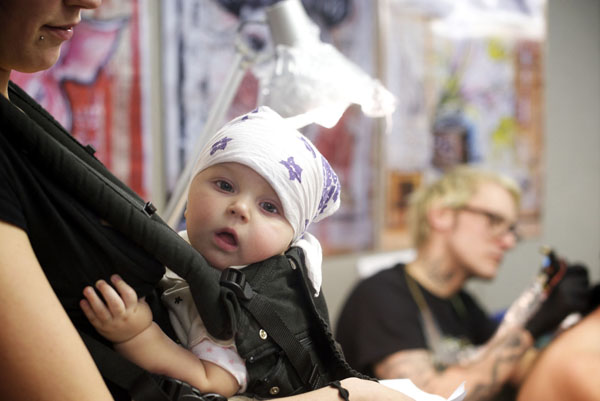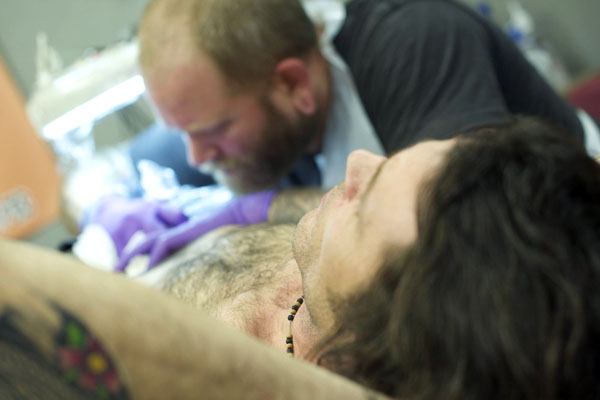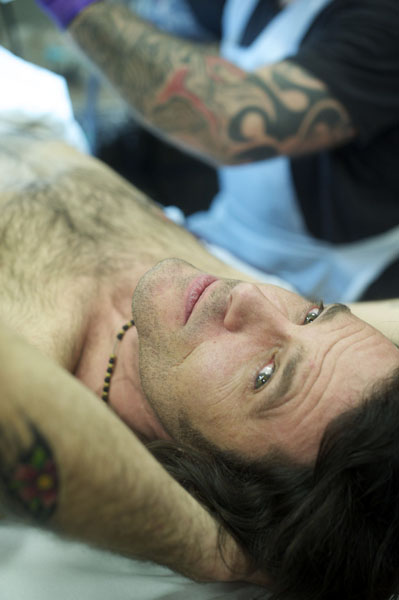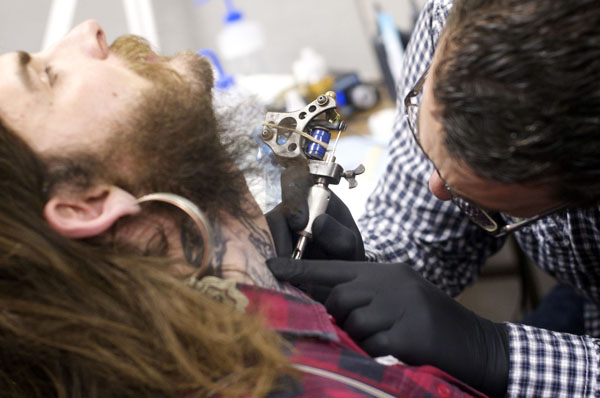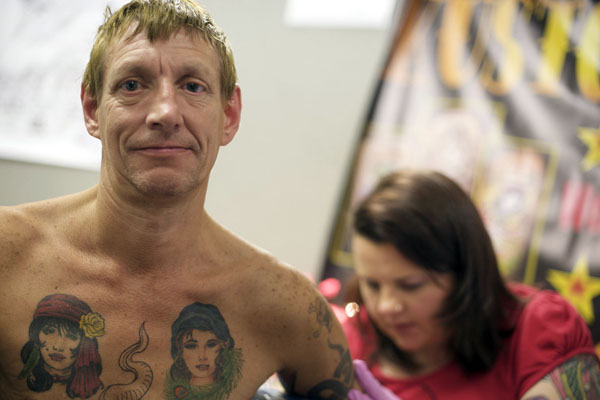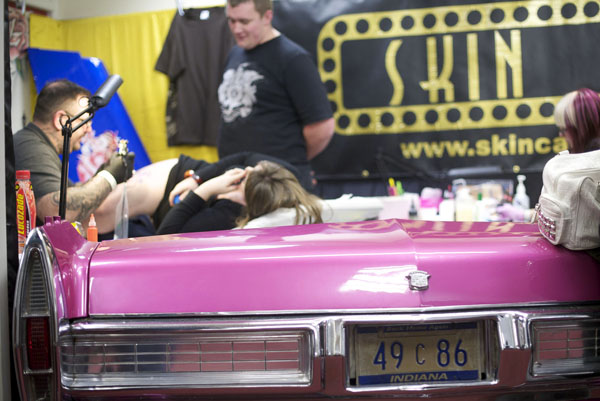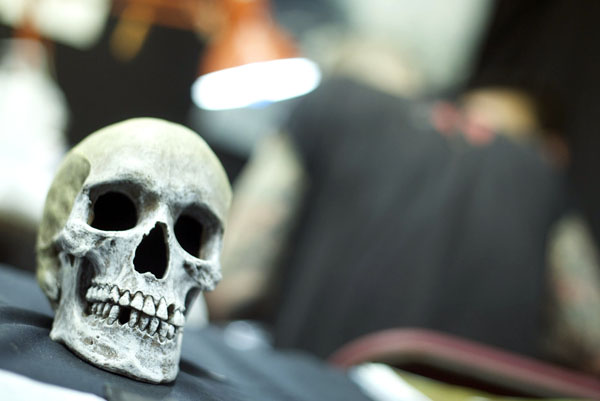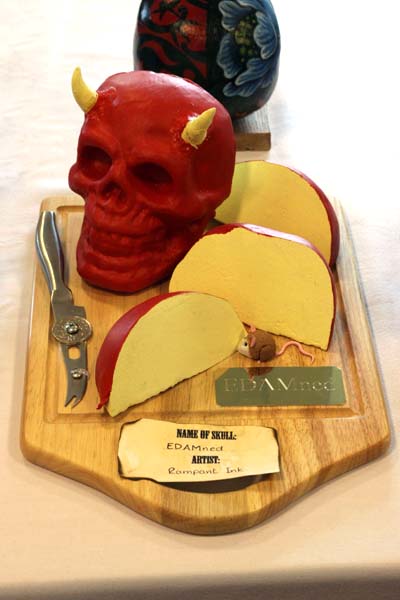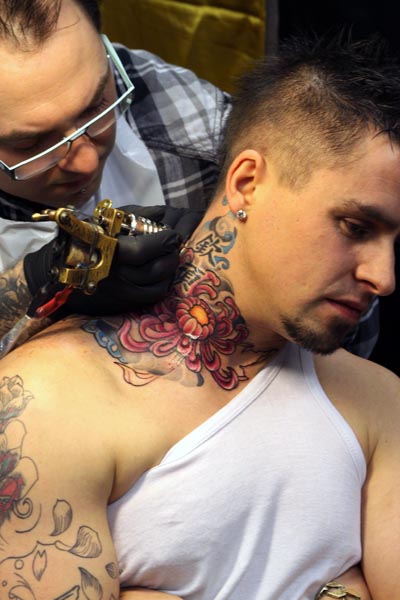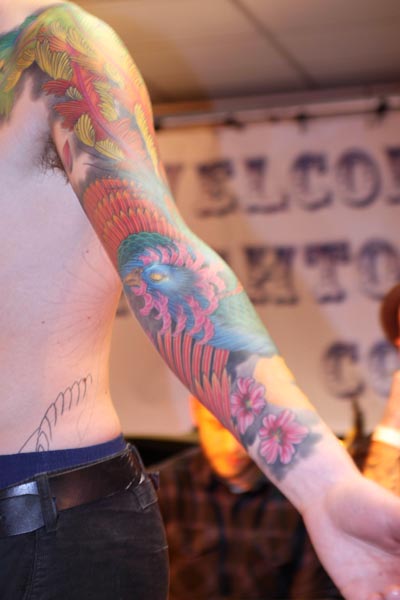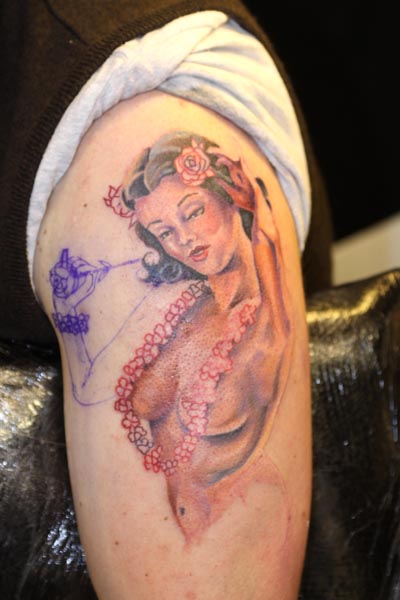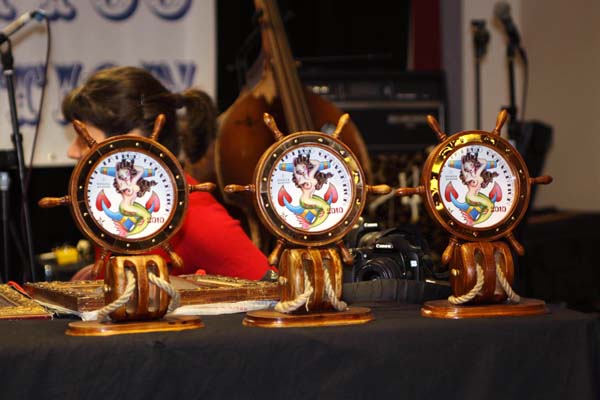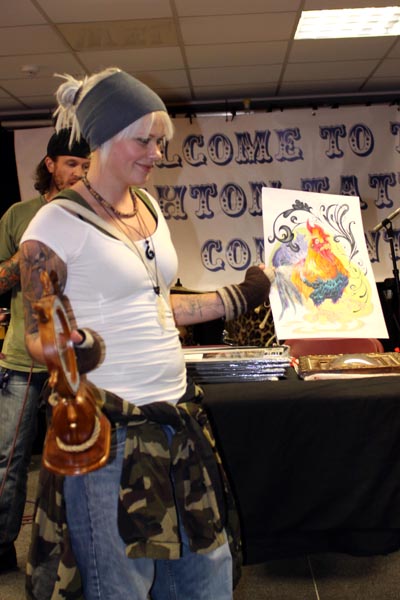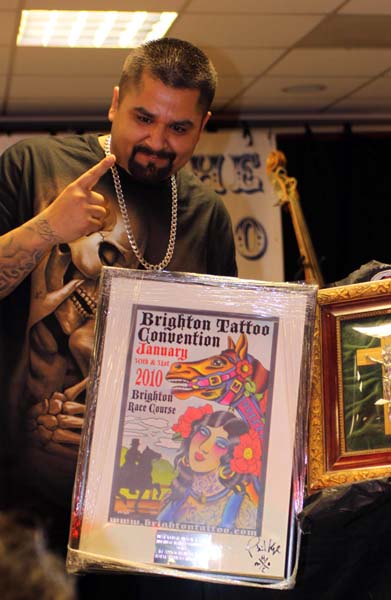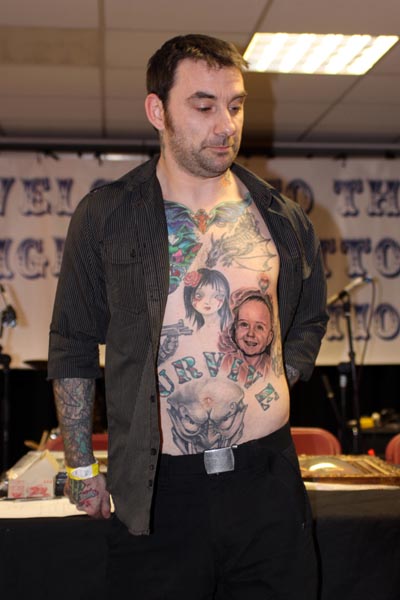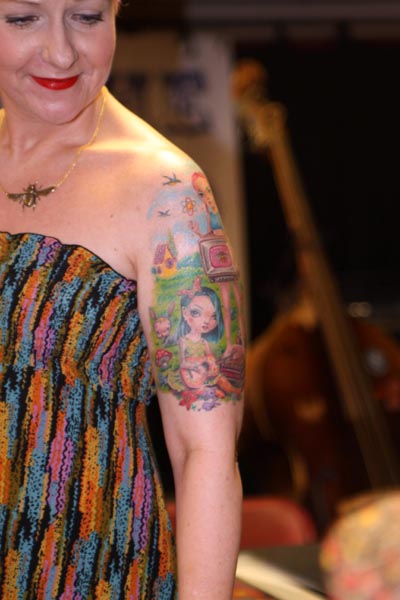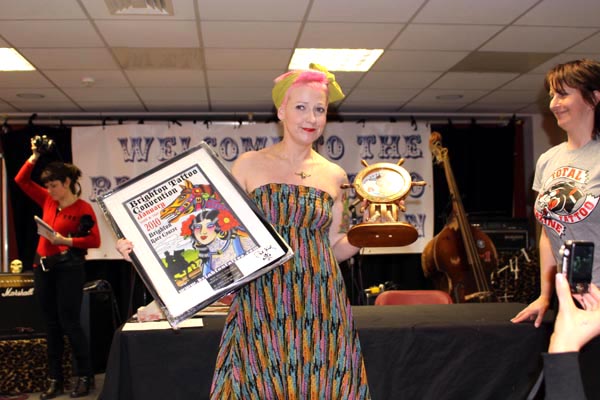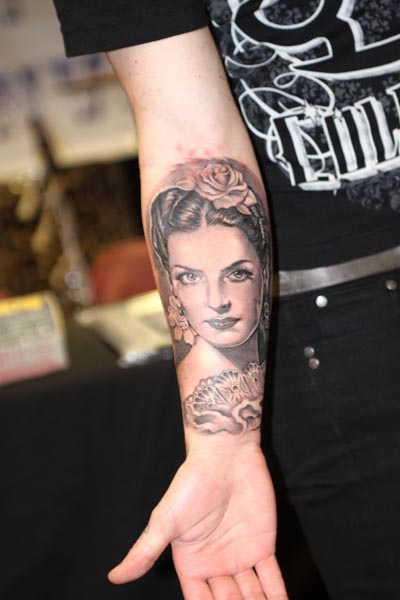 Words by Emma O'Brennan-Pizer
Photography by Emmest and James Brown
myspace.com/brightontattooconvention