Concorde 2, January 31 2010
The Brighton Tattoo Convention Aftershow Party was held at Concorde 2 and the crowd was entertained by the likes of Urban Voodoo Machine from London who in their own words serve up a large dose of "bourbon soaked gypsy blues."
The band consists of Paul Ronny Angel hailing from Norway as the devilish front man, backed up by an assortment of musicians on leopard skin covered instruments who rattled the very foundations of the Concorde 2. If you want to get an idea of the bands style take a gander at their website where you can see videos for 'Orphans Lament' which was played on the night along with 'Love Song #666'. It was a mixed reaction from the crowd. There was a definite split between hardcore fans, those warming up to the sound and those who would clearly rather be by the bar with the big swinging doors between them and the band. You can hardly blame them, this is one band you would not want to meet down a dark alley…
Whether you loved or hated it, no one could remain unmoved by the lumps, bumps and hip grinds of Elephant Man Elvis as he joined the band on stage for a rendition of 'Hound Dog'. The band did not disappoint their fans who demanded more and came out for a double encore consisting of 'Stole my Dog' and 'Real Criminals'.
There was a great atmosphere as the convention was a great talking point and people had all their new or old ink as an ice breaker. It was a great chance to show off and the guys in the crowd seemed pleased to have some ready made chat up lines to use on the girls. There were more than a few people with brand new ink hidden under clingfilm or dressing but there was also a lot of peeping underneath and probably some quite sore tattoos the next day!
What did you think of the Brighton Tattoo Convention 2010?

Clarissa, London UK: "It's not as busy as last year but still worth the trip."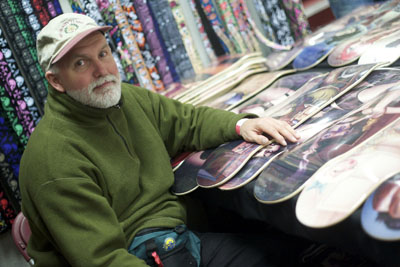 Bob, Vancouver Canada: "Sure you can take my picture but I won't smile, I come to the convention every year… wanna buy a custom board or belt?"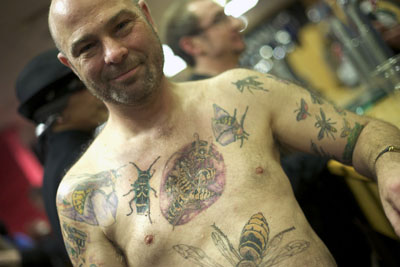 Wasp Man, Horsham UK: "I was hoping someone would ask to take my photograph! Love the convention, it rocks… My favourite tattoo is the one on my breast bone of the wasps eating a plum."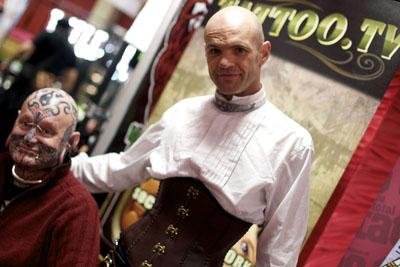 Nick (right), Brixton UK: "Always have a good time here with like-minded people"
Words by Emma O'Brennan-Pizer
Photography by Emmest
myspace.com/brightontattooconvention