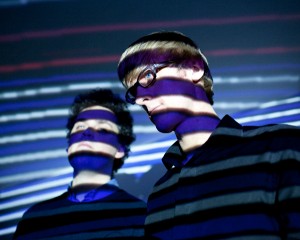 With recent new album "Whorl" just out, speaking from the studio, SMD's Jas takes a break to catch up with XYZ's Léo Rahban about what we can look forward to at their headline show during the Earsthetic Audio Visual events, on December 12 … 
Leo: Had you heard of this event before? 
Jas: No, but we looked at the line up and saw all these great artists and a very forward thinking electronic music event. We're happy to play such an amazing venue alongside artists we admire so much!
Do you know any of them personally? 
We used to play a lot with Kele (Bloc Party) back in the day. We also follow Emptyset and Chicks on Speed.
You'll be playing your latest album "Whorl" – is the show completely planned or is there room for improv? 
Well it's loosely planned – we know what songs we're going to play and what order, although occasionally you can swap them around. This new set up we've got involves two almost completely unlinked frequencers. They can sort of vaguely affect each other and keep each in time, but essentially we have to play them in terms of notching and manipulating patterns at the same time. So even with a plan, it never goes to plan, if that makes sense? And that's the fun bit.
As every sound's generated live, how do you know what the other's about to do?
Well I know what James should  be doing (laughs)! We've been making music together a long time so that gives us the ability to second-guess what the other might be thinking. Obviously we stand next to each other as well, so we can give each other a tap on the shoulder when something needs to happen.
Jack Featherstone & Hans Lo are doing visuals …  
For the first time the visual system came before the music writing. We asked Hans and Jack (who've worked with us a lot before), "we don't have any music yet but we want you to build a system that kinda mirrors ours. It needs to be really manual, something you guys have to play." So they're bringing an oscilloscope and a video camera. They'll be feeding images to the oscilloscope, which they can then manipulate. This process gives a grainy but soft result. And what's really good about this system is that you never quite get it the same, similar to our set! During the gig Jack and Hans will probably be sweating a lot like us…
Describe new album "Whorl" for those yet to hear it …  
(Laughs). That's James' job! I would say it is electronic music from the desert. We recorded it in Joshua Tree National Park in California, so the sound and the intention of the desert is in there, it's much more spacious, much more grimy than previous records. You can hear that we had no first intention for this album to be played in a dark, sweaty basement or club. Whilst we were writing it we were only thinking about playing it in the desert.
So how did the people in the desert react when you played it for the first time, did they dance?
Well, one of the things we had not predicted is that it's really cold in the desert at night. So I think they sort of had to dance, part of it was pure survival really (laughs):
Christmas is coming, what's your worse present ever? 
I've warned my family not to buy me clothes! It's not that I'm picky, just I don't understand why people buy other people clothes. It's a guaranteed fail! I'd never try buying someone else's clothes. There is something weird about it as well  … "why don't you wear this?"
Simian Mobile Disco play Brighton Dome on Friday Dec 12 as part of the Earsthetic audio visual event.