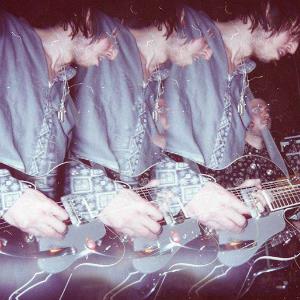 With their 60s-style bohemian psych-rock, Copenhagen threesome Black Light White Light are about to drop their new single "High Like a Hurricane", plus B-Side "Sex And Fury" due out this month. XYZ catch up with Martin from the band ahead of their upcoming single release to find out more …
Hi! How has your day been so far? What have we interrupted?: We were up early catching the train in the midst of a strike. It was a nightmare. But we are doing band photoshoots session today which usually is quite fun. And the weather is lovely. Should turn out to be a good day!
For readers who are yet to have heard your music, how would you describe it for them? Black Light White Light is funded in the tradition of great pop songwriting, focusing on great melodies, tuneful harmonies and hook-lines, swirled in fuzz and reverb, plus some tremolo with a modern Scandinavian paste. This all gives the music a modern twist and an edge to it. It's pretty much what I am looking for when finding new bands and music I like to listen to.
Tell us about your new single "High Like a Hurricane", plus B-Side "Sex And Fury" due out this month … Well, the single release (originally June 16th) has been pushed back a week to June 23rd so it's not officially out there yet. But releasing a single I could imagine is like doing a premiere in the theatre. It's the first time the public and the media get to see and listen to what we have been working and focusing on for quite a long time. It's a period of both great relief that now finally something is happening, and quite nerve wracking too, because you don't know how many are gonna pick up on it! We feel very proud of the album. You formed back in 2009, how has the music industry for you changed between now and then? I'd say it's even more fragmented and totally unpredictable than how we thought it could turn out to be. Anyone can release music these days, which overflows the market. Pretty much all bigger radio stations are focusing on dance music and it's seems harder than ever for a rock band to actually get some airplay, which still is the fastest and most solid way to reach a bigger audience. In other words I'd say the business is tougher than I could imagine it has ever been before for new and newer bands who'd like to make a career out of playing.
And how has it been working with Grammy-nominated US producer Chris "Frenchie" Smith (The Dandy Warhols, Ringo Deathstarr, Jet, Smog, …And You Will Know Us By The Trail Of Dead) It was fantastic. He is very inspiring to work with and really got us focus when working. He gave a lot to this record and I am really glad it turned out to be him we got to work with. We are good friends now and we appreciate that a lot.
You've toured both the UK and the US, what do you miss most about home when you're on the road? Family. Life on the road as a rock 'n' roll band is not a family life. It could be when we have the money for a private jet and staying on expensive hotels. I appreciate to have my family around me as much as possible. Besides that, your own bed. Nothing can describe the feeling of taking a long bath and dive into your own bed after a tour.
You've worked with many great acts, but is there anybody (past or present, dead or alive) that you would love to have shared a stage with? When I was a child I would have love to play a solo on stage with Metallica. And as a 'Beatle'-maniac I would have loved to have stood on stage with Lennon / McCartney / Harrison / Star. Since people tell me I look a bit like Dave Grohl I guess it would be pretty fun to share a stage with him. I know my mates back home would fine that amusing. And I like to amuse my mates.
What's the last gig you went to? I saw Elephant Stone play in Copenhagen last week. Great concert for a surprisingly small audience. It keeps amazing me how hard a lot of good bands doing great music work to find a bigger audience. In a few days I am again going to see Brian Jonestown Masscare play – this time in Sweden. That's hopefully going to be a good one.
What has been your most exiting career moment so far? Touring the states in 2011 was a dream come true. I hope to revisit that soon again.
Tell us about your musical influences? There are obviously many. Beatles, Byrds, Seeds and Jefferson Airplanes from the 60s. Led Zeppelin, The Who and from the 1990s The Verve, Oasis, Stone Roses, Primal Scream and shoe-gazers like My Bloody Valentine, Slowdive, Ride. Also artists like Jeff Buckley and Nick Drake have had a huge influence on me on so many levels.
What's the best party you've been to this year? I haven't had time to go to big parties for a while. I've been indoors focusing on making my music and playing with my little kid as much as possible. These things are much more important to me than any wild parties.
You're playing in London soon, is there anything in the pipeline for Brighton in the near future? We'd love to play there as well. Never have so far. We've had interest and discussions with some promoters in Brighton too so we might very well play in Brighton before you know it! Talking to you guys could hopefully help, too.
What's coming up next for the band? We are planning the release and then some shows in Denmark and UK around it. Then hopefully a lot more touring later fall, winter and deep into 2015. We'd love to do some festival shows too so hopefully we'll be on the bill around some places.
Great! Thanks for sharing, and what are you up to for rest of the day? After a photo shoot it will be dinner with some friends. Then I probably have to see a World Cup match or two on the telly, as an old football player I can't help to watch World Cup as much as possible once this event is finally around! Been a good start with a lot of spectacular goals so far. Football and music are quite alike. It's about creating memorable moments and to give the public something different each time they pay for a ticket to see you play.
Buy new single "High Like a Hurricane", plus B-Side "Sex And Fury" from June 23rd.
Follow the band: