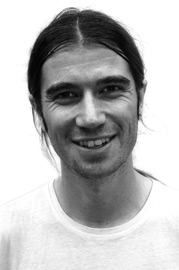 Interview: Rob Da Bank [2008].

As you may already know, the prolific ROB DA BANK (Bestival founder & BBC Radio 1 DJ) has just hit the road for the UK Bestival Reunion Tour. Along with Sinden, Annie Mac and Hot Chip, Rob Da Bank play Tru Brighton on 28th February. Busy with the tour, Bestival preparations, his shows on BBC1 and a new festival called the Camp Bestival, he still found 10 min to chat with XYZ's Leo Rahban…
XYZ: Hi Rob! You created Bestival in 2004, has it changed a lot since its first year?
Rob: We've rocketed from a modest 6000 festi goers to a happy 30,000 since then so obviously that's dictated a lot in terms of number of acts and size of the festival. Having said that we still have the same values; great music, old and new and shedloads of fun!
XYZ: What were the best bits of last year's festival?
Rob: The Beastie Boys two sets, the Inflatable Church spire deflating during a 'wedding', about 20,000 people in fancy dress, the Swim To Bestival intrepid swimmers all making it across the Solent and lots of beaming faces!
XYZ: Do you have a special announcement for Bestival this year?
Rob: I'd have to kill you if I told you.
XYZ: Oh, OK let's not talk about it then! The Bestival Reunion Tour just started, is that new?
Rob: Yes this is the first tour we've done and in future it will happen after the festival each year in October.
XYZ: How many cities are you covering?
Rob: About ten or a dozen different parties from Dublin to Brighton, Bristol to Leeds.
XYZ: Should people expect a mini Bestival night and turn up in their fancy dress?
Rob: It's a small tour to start with and we're concentrating on the music more than the madness but feel free to chip up in a giant banana if it takes your fancy!
XYZ: Are there any tickets for the Bestival Reunion tour left for our readers to buy?
Rob: Yup. Each venue still has tickets.
XYZ: You are launching a new festival this summer with your wife called Camp Bestival, in Dorset, 18th-20th of July; How will it be different from the Bestival, will it be more family orientated?
Rob: Yup, more families, but not exclusively so – you wont need a child to get in! Very laidback and more relaxing than Bestival but with even more eccentricities and weirdness…
XYZ: The Bestival is about dressing up; if you had to wear only one fancy dress all year long, what would it be and why?
Rob: I'd probably dress up as a vicar – you'd get all kinds of interesting confessions and people would let you sit down on the bus too!
Thank you very much Rob and good luck with the tour!