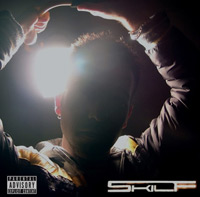 With a variety of residencies under his belt, an album out and a new single and EP due, SKILF has to be the most hardworking hip hop MC in Brighton. Working with a variety of producers and their subsequent genres, he blends together dubstep, drum & bass, grime and garage with coherent and clever rhymes. XYZ's Chris Leggett thought he'd join him at Hectors House for a pint, a chat, and couple of games of Pacman.
XYZ: On 'Original Visions' [Skilf's debut album] you can hear elements of dubstep, hip-hop, drum & bass and grime. How did you come to be influenced by so many different styles?
Skilf: I'm open to working with so many so different types of music. I'm into all sorts of different genres, so that affects me musically. I'm at the stage now where I'm not restricted by speed; I've done the fast tempo d&b-style rapping. I can do the more slowed-down R&B style. So whatever appeals to me, I'll jump on it.
XYZ: You wrote on your Myspace about the use of wordplay in the English language. How do you go about writing?
Generally, I'll get a beat from a producer and just listen to it over an over. One of the longest processes before putting pen to paper is just absorbing the music, thinking what rhymes are going to work best with it, what it's gonna be about and what it reminds me of. Then it gets to the stage where I'll actually construct the lyrics.
XYZ: All your lyrics seem to be fairly honest; is there anything that you regret sharing?
Not at all, especially with rapping and hip hop, I think that's one thing people respect more than anything is honesty. The best rappers have always been that way: they'll wear their heart on their sleeve. Honesty is important.
XYZ: Your album came out last year. Did you get a good response from that?
Yeah, it got some really good reviews. It was reviewed by Clash magazine, Hip Hop Connection, Out of Hand and various websites, and it got very good feedback generally.
XYZ: 'The Bassline Thump' got chosen for the Brighton Hip-Hop Festival CD (see below for web link). What happened with that?
Any hip-hop artist or rapper from Brighton can submit a track and we submitted that one. It went out with Hip-Hop Connection, about 50,000 copies where put out all over the country. Definitely good national exposure.
XYZ: You work with quite a few people on your album. I counted nine producers.
A lot of the collaborations such as Gwilo and Baraka [came about because] we're part of the same crew 'The Connection'. Producer-wise I think that you've got so many different sounds on there – dubstep, hip hop – some of it is more dance-y and that's a result of working with so many different people.
XYZ: Talking of working with different people, we caught your gig with the Astrophysics at the Concorde2. You got quite a response from the crowd. Did you enjoy it?
Loved it. We were just well fired up for it. We'd been rehearsing week after week and properly been building up to it. When you got such a big crowd it ups your performance. It's well nerve-racking but once you're up there and actually doing it you just get into it.
XYZ: We heard someone fairly well-known is mastering it?
Yeah, a guy called Ace who's the ex-guitarist from Skunk Anansie. I haven't actually heard it yet so it'll be interesting to see what it sounds like. That's our first promo so we'll be sending it to promoters, doing different gigs up and down the country. Eventually we're gonna put it out as a digital download, probably by the summer.
XYZ: You've played all the venues in Brighton. Do you have any favourites?
Definitely the Concorde2. I think the best venue now is probably Digital, since it's been refurbished the sound system is incredible. Our next aim is to get a booking there, that would be amazing.
XYZ: Favourite Brighton hangout?
I'm not really much of a pub guy to be honest, I guess if it would be anywhere the Lion and Lobster in Hove.
XYZ: Finally, is there anything you want you want to say to 67,500 people?
Yeah, watch out for my single 'Slow Me Down' which is out in May and also DJ Downlow presents 'The Connection Mixtape Volume One' out in April.
Words by Chris Leggett
www.myspace.com/skilf / www.bhhf.org/bhhf_cd_soundtrack.htm