Interview: Manchester Orchestra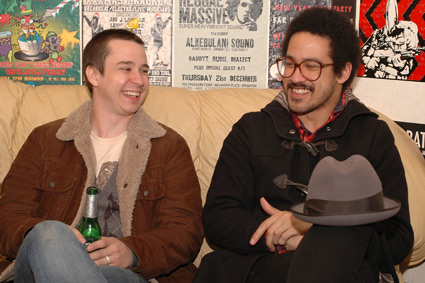 MANCHESTER ORCHESTRA are definitely not what you expect them to be. They're not from Manchester, they're not an orchestra and their debut full-length 'I'm Like a Virgin Losing a Child' is certainly not your average post-indie album. Gaining notoriety for their extensive tours with Kings of Leon and Black Rebel Motorcycle Club, these five twenty-something boys from Atlanta will tonight deliver an engrossing, mature and trance-like performance, mesmerizing the crowd. XYZ reporter Léo Rahban caught up with keyboardist Chris Freeman and drummer Jeremiah Edmond ahead of their last UK gig at Brighton's Pressure Point.
XYZ: This is the last gig of your headline UK tour. How has it been?
Jeremiah: It's been amazing, it's the first time we've been able to come down and headline after tours supporting a bunch of other bands. The crowd has been great! And we were able to bring some friends from the States with us so that's been amazing too.
Last time you played in Brighton you were supporting Kings of Leon…
Chris: They're really great guys.
Jeremiah: They kinda took us under their wing and treated us like brothers. Much better than we deserved! It was a brilliant opportunity that they gave us.
Kings of Leon's Caleb said: "They are country boys from Georgia and sing this raw passionate music. It's the best thing I've heard all year." What would you like to say about them?
Chris: We were big fans for a while. I love all of their records! Each of us have varied music tastes but that's one of the bands we all agree on.
Since you've been over here a lot, tell us something you've done that's typically English.
Chris: I can't drink in the States [Chris is 20] so I come over here and we go to the pub. I'll have lasagne or something and a beer and just sit there.
Jeremiah: I got into the breakfast sandwiches… sausage, egg and hash brown: a whole breakfast in a bun! We don't really have that in the States.
Most artists have a love/hate relationship with being on the road. What are the best and the worst things about touring?
Jeremiah: I love being out with other bands that I admire. On this tour [Chicago multi-instrumentalists] Anathallo are with us and I'm inspired every night watching other bands that remind me why we do what we do. But I hate being away from my wife. I hate being away from home and always being on the go. I like to sit down and accomplish things.


Manchester Orchestra's lyrics are quite sombre. What kind of people are you offstage?
Chris: I'm a pessimist. We're all very different though; I don't think you're [motioning to Jeremiah] a pessimist at all?
Jeremiah: No I'm definitely an optimist but I think we're all go through phases and balance each other out. Today I'm feeling kinda low and fed up with stuff…
Chris: Hey, it's just an interview!
Jeremiah: It's an example!
Your song 'Wolves at Night' is being released on 25th February in the UK. What is this song about?
Jeremiah: It's about the idea of losing something that you never realised you had until it's already gone.
Religion is omnipresent throughout your album. Do you all share the same spiritual beliefs?
Jeremiah: We all grew up in pretty standard Christian homes. Andy and my father were both Pastors growing up and everyone else's parents were really involved with the church. I think there is this core of beliefs that we all share to an extent and then it opens up to so much after that we don't necessarily agree on, it gets so complicated.
I will spare you the name question… I know you're all from Atlanta and the UK's Manchester music scene inspired Andy [Hull, vocalist] to come up with your name. How do you feel about that scene yourself?
Jeremiah: Ha ha! Thank you! I don't know too much about it honestly. I wasn't into The Smiths at the time they came out.
Chris: I was into all that kinda stuff, I listened to the Smiths, Morrissey… I envy that scene a lot, I love the clothes and the way people looked.
Is there one word that describes Manchester Orchestra best?
Jeremiah: Er, mine would be… 'dynamic'. Not just musically but everything about us is very 'minimal to extreme', 'up and down', 'back and forth', in every aspect.
Chris: I'd like to say something cheesy like 'brotherhood'…! I hate some of those guys sometimes, but I love them. It's like a family. You have a fight and then you watch a TV show for five hours and…
Five hours? That's a long TV show!
Jeremiah: Ha ha! Yeah, we watch a lot of series…Er, [sheepishly] 'One Tree Hill'! The only DVDs we can bring that work over here are 'Gilmore Girls', 'One Tree Hill'… all those cheesy things!
Do you think success changed you?
Jeremiah: Well, we're not there yet! We're still sharing hotel rooms and carrying our own gear, and I think we'll be doing that for a long time.
Chris: We're just happy we left our day jobs!
Words by Leo Rahban
Photographs by David Tatnell