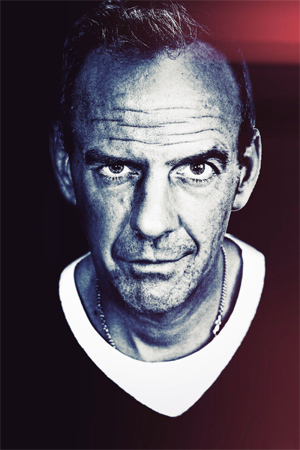 What are You Listening To?
"C.W Stoneking – an Australian who sings the blues like it was 1936. For pleasure I just go back to really old stuff. Anything old, dirty and black. Like blues, ska, really early dub and funk. Basically anything that doesn't sound like what I do for a living!."
Fatboy Slim, DJ
cwstoneking.com
myspace.com/cwstoneking
fatboyslim.net

More …
Stoneking was born in Katherine, Australia in March 1974 and raised by his father, Billy Marshall-Stoneking, in the Aboriginal community of Papunya until the age of 9 (1983) when they moved to the inner west suburb of Balmain in Sydney. He began playing the guitar at the age of 11 and performed in bands from age 13. From age 18 (1991) Stoneking performed mostly pre-war acoustic blues styles working mainly as a solo artist and busker until 2005.
In 2005 he recorded an album of original blues compositions titled King Hokum. The album was received with great critical acclaim in the Australian media after its release in 2006. In 2006, Stoneking formed his backing band, the Primitive Horn Orchestra who he still performs with. The current lineup is James Clark (tuba, double bass), Stephen Grant (cornet), Stu Barker (trombone), and Johnny Machin (drums).
In 2006, radio presenter Tim Ritchie picked Stoneking's King Hokum as his album of the year on Radio National's Breakfast program. Radio National also presented his February 2007 Australia-wide tour. King Hokum was nominated for the Best Blues/Roots Album in the 2007 ARIA Awards and won the Best Independent Blues Release award in the 2007 AIR Awards (Australian Independent Record Industry Awards). In 2008 Stoneking released Jungle Blues, his second album of original compositions. Jungle Blues was nominated for Best Blues/Roots Album, Best Independent Release, Best Male Artist and Best Album Cover Art at the 2009 ARIA Awards. At the fourth annual AIR Awards held on 22 November 2009, Stoneking was nominated for Best Independent Album, Best Independent Blues/ Roots Album, and Independent Artist of the Year, with Jungle Blues winning the award for Best Independent Blues/ Roots Album. Jungle Blues was also shortlisted in the 2008 Australian Music Prize. He appeared on 'Later… with Jools Holland' on 5 October 2010, playing " Jungle Blues" and "Jungle Lullaby".