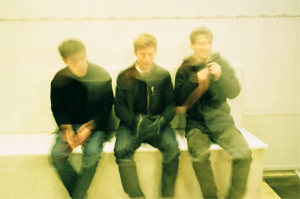 Don't tell Vondelpark about the James Blake bandwagon – this Surrey trio were doing it first.
Self-proclaimed one of the only 'proper' bands on R&S Records – otherwise known for seminal dance music releases from the likes of Aphex Twin, but more recently the kind of forward-thinking UK bass music from which their biggest signing, James Blake, soared to indie stardom – Lewis Rainsbury & Co have been releasing feeding these influences onto the live stage for some years now. Inevitably also accustomed to The xx as a touchstone comparator, the trio's own interpretation of a post-dubstep palette delves even further into synth gloom, through murky vocal filters and achingly slow tempos. And as Blake marries soul proper with all-out boshers, Vondelpark resonate at much lower-key levels, Rainsbury's mournful voice always audible but never free from shimmering reverb and dreary analogue effects. Their guitars flicker underneath warm synth tones amid pitch-growling samples and drums that alternate between soft soul-kit breaks and thumping 808 loops, drifting through pop song structures with an ambient pace that never touches ground.
Doors 19:00, £7 adv
See thegreendoorstore.co.uk for more information and to buy tickets.