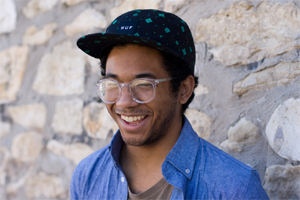 The chillwave pioneer and beyond brings hazy beach vibes to our grey shores for one night only.
Chazwick Bradley Bundick AKA Toro y Moi emerged in 2010 amongst a group of US artists – including Washed Out and Neon Indian – blending a lo-fi aesthetic with summery, simple melodies and heavily effected vocals. Chillwave, as it became contentiously known, was one of the most esoteric and questionable genre labels for some years, and its key artists were quick to distance themselves from the restrictions it imposed. Toro y Moi, particularly, developed side lines in experimental "stream of consciousness" music under the pseudonym Sides of Chaz and a dance music project under Les Sins. But no less has his main project drawn from more diverse influences than his chillwave origins might suggest. His third full-length released earlier this year, Anything In Return, boasts a strong 90s dance sensibility, taking from two step garage as well as, most explicitly, house.
Live, this eclectic grasp of dance music is reflected in the energy of his performance. Similarly to Washed Out, whose bedroom electronica becomes vibrantly organic onstage, Toro y Moi brings swathes of kinetic disco to the fore, and accentuates the sonic depth of his otherwise highly portable music by utilising the sub-bass potential of resident speakers – Concorde2's heavy stacks will ensure that Bundick's waveforms wash over all in anything but the staleness of a chillwave.
Doors 19:00-23:00, 14+, £10 adv + BF
See concorde2.co.uk for more information and to buy tickets.