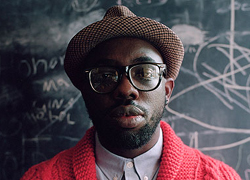 Canny, Mercury-nominated sort-of-MC/producer Ghostpoet readies to smear The Haunt in South London 4am comedown hum, with a fresh album's worth of murky, forward thinking pop.
Arguably the most interesting inclusion on 2011's Mercury Prize shortlist, Tooting resident Obaro Ejimiwe rose from relative obscurity on the wing of fellow London experimental popsters and frequent collaborators Micachu and DELS. That nominated debut, "Peanut Butter Blues and Melancholy Jam", offered an eclectic, nigh uncategorisable mash of dub-reggae synth, post-Mike Skinner pondering and post-dubstep shuffle. There his Roots Manuva-esque drawls catalogued everyday urban experience with a typically British knack for self-deprecation and bathos; memories of empty pockets, come-downs and happy slaps all evoked vivid but translucent moods of dank London streets. Add to the mix a palette of Bristolian sub-bass, big pop hooks (see the chorus of 'Survive It') and staggering sonic twists and turns and you're left with a moreish set of highly individual and unforgettable tracks.
This tour sees a step away from the shadow of his debut's Mercury repute, as well as an album full of (equally critically acclaimed) fresh tunes. Live sonic manipulator extraordinaire Ghostpoet has had years to hone his all-consuming performance. His hands twisting through sequenced beats and shuddering bass effects, Ejimiwe delivers his philosophical everyman-isms with a mixture of prophetic vigour and hyper-cool disaffect, visibly almost chewing the microphone off in the process. Often introducing his vocal collaborators onstage, Ghostpoet is otherwise a singular force of sonic and lyrical domination, who cuts through his swathes of sound with a refreshingly candid and down to earth stage manner. Like his records, the shows marry genuine musical innovation with a winning modesty and accessibility – come for the mood, stay for the tunes.
£12 adv + BF, 19:00.
See thehauntbrighton.co.uk for more information and to buy tickets.