Alan Davies @ Brighton Dome; Sunday December 16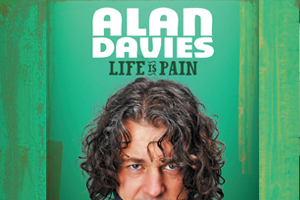 The curly-haired comedian is back for his first tour in the UK in over a decade. After a huge success in Australia, Alan has brought his 'Life is Pain' comedy tour to the UK.
A regular on TV, from the early Abbey National ads, to his quirky genius in Jonathan Creek, and made especially famous for his hilarity and wit as the foil to Fry's erudition in QI, Davies began as a stand-up comic in 1988, and eventually moved into TV, securing awards in both fields.
Witness the return of one of the country's most lovable comics for yourself tonight at the Dome.
Entry 8:00
Price: £25
Buy tickets at ents24.com/web/event/Life-Is-Pain-Brighton-Dome-2797728.html
For more on Alan, see fansofalandavies.co.uk