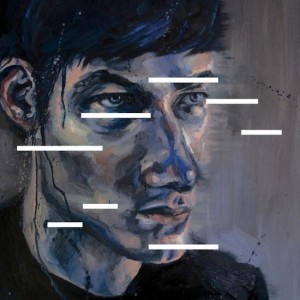 East India Youth's William Doyle has long been squirreling away hype for the producer/singer-songwriter winter – let the Jamie Woons, James Blakes, Vondelparks and Deptford Goths have their fun. Because 2014 now finds him not only lacking in peers, but backed up by a masterful debut – packed with as many synthpop nuggets as modernist crescendos and electronic freakouts – that might just show him to be musically peerless.
Amongst 2012-13's billowing surplus of producer/singer-songwriters, contraire-bloggers The Quietus found no satisfaction. James Blake was 'dance music for bedwetters', and recent efforts from Vondelpark and Deptford Goth yielded no better results. But when East Londoner William Doyle handed them a CD in person, something clicked (and clacked, and thumped). Like The Quietus – always one step ahead, if you asked them – their new protégé was a kind of post-James Blake James Blake. Because his varied releases, all lumped together in this year's debut "Total Strife Forever", boast a deft working knowledge of all his peers' points of references, but with more 'serious' electronic stripes to boot.
Where bona fide tunes are scarce but monumental, Doyle's music shimmers with six-minute-long ebb and flow synth loops, modernist soundscapes and digital deterioration. Typical of East India Youth, the record begins by boldly eschewing the prototypical 'suck it and see' method of starting with a hook. Instead, you're thrown into the deep end with a pair of patiently unfolding instrumentals. "Glitter Recession" is a mission statement in as much as it shows off what heartstring-tugging emotion Doyle can pull out of one synth chord progression, repeated ad infinitum. The keys dance a desperate dance of continually cross-legged steps, around which acres of piano stabs, modulation and reverberation rise to an apocalyptic reverie. But rather than building to a melodic head, they collapse into "Total Strife Forever I", the first of four eponymous instrumentals that unfold in as ponderous a level of subtle variation as anything by electronic chinstroker Oneohtrix Point Never (read our review of his 2013 album "R Plus Seven" here). It's not exactly the snappiest intro to a debut ever.
But it's bold for good reason, as there's more of it to come. Many of the album's spine-tingling peaks occur outside of its more single-worthy territory. "Hinterland", for example, makes a confident and stirring journey out of weighty techno shapes. But unlike basshead-cum-singer-songwriters such as Ninja Tune's Raffertie (read our review of his 2013 album "Sleep of Reason" here), the beauty isn't always in the bass. Instead, East India Youth's hands-in-the-air moments don't come with shuddering low end, but timeless synth crescendos worthy of Berlin-era Bowie ("Total Strife Forever III" and "IV"), intricately repeating piano patterns straight out of Nils Frahm's scores ("Glitter Recession" and "Song For A Granular Piano") and cascading arpeggios as brutally hypnotic as the violent symmetry of Fuck Buttons ("Looking for Someone"). It's not exactly a set of namechecks to slip into links on Radio 2's A-list, but every keystroke and synth pad resonate with more soul than you'd find on any Emile Sandé melisma. These machines have heart – and more specifically, Doyle's heart, which sounds fit to burst.
Because crucially, just as his critical acclaim extends beyond the erect noses of the Quietus-grade snobosphere, Doyle retains the appeal of a crossover audience. All the dramatic shapes made by the album's weighty instrumental sections ultimately play like ripples (albeit wonderful ones in their own right) around its few songs proper – the ones where Doyle opens those pipes of his. "Dripping Down" brings sweet relief after the lengthy openers, its newfound rollicking percussion meeting Doyle's first impassioned reveal of his love-torn melancholia. "Looking For Someone" is a hearty earworm, whose lyrical and melodic simplicity belies its emotional impact, as well as somehow sneaking in an über-freakout bass solo. But it's the core of the record, "Heaven, How Long", that shows Doyle's wide skill set to be more than critic-panderingly eclectic. Precise keys and a pared back vocal unfold magically towards a euphoric refrain that adds goosebumps to your goosebumps, before a high energy outro that plays like the triumphant closing credits of an epic, and justifiably so.
On these rare moments where his ambient and ponderous experimentation finds its way into proper pop structures, it's clear that you're dealing with more than an electronic wunderkind: East India Youth is a boldly transcendental songwriter in his own right, and you won't be able to keep quiet(-us) about it.
9/10, Callum McLean, out now
Follow East India Youth on Facebook where you can pre-order his album.