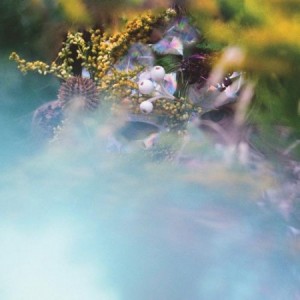 The multi-faceted knob-twiddler behind Gang Gang Dance's eclectic dance pop tries his hand at a solo record, with highly inconsistent but wholly intriguing results. An alternately quasi-pop and deft electronica patchwork to bury your ears in for at least one solid go before some inevitable "Are you sure you want to delete…?" moments.
Brian McGraw has long bolstered Gang Gang Dance's resolutely eclectic sound with his UK dance and grime-savvy productions. So it seems only fair for him to take a step into the limelight to show off his wob-wobbing, tick-tacking credentials. But while there's plenty of bassy experiments in this restless full-length, it wobbles less with low frequencies than with low standards of quality control.
It all starts off promisingly – literally, as a mysterious voice assures with presumptuous grandeur, "So at least to begin with, I would recommend closing your eyes". And the five minutes of opener "Helium Anchor" do seem to firmly cement your expectations of the sounds to come, its syncopated clicks, garbled SFX and glitchy 8-bit synths propping up Eastern-ish melodies in a way that does form a kind of ingredients list of the rest of the record. Unfortunately though, they're just about the only constants holding the ensuing eight tracks together. After "Like Rain Man" moreishly pop-ifies the wide spectrum of McGraw's electronica influences into a pleasantly clickety soundscape, we're treated to a lengthy halfway trough in consistency from which the album barely recovers.
First, alt-country singer-songwriter Douglas Amour whimpers into the otherwise promising intro of "Empty Vases" – better left unfilled. Almost comical in the sag after the Dire Straits-esque suspense of its first two minutes, Amour's vocal quivers through the rest of the track's long wind (in the sense of a slow-release fart) at a similar rate to DeGraw's wheezing vintage synths, as if they're mimicking his voice in a kind, sad sort of way. Then "Overlook" suddenly promises to do a proper song, its pop vocal squaring off well with McGraw's click-clacking electrical wonkery, but holds back – less with restraint than as if oddly embarrassed. And the nail in the coffin, Alexis Taylor unfortunately renders "F.U.T.D." a Hot Chip off the old block only in the sense that his vocal is juggled like a potato out of the oven, landing very much scathed somewhere between pastiche and a bad remix from his other band's last album. There's no going back from this trio of disposable musical question (skid)marks.
That said, elsewhere McGraw does prove he's not completely incompetent at producing guest vocalists. CSS's Lovefoxxx is appropriately bonkers on "Flowers", which plods along at a pleasant Italo disco pace, but it's an odd fit for a record that otherwise shudders and snaps back when you're least expecting it. Luckily, if abruptly, "Bricks" finally finds solid ground with its 2009-ish stagger away from grime and dubstep (see Mary Anne Hobbs' "Wild Angels" compilation), like Rustie doing the soundtrack to Goosebumps.The bass line rolls gratuitously around the record's finest melody while bizarrely pained vocal samples rattle across an intriguing spread of Frankenstein beats. And similar ground is ultimately covered by the sunnier "Quantum Poet Riddim", which spreads preset-ish synth shades over a colourful palette, again showing off McGraw's potential for fresh-sounding production. Unfortunately though, this handful of gems prove the exceptions to the rule that might otherwise have shown McGraw to be an independently strong songwriter, instead of just a generally capable one.
While the more electronica-canny highlights of "SUM/ONE" prove McGraw more than capable of going lone wolf, his errs on the side of (almost) pop make you wonder how far he'll stray from the Gang before he's eaten alive. Look for him on the dancefloor, but not in the arena.
6/10, Callum McLean, out now.
Head to 4ad.com/artists/beedeegee for more info and to buy the album.