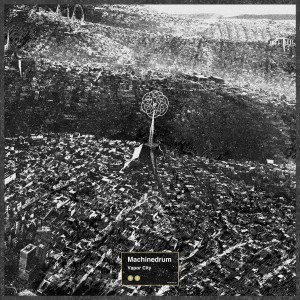 Prolific US beatsmith Machinedrum follows up his highly acclaimed 2011 album Room(s) with an even higher-concept blend of styles. But for a producer whose works often shudder with breakneck energy, there's a little too much going on to tap so easily into this ragga-d'n'b-footwork-house groove – it's a fine line between juking glorious shapes and missing your (2-)step, only to trip face first.
In keeping with a pleasantly American backstory, Travis Stewart emerged onto the scene out of humble North Carolina roots, and after an adolescent interest in electronic music (purportedly kickstarted by playing djembe in an African ensemble), he released his debut as Machinedrum in 2001 – at the age of 19. That Now You Know was lauded by Pitchfork as the "standard to which the next wave of imitators aspires" wasn't enough to quite cement Stewart in the halls of electronic music fame, instead it took another decade of steady, prolific work before Machinedrum's eleventh studio album Room(s) was recognised as an undisputed classic – and that's excluding countless EPs and works under other aliases. Whether as part of Sepalcure, JETS, Dream Continuum or alone as Machinedrum, Stewart has been well and truly put through his electronic music paces.
Where he arrives, in 2013, seems to be at a juncture where Stewart doesn't just have his finger on the dance music pulse (he's now based in Berlin), but seemingly every appendage in some micro-genre pie, spanning Chicago footwork/juke, hip hop, 'IDM' and his long-time passion, jungle and drum'n'bass. In keeping with this, Machinedrum's secret seems to mirror a current trend in revival d'n'b to overlay lightning fast breakbeats on a half-time base, giving the pleasant effect of a hip-hopping groove, propelled by jungle/footwork inter-rhythms – most prominently in Vapor City on 'Center Your Love' and 'SeeSea"s dreamy four minutes, teasing along like J Dilla might if he'd ever played a Notting Hill Carnival sound-system in the early nineties.
But it seems that where parts of the new record fall down is by an overextension of this logic – something like 'more is more', with so many EDM-savvy knacks as to render Stewart's cred opaque. It sounds a bit like everything, which in places reduces it to something closer to nothing. 'Center Your Love', for example, shows melodic potential but with all its glistening layers suffers slightly from being dynamically underfed – rolling along at a pace that belies its blunted d'n'b rhythmic undercarriage. Like too many tracks on Vapor City, it dies with a beatless whimper, revealing the slightly limp chords beneath the hyper-produced superstructure. And further dips in pace occur where Machinedrum strays the furthest from the 150-170bpm template. The wafting haze of 'U Still Lie' never touches ground and neither does 'Vizion', a rare moment of respite from the frantic rhythms, its uniquely beatless rest winding down too suddenly before the double-LP's turn.
To be fair to Machinedrum, the parts make up not only a dynamic but a thematic whole. Vapor City is a concept album where each track represents a different district in a fictional metropolis. If the LP's terrific sleeve art (and Machinedrum's intriguing website) grounds the theme more effectively than its fifty minutes of music, there is nevertheless some hint of dystopia about the muffled Super Furry Animals sample in 'SeeSea' – like the eerie fifties jingles in the 2007 video game Bioshock. And most prominently, 'Gunshotta' seems to soundtrack the oppressed bloc's inner city unrest (not least in its music video, below), its shuddering bassline and churning breaks circling around its namesake vocal sample menacingly.
Nevertheless, on an album where 'Gunshotta' and earlier single 'Eyesdontlie' pack such grizzly punches, much of the subtler textures in between play like filler. The C-side particularly, on 'You Still Lie' and 'Rise N Fall', can float by with relative ease, as if those districts in Vapor City suffer from suburban lifelessness too (in fact, their pictorial representation in the sleeve art depict roller-coasters and majestic parks). When you arrive at 'Eyesdontlie', a seedier district by all accounts, it's a gratuitous relief – emerging gargantuan out of breathy synthesisers, it's a masterclass in Machinedrum's fast/slow blend, by turns brutally hardstep and d'n'b-rilliant.
This makes Vapor City something of a paradox. It's conceptually vivid but often colourless, jagged but smoothed by its maximalist sheen and eclectic, though sometimes seemingly monotonous. But perhaps this says more about the many faces of Travis Stewart than it does for the failings of an album that's, admittedly, as grand in its delivery as its design. Between his many projects, with one foot in juke and another in bass music, and then yet another in revivalist jungle, he'd be hard pressed to come up with something coherent. We might be tripping over in the genre-mash, but Machinedrum is several steps ahead.
7/10, out now on Ninja Tune, Callum McLean.
Head to Machinedrum's website for more info, tour dates, to buy the album and 'become a citizen' of Vapor City, granting you a free remix of 'Gunshotta' by Om Unit and further info when the mysterious side-projects to the album emerge over the next few months.