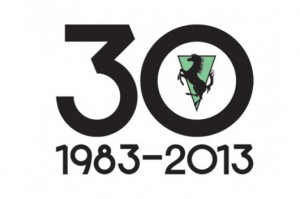 Catch this bargain package from dance legends R&S Records, spanning their thirty year reign over forward-thinking electronic music from Belgium to London, and from Aphex Twin to James Blake – three decades of electro-brilliance for the price of two pints of lager.
R&S Records emerged in the eighties as one of the labels whose seal of quality largely overshadowed the names on their (distinctly designed) sleeves. Fed up with what they saw as an overly commercial techno scene in their home country, raver romantics Renaat Vandepapeliere and Sabine Maes began taking on original (and highly individual) signings in 1984. Before long, their famous prancing horse logo became almost synonymous with techno's cutting edge, working from the Belgian New Beat scene of the label's origins in Ghent outwardly through pioneering ambient and eclectic electronica. After a brief hiatus in the '00s – according to Vandepapeliere, to avoid selling out amongst a relative drought of electronic innovation – R&S was reborn in London in 2008 amongst a new wave of pioneering artists, including contemporary techno-head Blawan, electronic bands Delphic and Vondelpark and the key players in post-dubstep's brief surge of creativity: James Blake and Airhead, amongst others. To celebrate three decades at the forefront, this compilation spans both those periods, boasting an impressively diverse, but consistently canonical, collection of gems.
Ordered alphabetically rather than chronologically, it's clear that the package is intended more as a kind of pick'n'mix of loose electronic nuggets than a self-venerating history of the label's output. On the one hand, this might give unfair advantage to veteran bassheads for whom names like Second Phase and Jam & Spoon ring bells the size of their classic 12″s. But it also adds intrigue for the relative newbie to what might otherwise be a walk in the park amongst a post-Internet archive of instantly researchable, YouTube-able hits. In many ways it fits a classic imprint's aesthetic to force its listeners to do their homework.
But even if you're not keen on rifling through Discogs to backdate the compilation's varied hits, they emerge themselves without asking. "Energy Flash" by Joey Beltram jumps out of the compilation's midpoint (or first half – why not order the collection by track title, live a little!) as one of the earliest releases here, and its vintage bass kicks sound anything but anachronistic. It's a wonder perhaps that it doesn't take a handful of mitsubishis and a warehouse somewhere in a Belgian wheat field to recreate (to some extent) the feel of these records. The growling bassline, 303 synth modulation and rainfall of strings all sound incredibly fresh, and the whispered commands of "ecstasy…ecstasy" feel appropriate even when your choice stimulant is toast for grooving round the breakfast table (see also the famed 'hoover sound' on "Mentasm" – one for the vacuuming perhaps?). It's worth pondering the novelty of being able to hear these 12″s re-fitted for an mp3/iPod generation.
Elsewhere among the earlier works, R&S artists span jungle-infused techno (see Ken Ishii's "Extra") and downtempo (see "Solar Feelings" by the psychedelically-monikered Jacob's Optical Stairway), as well as pioneering ambient from Cornish breakbeat devil Aphex Twin ("Xtal" a delicate reminder of the producer's incredibly varied palette – compare to "Come To Daddy") and Biosphere. And if it doesn't sound classic, it sounds ahead of its time: there are intriguing shades of trip hop in Sun Electric's "O'locco" and u-Ziq (founder of Planet Mu) combines lounge muzak eerily with lightning breaks on "phi*1700".
But it's perhaps the variety of releases from the last five years of R&S that most impress. Space Dimension Controller aces cosmic disco funk on "The Love Quadrant" and Pariah and Airhead boast their UK Bass credentials, most notably with the latter's "Pyramid Lake", whose vocal pitching and frantic syncopations come the closest to James Blake on the collection. That producer's absence is regrettably noticeable, but made up for with a swathe of releases from R&S's expanding base of more singer-songwriter-y artists: Egyptian Hip Hop and Cloud Boat encapsulate the era's preponderance for echoey electronic mood music, but perhaps not quite as proficiently as Vondelpark's "California Analogue Dream", whose glum breakbeats accidentally-on-purpose round off the collection nicely.
The highlight perhaps, though, is the confluence between the collection's golden cut – Outlander's "Vamp" – and the modern inheritor of that rave-a-holic sound. Lone's "Airglow Fires" was one of this year's highlights with its ethereal tinkle giving way to some serious boogy-inducing, and all in the spirit of exactly the kinds of sounds that R&S played a part in innovating at rave's inception. It's these kinds of connections between R&S old and new that are most impressive on the collection, and although you can't help but wish there was more care put into the design and arranging of its content (a download-only collection doesn't seem to fit R&S' iconic history of sleeves), the range and quality of the sounds on offer here are frankly unbeatable. R&S are a rarity in their ability to induce hyperbolic rave nostalgia while at the same time keeping their feet well and truly ahead of the electronic music curve, and this collection seals that groove between classic and modern. It's a jumble of past and future to inspire the casual dance listener and the hardened rave junkie alike.
7/10, out now, Callum McLean.
Head to Greedbag for more info and to download the collection in mp3 or FLAC format, also available on iTunes.