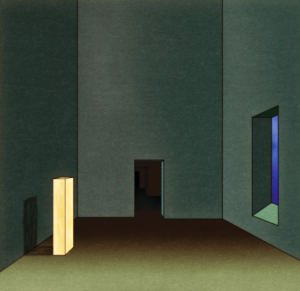 Oneohtrix Point Never's Daniel Lopatin has long been heralded by muso brains as a genuine revolutionary, and his fifth studio album is as concept-heavy as ever. But filtering through the dense layers of experimentation can distract from what is in places an evocative masterpiece of biblical proportions.
Lopatin frequently arises in wordier music magazines and critical circles as one of few musicians widely understood as genuinely progressive. Perhaps it's because he's not a musician – preferring to think of himself as "a non-musician who practices and produces music". If this seems tongue-in-cheek and/or logically dubious, it's because Lopatin himself is marked by a kind of approach that bridges the high brow intellectual and the (post)modern YouTube generation everyman. The same paradox arose as he emerged into critical interest with a series of "echo jams" back in 2009, warping the Internet's archive of cultural tat across generations of pop culture – most popularly manipulating Chris De Burgh's "Lady In Red"  to weirdly beautiful heights.
And it continues to be a paradox at the release of R Plus Seven, the fifth of Lopatin's studio albums as OPN. On the one hand, he's billed as a postmodern composer extraordinaire – scoring Sofia Coppola's The Bling Ring – and on the other, rumours circulated that R Plus Seven, his first record after signing to Warp Records this year, would be something more like pop. Pop it ain't – you heard it here first – but it does do away with much of the dread and warped complexity of his previous efforts, favouring an often hopeful, frequently buoyant sound full of wide spaces and the liberal use of heavily trodden preset FM synthesiser sounds (like your "Strings 1" preset on schoolroom Casios). His use of presets is probably best described by the title of opener "Boring Angel", whose faux-choir sounds trail out from a holy crescendo; holy with a capital "H", Lopatin acknowledges and twists the historic connotations of the classic, clichéd sounds he uses. Parts shimmer with a similarly uncanny beauty to the stark preset string and choir sounds of Dean Blunt's 2013 album The Redeemer, though the individual parts of songs career more majestically to more surprising corners at every turn. For example, the arpeggiated synthesiser on "Boring Angel" could mark the hands-in-the-air moment at a trance rave, so uplifting is its surprise entrance to an already beatific organ hum.
But if R Plus Seven borders on the biblical, prescribing cathedral-scale amounts of choir and organ throughout, it comes with a similarly prophetic(/preaching) dose of conceptual smarts. "Americans", for example, forms a satire of Lopatin's observation that "the capitalist vision of alien life is basically the reductive, canned world instrument". Observations such as these – as well as his feminist reading of preset names on music software and his stolid appropriation politics – seem apt and genuinely motivated, but you wonder how much of the intellectual nitty gritty can be represented by electronic (or any) music. While Wire readers might nod approvingly along to the koto strings and distorted world-y vocals of "He She", the rest of us might have trouble following its conceptual roots without an accompanying instruction manual.
But then again, OPN very much caters to Wire readers and moustachioed musical philosophers in general. Lopatin certainly isn't out to conquer the pop market – in fact it's his bold, concept-heavy intellectualism that makes him particularly appealing to critics – but the moments of R Plus Seven that resonate the most effectively seem to drift into areas of sublimity with no intellectual VIP pass needed. Particularly during the latter half of the record, his compositions seem to soar miles higher than some of the cerebral experimentation at its lofty, silence-filled middle. "Still Life" is an incredibly powerful journey of dynamic builds, angelic choir presets and sudden, monolithic synthesiser crescendos, and "Chrome Country" continues the suite with a dreamier blend of voice and piano samples. An organ kicks in during the last two minutes of the album and it lifts Oneohtrix Point Never from the realms of obscurantism and avant-garde into undeniable beauty – piano echoes and vocal shades build to a heady peak and you'd have to be paraplegic not to feel those shivers down your spine. But then all this melts into the final minute of closer "Gone", where grotesquely warped voice samples troll along a nightmarish groove of jazz organ and digital decay before abruptly cutting out on a dissonant chord. It's almost as if Lopatin realises he's at the helm of a Wagnerian kind of musical force and suddenly panics, returning to the kind of cracked appropriation tactics he knows best. If he only ever sticks to these guns, OPN records will no doubt continue to scatter liberally across upmarket Brooklyn and East London apartments, but somewhere in the grandiloquent density of Daniel Lopatin's output lies the secret to something wholly, and totally engaging. If he can filter that through on later records, the complex ideals behind his composition might just do their job and break through to anyone – that's you and me – who cares to hear the terrifically pretty music that keeps rearing its head on works like R Plus Seven.
7/10, out October 1st, Callum McLean.
Head to his website for more info, tour dates and to buy the album.