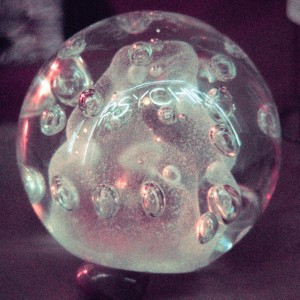 American-Chilean electronic innovator Nicolas Jaar and long-time collaborator Dave Harrington team up again for their first full-length as Darkside – it's a funky, proggy, gloomy ghost train ride, but do its thrills last?
When Nicolas Jaar released his debut Space Is Only Noise in 2011 he instantly became undisputed darling of critics and blogs for his cranked down, spacious but sensual disco. Lauded with the exaggerated praises of 'electronic innovator', it's unsurprising that Jaar quickly moved into side project Darkside with guitarist Dave Harrington. Which isn't to say that their efforts – a 2011 EP and a full remix of Daft Punk's Random Access Memories – diverted from critical prestige, in fact each garnered a further Pitchfork 'Best New Music' badge. No pressure for the full length then.
Accordingly, Psychic announces itself with grandiloquent tension – a warranted mission statement, opener Golden Arrow allows the Darkside formula to unfold over eleven glorious minutes. Slowly emerging out of primeval synth soup like Nico Jaar's answer to Shine On You Crazy Diamond (complete with synth organs, but regrettably no Dave Gilmour solo), the track unfolds from a-rhythmic textures and glitch, into a plodding evolution of sampled strings. Eventually a tripped out disco shuffle propels things along, guided by various lines of Harrington's palm-muted guitar plucks, and the whole thing piles over itself into crescendoing hyperdrive. It's 2001: A Space Odyssey if Kubrick had traded Strauss for dub reggae. Perhaps a better way of putting it would be that it plays like Darkside performing a live soundtrack to 2001 – as with much of their work, you can almost hear Jaar layering the piece together with a sequencer, attesting both to its relative simplicity – most changes are cumulative – and refreshingly audible progression.
Beyond the spine-chilling close of this first track though, the record seems to lose some direction, and the pacing suddenly picks up to the point where you don't notice each track slipping by. Second track Sitra particularly floats past in wisps before Heart marches in, coming closest to single-worthy songwriting with Jaar's sharp whisper almost intelligible over a master-collage of riffing from Harrington. Here, elements that could be a bluesy frame for relatively straightforward pop dissolve into echoing rests, which spring back to familiar riffs in new forms, covered in spangled streams of Jaar's eerie voice. But yet again its follow-up Paper Trails ebbs by with very little to hold onto, all spacious and rumbling with the occasional pitched down vocal from Jaar seeming to disappear amongst the sonic smog. Because for all its intriguing textures, Psychic – despite its grand opening – is not an album that demands attention, which makes it both slightly forgettable (though pleasant) as background music and especially rewarding for close listening. Closer, Metatron for example, resonates with pretty moments of tinkling melody, but suddenly fizzles out with a whimper and the whole record is over before really giving you a chance to engage with it.
In keeping with the slightly distracted, contradictory nature of the album, its mood – though constant – is somehow elusive. It manages to be dark and inoffensive at the same time. Gloomy in the most superficial of ways, it weaves a kind of aesthetic sonic cloak over fairly crisp structures – the sub bass rumbling around Harrington's often bright melodies like a kind of gentle behemoth. Like it could pack a punch if it wanted to, but for now it's happy riding the groove. Only Freak Go Home comes close to disturbing, somehow marrying the unsettling with wholly settled jazzisms. Horror film soundtrack tropes surround terrifically meandering keys for a refreshingly progressive (ghost train) ride – reminiscent of John Carpenter-inspired French duo Zombie-Zombie.
Like a ghost train ride, it's all over a little too soon. You find yourself repeatedly listening to try and grasp hold of something among Jaar's airy compositions – but perhaps this is Psychic's strength. All negative space and fluctuating structures, it never really gives itself over to you entirely, which makes it a fascinating, if slightly limp, proposition. The name might refer to the mental strength required by the listener to keep up with its evasive twists and turns, or it might just nod to the uncanny power of the record to demand you to do so. It hangs in the back of your head, never announcing itself fully to the conscious ear. Whether or not this Psychic tinkering produces much pleasure depends on the unconscious grey matter of the listener.
7/10, out October 8, Callum McLean.
Head to Jaar's label website for more info, tour dates and to stream the album in full – also available to download for subscribers.