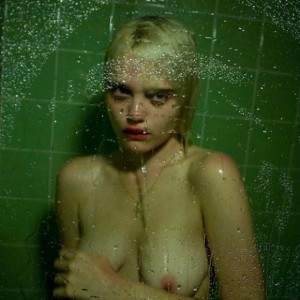 This year's indie-pop crossover star was also one of the most media-spun 'problem' cases, and the controversy of her lifestyle feeds back to this raptly awaited debut. It's a punchy set of grungy pop nuggets, with collab creds up to the eyeballs – but what is Sky Ferreira really without the backstory?
Without regurgitating too much of Sky Ferreira's past, she's been a child, teenager and now young adult truly borne of show business – picked up by a major early on, but since tossed around, deflated and re-fed with media hype at every turn. Numerous failed efforts to fully fund and release her debut seem to have egged on both Ferreira herself and her media image, which has been pockmarked at every turn by tales of industry pressure and child star decadence – peaking with the sensationalist coverage of her arrest for heroin possession this autumn. Now, finally, after a scattering of schizophrenically styled EPs and an apparently concerted effort to woo the indiesphere (she's certainly succeeded in becoming beloved by Pitchfork), she brings out a full-length. Is it a pent-up ejaculation of half a lifetime lived in the spotlight? Of a sudden emancipation from major label pressures? Of coming of age? Of reclaiming a voice from the media? Of saying 'screw you all, I can do what I want'? Yes, it's all of those things – but mainly, and perhaps most importantly, it's a decent but fairly conventional pop rock record.
It's true that "Night Time, My Time" is full of unambiguous responses to her context in the industry. "I Blame Myself" has already been much quoted as a candid admission of her own part to play in her sensational press image: "Is it because you know my name?/ Or is it because you saw my face on the cover?…I know it's not your fault/ That you don't understand/ I blame myself". And elsewhere, the references are at least implicit, as on the mention of a "problem child" on "It Ain't Your Right", and the complaints of "Nobody Asked Me (If I Was Okay)" – which, let's be frank, sounds like the worst kind of MCR-grade emo.
No one's denying the relevance of Ferreira's backstory to reading these lyrics. But many critics seem to fall into one of two traps. They suck it all up as a sign of unhampered liberation from industry control, or they disregard Ferreira's 'authenticity' because even her apparent dissent just makes up another, more complex media image: a kind of two fingers to the industry themselves airbrushed and watermarked with her major label's fingerprints. The whole story – however much is engineered, or simply co-opted by PR – forms this framework through which it becomes hard to hear the album for what it is. For example, you could read album opener "Boys" as an ironic response to a label request for pop-by-numbers subject matter. Or you could soak up its bittersweet verse-chorus progression as a damned fine example of decent, clever pop.
Critics' rabid lust for finding the hidden 'meaning' underneath Ferreira's lyrics seems to be exactly what they call for. She deals in pop archetypes that seem almost too bubblegum, too clichéd to not carry some irony or deeper message. Like the best pop lyrics, they're ambiguous. Perhaps it's because the whole album is produced in a way that makes many of Ferreira's most banal sounding love lyrics seem to drip with irony. "Never thought I could love like this/ I want to feel your kiss", goes "Nobody Asked Me", but when set against a fuzzing guitar canvass in ice-cold monotone, it seems to have more edge. And especially when a lot of the songs on Side B consciously borrow drone soundscapes from Suicide and menacing downtempo from Cat Power, it's understandable to re-read the poppier numbers in those contexts. How can she refer to her heroin use on "Kristine" and name "Omanko" after the Japanese version of the C-word, and then sing a straight belter about falling for boys? Well, why not? Because actually, most of the time (and especially on "Nobody Asked Me") Ferreira sounds a lot less like Power or, say, Debbie Harry, than she does like Kelly Clarkson on "Since You've Been Gone". Straight chart fare with rock textures – power pop, even.
That these two styles reflect Ferreira's fingers in both the mainstream and 'indie' pies isn't a problem, and it succeeds against all odds as a coherent whole. The power-chords and fast-pace of "Boys", "It Aint' Right" and "Nobody Asked Me" segue easily into the more straightforward pop palette of "24 Hours" and "I Blame Myself"; the rougher textures on the second half work as a kind of dynamic respite to the easy plod of the first. But unfortunately, while it's fun hearing Ferreira try out those more extreme styles, they don't seem to fit her too well when it comes down to the songwriting itself. The guitars fit her melodies best as pop rock, and after the moreish perfection of that formula in "Boys", nothing really comes close again. Perhaps at least for now, despite all the supposed push and pull between Ferreira and her label, she just works best doing straight pop.
This isn't all to disregard Ferreira's agency, or reduce her to another pop industry puppet. Instead, it bears re-thinking that there's nothing wrong with playing a willing part in creating what is essentially a sonically and lyrically conservative, but really solid, pop album. She might borrow from 'indie' and dabble in risqué media moves, but for the time being that doesn't make her any less 'pop' – that's exactly what pop stars do, and Sky Ferreira is a pretty bloody good one.
6/10, out now, Callum McLean.
Head to her tumblr for more info and to buy the album.