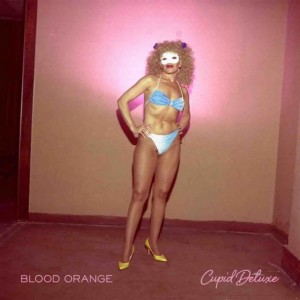 After heaps of writer/producer credits cementing his supreme indie cool, Dev Hynes (Test Icicles, Lightspeed Champion) flips the equation to feature a host of collaborators on his second full length as Blood Orange – his grooviest moniker. The eighties-canny style remains, bolstered by (funky) fresh production pizzazz and some of the biggest tunes this side of '85.
Presumably somewhere among the industry elite exists an ever-changing list of go-to producers and songwriters – something to inject a little 'freshness' into the latest signing. If it does, you can be sure Dev Hynes has never left the top of it. Since his own work with the Test Icicles and solo albums as Lightspeed Champion, Hynes has accumulated production and writing credits for The Chemical Brothers, Florence + The Machine, Solange Knowles and Sky Ferreira, as well as the original Sugababes' comeback album and purportedly being drafted for the new Britney record. He's a man with friends, to say the least.
Taking full advantage of this, "Cupid Deluxe" is chock full of colourful collaborations. He has Friends, quite literally, in the so-named band's Samantha Urbani, whose sugary notes lie behind many of the record's most monumental hooks – the embodiment of Janet Jackson, who Hynes mentioned as a key influence. Also lurking somewhere within its terrific arrangements lie the helping hands of the sought-after indie hip hop beatsmith Clams Casino, words from both [US] rapper Despot and UK grime MC Skepta, as well as voices from Dirty Projectors' David Longstreth, Kindness' Adam Bainbridge and Chairlift's Caroline Polachek. The latter stands indomitable, though wavering, on album opener "Chamakay", where her fantastic trill flutters across the mix all-powerful. Completing the album's highlight, she slides seamlessly between providing its ethereal textures and propping up its spine-tingling chorus, somehow lending the track a sensual melancholy as well as a world-y gusto (Hynes returned to his mother's hometown in Guyana to shoot the video).
These kinds of pairings show off Hynes' dual roles as producer/arranger and singer-songwriter. Though he plays MJ-esque balladeer as well as lustful R&B whisperer here, his lines are rarely delivered alone. Rather, the rotating artists mark out each of the album's tracks, expertly housed in neat studio cocoons by Hynes-the-producer. The pace drifts coolly between Chic disco ("Uncle ACE"), downbeat funk ("You're Not Good Enough") and retro balladry ("It Is What It Is", "Chosen"), with Skepta's and Despot's additions riding a post-dubstep lurch ("High Street") and hip hop breakbeat ("Clipped On"), respectively.
Some elements travel across tracks – treated snares, Nile Rogers-ish guitar funk and Urbani's backing vocal – resulting in a generally cohesive flow throughout the album's quite varied sonics. Last track "Time Will Tell" draws a neat conclusion, re-hashing elements from "It Is What It Is". It's a testament both to his writing and production: first that the tune has the mileage for a rerun, and second that he can construct something entirely new out of the same material that still sounds fresh within a half hour. A clipped beat plays the familiar lines out with a tone of renewal – something's changed in the twenty minutes since you last heard Hynes reassuring from the background "…and it keeps on running out"; the duet switches and Dev's in the front seat: "come into my bedroom", he pleads. And as the record dwindles out into indistinct chatter, you can't help but want to. It's an uncanny deja entendu – you've heard it before, but you really, really want to hear it again.
9/10, out on iTunes November 12 and elsewhere in the UK on the 18th, words by Callum McLean.
Head to his tumblr for more info and to buy the album, also available for preorder on iTunes.