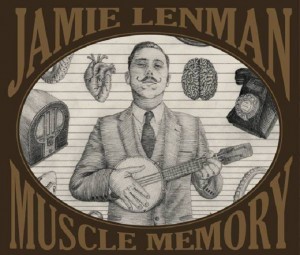 For those of you who aren't familiar, Jamie Lenman used to front the now defunct, sorely missed, grossly underrated rock band that was Reuben. Since their hiatus in 2008, fans have waited with baited breath to hear so much as a murmur from the Lenman. Now, five years later comes "Muscle Memory", Lenman's solo album – but does it fill the void?
As far as double albums go, they often linger on the wrong side of ambitious; two average disks that could be condensed into a single marginally better one. Thankfully, Lenman adopts a different approach; eleven heavy tracks on disk one, and eleven contrasting melody driven folk/acoustic numbers on disk two. By 'heavy' I mean properly heavy, building on the dark moments from Reuben's "In Nothing We Trust" and giving Every Time I Die a run for their money in the riff department.
Disk one is exciting and angry, jumping to and from various metal sub-genres. At times it might feel as though Lenman is trying to cover too many bases with all these nods to stylistic peers, but the outcome is more than varied and interesting. Lyrically it is brimming with rants that all of us can relate to, covering topics like the uninspiring modern world on "The Six Fingered Hand", politics on "A Plague On Both Your Houses" and social media on "One Of My Eyes Is A Clock", featuring great inventive lyrics like 'We don't go to parties anymore, we go to huge, non-paid photo-shoots so everyone can advertise their impressive, exciting, happy lives.'
Life, love and loss inhabit the melodic second disk of the album. At times happy, at times sad, disk two is honest and heartfelt, showcasing a new side to Lenman's impressive song writing talent and housing a number of folk/acoustic/big band styles. "Pretty Please", "Shotgun House" and "For God's Sake" are some of the standout and most diverse tracks from this disk. It is thought provoking, full of charm, and just as well-thought out and cohesive as disk one. When put together the pair provide songs for any occasion or mood.
"Muscle Memory" is a great return to music from Jamie Lenman that will appeal to fans both old and new. Hopefully this is just the start of more excellent music to come. Jamie Lenman and his band play The Green Door Store on December 4th.
Available from xtramilerecordings.com
facebook.com/jamielenman
8 out of 10
Words By Sam Barnes