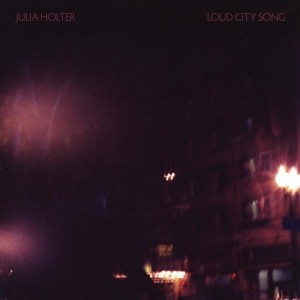 Julia Holter weaves a stirring avant-pop masterpiece from modernist weirdness, hushed vocals and beautifully downplayed melody on her third full-length.
The LA-based auteur resonates with many more shades of New York than her California heritage would lead you to expect. Her compositions bend around the powerful simplicity of her lyrics, often hushed in wisps that float across minimal, repeating sound textures. It's edgy fare, and unsurprisingly appeases the hipster kingdoms of Pitchfork (who dubbed this album 'Best New Music') and the blogosphere, like ironic catnip. But unlike much of the heavily prefixed (neo-, avant-) runoff you might associate Holter with, her occasional opaqueness betrays a convincing intelligence. She's learned in the right sort of ways, having studied composition and clearly well-read (she's frequently compared to Woolf's modernism), this erudition translates, rather than to patronising or pretentious highbrow art, to immensely intricate but palatable songs. Melody and structure come first, meaning the overlapping echoes of 'Horns Surrounding Me' and the twisting and turning strings of 'Maxim's I' construct dense tapestries of complex music from rapturously moreish parts.
What is special about those parts on this, her third LP, is their variety and dynamic range. Where last album Ekstasis was more of an avant bedroom record, Loud City Song resonates with rich layers of strings and echo. If before, Holter was whispering into her mirror, or through the keyhole, she now sings from what sound like epic heights – 'Hello Stranger' sounds like it would have the delicate majesty of Radiohead's 'How To Disappear Completely' if given the benefit of a full string section onstage. And the newfound scale seems intricately linked to the album's urban subject matter, where lyrics twinge with the intimate details of city life, married with modernist directness and all tied up in webs of repetition and association. For example, album opener 'World' delivers grand statements amongst an unfolding, abstract exploration of an apartment building. But what amazes, more than the astute complexity of the arrangement, like the whole album itself, is that it manages to sneak by so much cerebral density in a form that washes over the ears despite (as well as probably on some subconscious level because of) its high art intellectualism.
In this way, Loud City Song might well be (intellectually, musically) more than the sum of its parts, but all of those parts are candy for the (untrained) ears. And the candy is as wholesome and subtle as haute cuisine, but affordable and palatable as Haribo Starmix. Get it down you.
8/10, out now, Callum McLean.
Head to her website for more information and to buy the album.