Nova Scotia foursome Villages share lively new track "Play the Fiddle All Night",  from new album "Dark Island" – out February 17th on Halifax Indie Label Sonic Records….
They're a band who grew up on Celtic music, and so it's been no mean feat to create and perform brand new music in that tradition – no small responsibility! Aptly, nature is a dominant theme on "Dark Island" – very much befitting of a group of men who grew up in a place as wild and as beautiful as Cape Breton Island. It's a place tucked onto the farthest corner of far-flung Nova Scotia – jutting out defiantly into the Atlantic Ocean; a lush landscape of impressive beauty with a rocky coast covered in sea salt and whipped by harsh winds. "Dark Island" is meant to echo a visit to Cape Breton – something otherworldly, euphoric and yet sobering – celebratory and reverent.
Taking inspiration from the traditional poem 'The Dark Island", the band – comprised of members Matt Ellis, Travis Ellis, Jon Pearo and Archie Rankin – wrote latest single "Play The Fiddle All Night" – later deciding to name their album after it when it transpired that there was so much shared between the poem and their release.
As the band explained it in their own words: "The song presented itself very quickly and we finished it only a few days before we were scheduled to record. There was a striking similarity in themes carried in both the poem and our tracklist, so it ultimately gave namesake to the album. The song immediately felt vital to the record and given the spontaneity of it all, it was one of the more exciting experiences in songwriting that we've had."
"Play the Fiddle All Night", track eight from the upcoming new album, follows on from uplifting track  "Love Will Live On," – which is track two and was released in October 2022,  arriving along with the cinematic music video below:
The album, the band's love letter to Cape Breton Island, was produced by JUNO-winning composer and producer Joshua Van Tassel (David Myles, Great Lake Swimmers, Fortunate Ones), and the end result is a collection of Celtic music that whilst respecting it's heritage, pursues an experimental approach thanks to early influences from the likes of indie rock outfit Teenage Fanclub and Belle and Sebastian – as well of course, as the band's previous incarnation as acclaimed indie-rock outfit Mardeen.
Check out more below and follow the band online to stay updated regarding upcoming releases and live shows.
And as the band said in their own words: "We hope y'all pick up what we're putting down…."
"Dark Island" Tracklist:
Wearing Through the Pine
Love Will Live On
Easy When You Know How
Dawnless Nights
Lost Again
Willow
Flower of the Morning
Play the Fiddle All Night
Pink & Grey
Mother
Rocks in the Field
Stream The New Single "Play The Fiddle All Night":
Stream the new single here
Buy Their Music:



Click here to pre-order / save your copy of new album "Dark Island", out Feb 17th.
Follow Villages Online:



The new album cover art: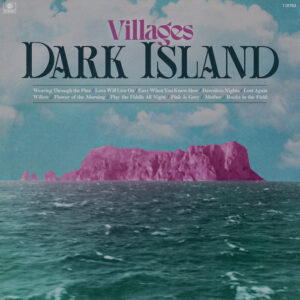 The video for their latest single: