Brixton Academy, 20 March 2010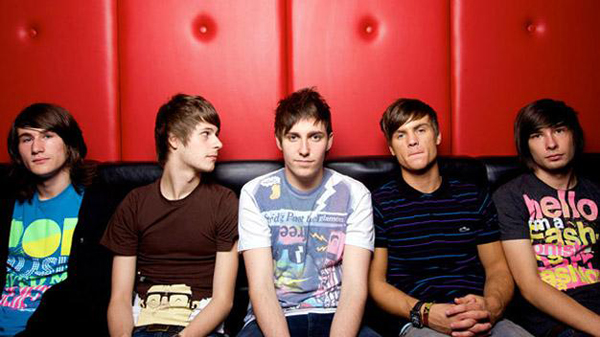 In the depths of urban Brixton, nearing 7.30pm, I avoid the hoards of pre-show, ardent, adolescent girls and slip through the stage door into The Academy (eyes were glued to me as the aficionados mistakenly assume my separate entrance as being a romantic association with the band). Tonight London's flagship venue with its quirky preserved art deco interior is filled to the rafters with 5,000 undersized pilgrims and a whole lot of oestrogen, ready for a show many You Me At Six critics would have deemed impossible.
Florida four-piece, We The Kings are the night's first instalment of pop-rock. Fronted by the charismatic Travis Clark, the band have the crowd easily charmed with their trans-Atlantic banter and infectious tracks such as 'Secret Valentine' and 'Check Yes Juliet'. We The Kings deliver an assured performance jam-packed with all the necessary vocal hooks needed for a good sing-along. The small percentage of over 16s in the crowd were also won over, WTK perfectly executed a cover of Jimmy Eat World's 'The Middle', a song close to my heart which they definitely did justice.
An impressive set from Forever The Sickest Kids leaves me expectantly buzzing, eager for the Surrey quintet debut. I can't help but let my pride flood me when I see You Me At Six take the stage to a hero's welcome, I saw the band almost two years ago (in our lovely, but very confined Brighton venue, the Freebutt). The starting stage is just as raw and minimal as it was back then, but the distinctive drumming from Dan launching 'Safer To Hater' soon demonstrated the band's growth into devilish rock musicians with a presentable pop layer. The big guns are quite literally brought in when the black veil that was shrouding most of the stage, is pummelled to the ground to the sound of the heavy sirens in the opening riff of 'The Consequence'. Revealed was a multi-level stage and a breakdown filled with friendly faces from The Blackout, Sean Smith and Gavin Butler adding a whole new edge to the recital.
Carnage ensues as the band viciously run-through killer tracks such as 'Playing the Blame Game' and 'Trophy Eyes' which are performed erratically by all members – as if their lives depended on it. At to which point lead singer Josh Franceschi alerts us that their lives have in fact been about this one moment, "Does anyone remember when MySpace was cool? When I was fifteen, I wrote on my MySpace page, 'by the time I am twenty I will have played Brixton Academy'. Well, I stand here at the age of 19 and I have you guys to thank for this." If this night wasn't definitive enough, Josh decides to share the moment which his sibling Elissa Franceschi who joins him onstage for 'Always Attract', with her rousing and intimate vocals causing many bodies to be put on to shoulders to sway along religiously with the pair. An anthemic rendition of 'Underdog' delivers a plentiful slice of pop-punk for those who were not yet fully satisfied and the boys were not even attempting to control their genuine appreciation of the position they now find themselves. The phrase "ending on a high" could not be more fitting.
Whether or not people are aware of it, You Me At Six are bringing something quite revolutionary to the table. You Me At Six are a band emerging from a scene dominated by established American counterparts (such as Fall Out Boy, New Found Glory, etc) but are now thriving in the UK mainstream charts. They are a band who seem to be growing at an extortionate rate and don't seem to be stopping any time soon. Could this be the introduction of more UK flag-bearing pop-rock bands? If they are anything like these lads of 19, then there is a bright future ahead for British music.
Words by Amber Mellowship
youmeatsix.co.uk