Concorde 2, 20 March 2010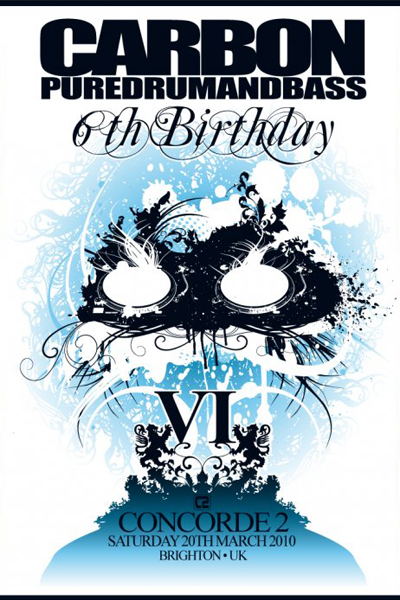 Now into it's sixth year Carbon has maintained a firm reputation for playing uncompromising drum 'n' bass, the sort you rarely – if ever – hear on those bloody 'stadium d'n'b' CDs. It's precisely this that makes it great.
After taking time out of its regular home at the Volks for various bar sessions, Carbon descended on Concorde 2 for a big birthday blow out. Prolix vs Cause 4 Concern kept things rolling towards the start of the evening with a relentless set that saw the breakdowns kept short and ensured the crowd were kept moving. Brief Respite only really came towards the end of their slot. Things carried on in a similar vein when Zero T and Sabre took to the decks but their set definitely contained some evening highlights. Classic Dillinja and the menacing, roaming bassline of Ed Rush & Optical's 'Bacteria' are always a pleasure to hear on a 40K rig. Headliner Randdall and Digital laid down a filthy set that featured long drawn out build ups to drops that deservedly earned a rewind or two (although crucially never too many as to start grating). The set also provided perhaps the lightest part of the evening with a brief High Contrast appearance that soon segued into a low rumbler. Throughout the night the front room also threw up some gems catering for everything from pure Amen drum and bass to dubstep and on one very brief visit something a bit too housey.
The reason Carbon has built and maintained such a good reputation amongst drum and bass heads is their judgement when it comes to booking artists and MCs. The DJs know how to rock a dance floor without having to drop the latest track picked up by Zane Lowe. While the MCs (System and AD on this occasion) respect the DJs and the music enough to know when to keep quiet and let the mixes play out. An epic birthday celebration that's hopefully inspired the Carbon lads to keep providing a mecca of good music in a sometimes saturated, mediocre town.
Words by Chris Leggett
myspace.com/carbon_dnb