Brighton Dome, 26 February 2010, supporting The Noisettes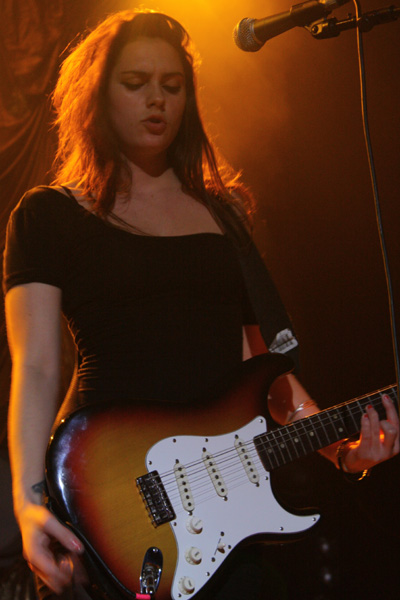 Being a warm up act can probably be a mixed blessing. Ultimately there is a limit to how many members of your half capacity audience will be really paying attention as they wait for who they paid for to appear. On the other hand you may perform out of your skin without fear, win or lose, because ultimately no one paid to see you on the night. In this case the steadfastly teenager/accompanying guardian composed audience probably had little prior knowledge of Tiffany Page until she strutted out on stage in the vein of Chrissie Hynde of The Pretenders.
However, appearances can be deceiving. Despite adopting a similar husky howl to Hynde when in full flow, Page's warm up set was nothing more than good. Her catchy guitar riffs and harmonic pop choruses made for decent musical entertainment, but we were always left feeling like we were being cheated, like Page was perhaps holding her best back. She rarely made any form of contact with her audience who were (in a truly adolescent manner) literally crying out for some acknowledgement. Regardless, even if this interpretation of her set was somehow proven to be true it would be far from the greatest musical crime ever perpetrated. After all, it was only a warm up set and with the complete lack of crowd interaction aside, the music was performed with a clean, coordinated and technically brilliant approach which smacked of her growing professionalism on stage.
Page's soon to be released debut single 'Walk Away Slow' is a perfect demonstration of her pop lyrics and catchy guitar sound and was performed with plenty of energy and zeal. Other tracks to watch out for in the near future are 'Seven Years Too Late' and 'On Your Head'. The sound and the nature of the performance was far from original or ground breaking, but who ever said you had to be either to be successful? Having recently signed to Mercury-Universal Tiffany Page seems a sure thing to return to Brighton on a bigger and better band wagon with her own support acts in tow. Her show is definitely worth looking out for in the future.




What Did You Think of the Gig?
Andy: 6/10 "You couldn't hear her voice for loads of it which was a shame, because when it did break through it was awesome, she was really fit as well!"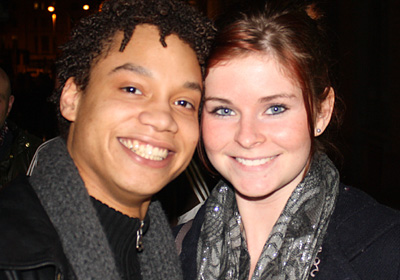 Mayk (left) and Gabriela (right): 8/10 "We thought she was surprisingly good, we hadn't even heard of her before tonight and that seems surprising given how good her songs were, it was an ideal warm up for The Noisettes!"
Words and photography by James Rowland
myspace.com/tiffanypage