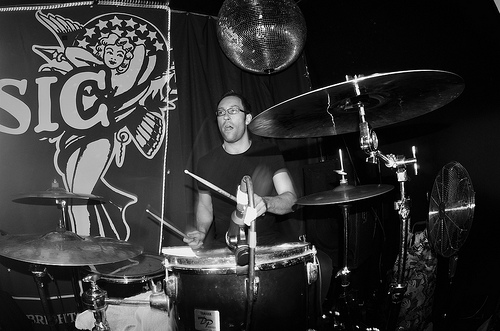 A gorgeous day of sunshine and four Brighton bands at one of the cities most beloved venues; what more could a self-confessed music snob/lover want? Not much it seems.
First to grace the stage tonight is local Alternative Rock trio The Fusion. These young lads look perfectly at ease on the Hope's unusually bare stage. Their visceral tunes are a ballsy concoction of jagged guitars and syncopated rhythms reminiscent of At-The-Drive-Ins chaotic style, the most obvious difference being a more refined vocal approach.
Singer/guitarist Steven Keen has an impressive range and a definite ear for melody, but unfortunately his lyrics are somewhat lost under the pounding drums, not that the crowd seems to mind. And the guys put on a good enough show to get them all warmed up.
Next up are the somewhat mismatched looking Brighton-based Folk outfit Landores, who with their slightly conflicting aesthetic make it tricky to know what to expect. A rumour goes round that this is actually their first live performance together, but it's clear from the outset they know just how to confound an audience.
Vocalist Joseph Zoutewelle has a touch of Orlando Weeks about him, both his intimate lyrics and casually bashful stance. Their songs are a thoughtful blend of storytelling whimsy and free flowing guitar swells, with some bluesy (albeit slightly lengthy) rhythm section breakdowns.
The third act of this increasingly promising night of musical talent is The Denim, another Brighton-based hotbed of riffage and hooks.
Front-man Andy Reed (Ex-My Deaf Audio) howls with all the swagger and vocal depth of a young Eddie Vedder, shaking his maracas (yes, maracas!) with blistering fervour.
Guitarist Matt Walder's tone is for want of a better word…bitchin'. He strums his telecaster with all the grungey prowess of Silverchair's Daniel Johns.
The songs shine through with an overtly unashamed American slant, in fact they even throw in a Black Keys cover for good measure.
Before long their set is over and it's headliners This Is Beautiful Country's turn to brave the giant mirror ball.
Those of you who are in touch with the constantly bustling acoustic scene down here in Albion will no doubt have caught wind of TIBC already.
Singer/guitarist Ryan Whitmore is a regular on the open mic scene and backed up by his bassist brother Vern, drummer Mike Wilton and new guitarist Jamie Francis, the band has forged a modest but fiercely dedicated fan-base over the course of this year. It's been a while since they last played a full live set in Brighton, so expectations are high.
As they kick off the set though, it quickly becomes apparent that something is awry and after exchanging a few concerned looks the band realise the bass is missing from the mix.
A brief pit stop soon rectifies the problem and the band continues un-phased with a rendition of the already classic-sounding '2054', a sort of modern take on the Beatles 'When I'm 64'. There's no twee-lyrics or nursery rhyme antics going on here though, just pure anthemic grandeur.
Ryan possesses a lyrical and vocal talent way beyond his years, and although he wears his influences on his sleeve, he has the ability to captivate and stun with his gravely tone and achingly heartfelt lyrics.
Drummer Mike holds down the groove with tasteful rhythms, adding the all-important harmonies that help lift the catchy chorus'.
Bassist Vern's punchy bass lines back the whole thing up effortlessly, allowing newest member Jamie to take the spotlight with some seriously classy lead guitar work.
At the heart of all the musicianship though, is the intrinsic sense of melody that's imbued in every single song. Genuine moments of soul-baring honesty are complemented by a dynamic wall-of-sound that hits you hard without losing any of its broad appeal. Indeed, this is truly cross-generational music. Your mum, your nan, even your townie sister will fall for these tunes, which serves to highlight the song-writing skills at work here.
The perfect end to an otherwise faultless set is 'Any Given Heart', another classic that's easily an immortal stadium anthem in waiting. Lets just hope the boys continue on this track, because this is truly inspiring stuff.
Words by Jimmy Volts.
Photos by Lofty Fiasco – www.loftyfiasco.com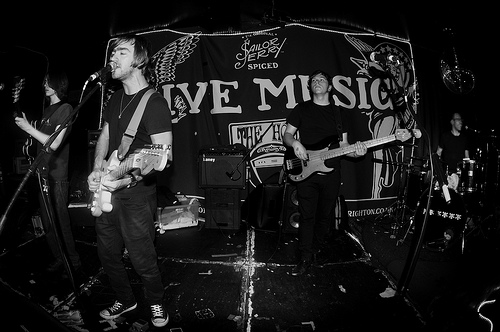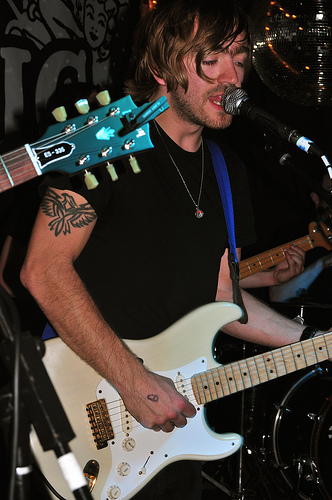 What Did You Think Of The Gig?


Freddy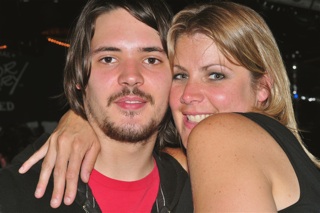 "I thought This Is Beautiful Country were brilliant! They've got some great songs, lovely harmonies, lovely melodies. Overall a fantastic gig!"
Lauren Brown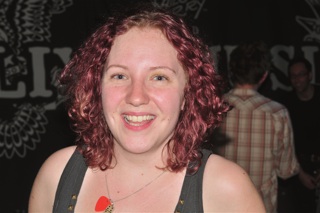 "I thought they were awesome. I've seen them doing their acoustic sets before but this is the first time I've seen a full electric show and they were even better!"
Nikki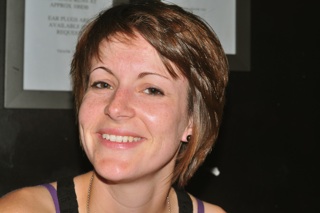 "I thought it was good. The drums were amazing, but I thought the distorted guitars were a bit too much.
I really like the lyrics of the songs too."