Concorde 2, 4 May 2010, with support from Mariachi El Bronx and Ghost Of A Thousand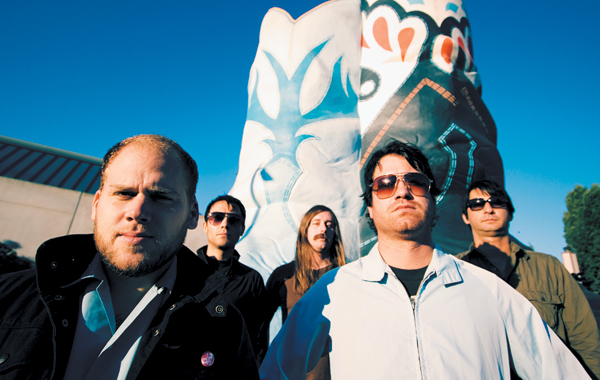 When you exude as much onstage (and indeed on-record) energy as The Bronx do, one can imagine the difficulty in having to act as support band for yourself every night for any lengthy touring period. That Los Angeles' finest mariachi alter-ego appear onstage under the Concorde 2's notoriously fierce stage lights suited and booted to the nines to open for "themselves" is more impressive, given that in around an hour they will be back, working up enough sweat to fill a garden pond as The Bronx. One can only hope that the venue laid on the backstage aqua mineralé in abundance!
Matt Caughtran clearly has other ideas about managing his fluid intake this evening, strolling onstage with a beer in hand and that trademark cheeky drunken grin ever-present. Having witnessed Mariachi El Bronx play to a half-empty festival tent in a remote corner of Belgium recently, we are taken aback by the sheer togetherness and aural impact the band has in a small room full of devotees. The beautiful sunset streaming in through the venue's open side-door further adds to the setting, making it easy to imagine lounging on Venice Beach with a Corona and lime, hot burritos and the sound of acoustic guitars drifting across the sand, the kind of feelings Mariachi El Bronx wonderfully evoke.
The shift in energy from laidback summer's evening to darkened punk rock hellhole is more than tangible as Brighton's Ghost Of A Thousand storm onstage for a blinding set, closely followed by The Bronx who launch into "History's Stranglers"; the easy-going demeanour of before replaced by a fierce snarl as bodies begin to fly around the room with reckless abandon. Unusually for Caughtran he spends most of the set on the stage rather than in his amongst-crowd spot. It doesn't remove from the power of his band's set one little bit though (and also means nobody gets garrotted by his mike cord!).
In a world of conformity and routine, The Bronx are a welcome breath of fresh air. Much like fellow Angelenos Black Flag, their music and attitude demands that we stand up and be counted, think for ourselves, demand culture and originality and reject officiousness wherever it may rear its ugly head. It is inspiring stuff indeed. Ending on 'Heart Attack American', Caughtran finally hurls himself into the chaotic mass of bodies before him as the band wring every last drop of energy from their battered instruments. No camera phones, no fake bullshit, just a proper band playing honest music and having a laugh doing it. What more could you ask for?
Words by Oli Robertson