Hector's House, 12 May 2010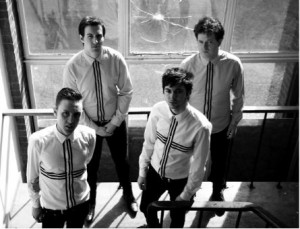 "Anyone in here watch Hollyoaks? We were on it in February and it was probably the best episode ever…" Probably the best episode ever? Lead singer/guitarist Billy Wright should perhaps be a little more confident in his band's abilities to lift the sheer monotony of British soap culture. Though the irony wasn't lost on the youth club demographic in Hector's House, the performance itself unfortunately seemed to be.
There were the few imperiously dedicated fans who skanked their way through the modest forty-five minute set, but for the most part the crowd failed to get going. This was quite an unfair reflection of the musical exploits of Redtrack, who showcased their obvious talent with twitchy punk rhythms backed up by their elasticated London-boy vocal style. What is good enough for Pete Shelley of The Buzzcocks should be good enough for anyone right? Having labelled Redtrack as his "favourite new band", Shelley has not only put them on a pedestal, but has simultaneously put them under pressure to succeed. This pressure is perhaps a natural bi-product of praise from a respected musical commentator, but nonetheless, in the current British indie scene the expectation is a bit of a killer. There is a whole series of bands who are operating within the same musical genre, who have had their limelight and are now operating at a consistent mid-level of success. The unfortunate reality is that Redtrack just sound a little too familiar. Perhaps this is all a little too cynical, but the hard fact is that perhaps the British indie scene is just tired. It seems like a full house, until of course that defining progressive act of the next decade arrives. In the noughties it was The Libertines coupled with The Strokes. There was little in Redtrack's performance to suggest that they have anything other than a very promising future, but will they be the ground-breakers? Who knows. They have what many do not, a promising start.
Their performance was decent, sharp and all together quite impressive. With Wright's on stage neurotic Jaggerisms and Phil Blake's funky bass work they make interesting viewing. At the very least they have positivity on their side, as is shown by bassist Blake's comments on the tough crowd, "If you get one person dancing then I guess you've succeeded eh?" They had four!
What did you think of the gig?
Rose: 7/10 "I heard about these guys through MySpace and I think they were wicked! Really funky!"
Sheryl: 7/10 "I didn't even know who they were before tonight. Really, really good. That song 'Cigarette' was awesome."
Daniel: 8/10 "Billy Wright is just really charismatic, that made the gig what it was I think."
Brian: 6/10 "They were OK but seemed so uncomfortable with such a small crowd, they should learn to adapt and harness the situation."
Words by James Rowland