Concorde 2, 10 May 2010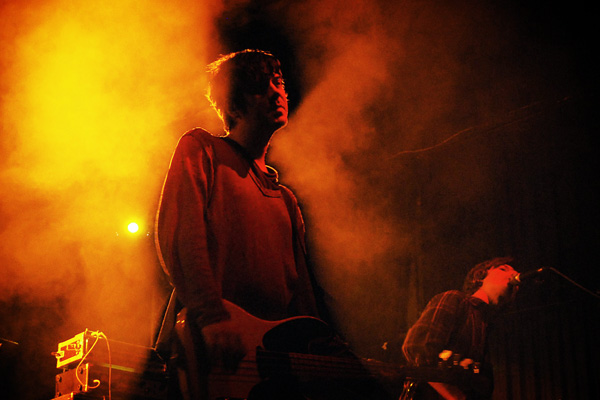 Bradford Cox is sick. "Sick and fucked" in his own words which, it transpires, is less an attempt at some kind of ultra-macho street bravado, but the voicing of a genuine medical complaint. Such maladies underpin a performance tonight that is at once beguiling, powerful, hypnotic, vulnerable, funny and downright strange at times, but it is a testament to Deerhunter's brilliance that their music remains the talking point.
Whilst absolute strangers to mainstream attention, Deerhunter have built up a loyal and fairly fanatic fanbase over four critically acclaimed studio albums, mainly through word of mouth, a strong presence in the music blogging fraternity and, on the evidence of tonight, a punishing work effort.
Taking to the stage to the strains of "Born To Run", there is little fanfare about Deerhunter and little to suggest the assault that is to come. In fact, the first couple of tracks refrain from the full on bombardment of light and sound that pummelled the crowd so successfully here last year. "Fountain Stairs" bounces along quite merrily, while "Never Stops" gets an early airing and sounds fantastic. Cox then launches into an apology for the state of his voice, followed by praise for the NHS and some light-hearted banter with the audience about the American healthcare system.
"Revival" kicks off the heavier, feedback enriched second half of the show with "Little Kids" surviving a Cox coughing fit to expand into a pulverising behemoth of pounding drums, throbbing bass, and squalling guitars. This is only a taster for what immediately follows however, as "Nothing Ever Happened" morphs from high octane, almost punky thrash-along to an incredible extended jam over which Cox showcases a range of bewitching guitar techniques.
In most hands, this would be excruciatingly dull, but the genius of Deerhunter lies in the way each element plays off one another, and the band members ability to alter their style of playing and shift the focus of attack onto different instruments. Together they become so much more than the sum of their parts, and the lengthy distorted soundscapes they produce create a constantly evolving tapestry, teasing new rhythms and melodies from the chaos.
Dispensing with some of the mystique of the encore, Cox leaves the stage informing us "I just need to go and puke, we'll be back in a minute," and promptly does just that, returning even more pale and skeletal than usual and aided by a stool. The band launch into a final, beautiful "Agoraphobia" followed by a brutal feedback drenched jam that stretches out into what seems like an eternity. Finally leaving the stage to a huge ovation, Cox seems exhausted but happy, his band having further cemented their position as one of the best in the world.




What did you think of the gig?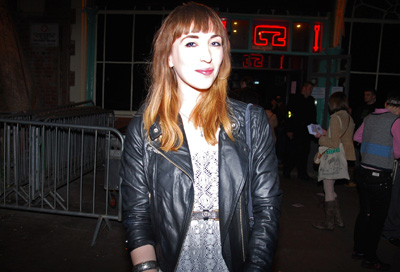 Sophie: 8/10 "I really liked it, they didn't play my favourite song ('Twilight At Carbon Lake'), but really good anyway."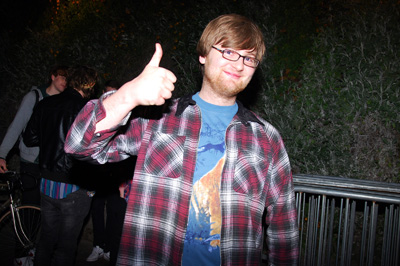 Tom: 7/10 (But I'm very hard to please) "They were really good, I think they were better last time. They played a really good selection of tracks, not just the most obvious ones."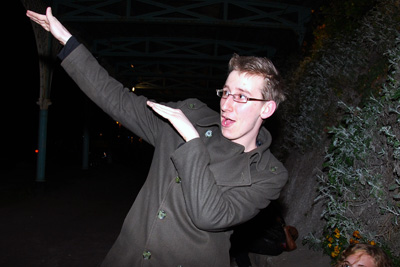 Jamie: 9.3 (recurring)/10 "It was really good apart from Bradford being quite ill, he looked good in a chair, maybe that's a good look for the future. They played 'Strange Lights' which I hadn't heard before, and that was really nice."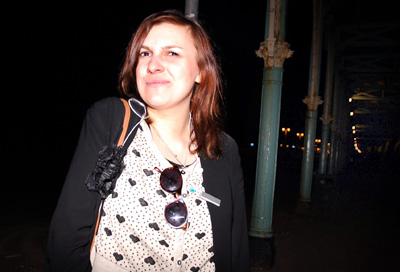 Francois: "I'm from France, so I didn't know many of the songs but I was pleasantly surprised. It's too cruel to give them a mark out of ten."
Words by Daniel Pearson
Photography by Polly Hanrahan