Hoxton Bar and Grill, 18 January 2010
Giving a band too firm a label, can be a mistake.  MEN are a 'queer' band.  MEN are a 'political' band.  Both of these labels could be appropriate, but sometimes labels detract from the detail: MEN are a really brilliant electro-pop band who put on a wicked live show!
There are themes of identity politics and global issues throughout, but they're conveyed via the medium of infectious beats and high energy tunes.  In their words, it's "pop with content".
So, when Kate Nash took to the stage, we were a bit baffled.  What was cutesy, kitschy, radio-friendly Kate Nash doing playing at a queer/punk/electro gig? And why was she holding a guitar?  Apparently, she's currently pursuing a side-project singing with a punk band called The Receeders.
It's a brave career shift, but not particularly surprising since she's been locked in a romance with the lead singer of The Cribs for years now.  She actually pulls it off well.  Her voice is pulling shapes that we never before realised it could and she approaches the whole project with real integrity and enthusiasm.
Unfortunately, The Receeders only have four tracks, which they played twice.  By the time MEN came to the stage, we were pretty relieved.
Our headline act humbly tottered onto the stage, in jeans and checked shirts, and fiddled about with wires like serious professionals then popped off.  After a brief hiatus, they wandered back onto the stage completely transformed.  My photographer swooned at boyish front woman JD's bizarre baggy outfit which sort of resembled a child's drawing of a house (she would later accessorise with a cardboard house-helmet) and I melted at, guitarist, Michael's now exposed torso, framed by a small waistcoat and extremely tight crimson jeans.
On the left of the stage stood Ginger wearing an explosion of colour with one sleeve rolled up and a pair of glasses drawn on her face.  They certainly aren't a band who take themselves too seriously.
This exposition was promptly followed by an hour of tribal beats and pumping pop anthems.  Yes, there were political themes.  Yes, there was a song about gay people wanting to have kids.  No, it wasn't preachy.  All the ideas and issues were conveyed with fun and they never got in the way of the rave.  But, it's pop music with content.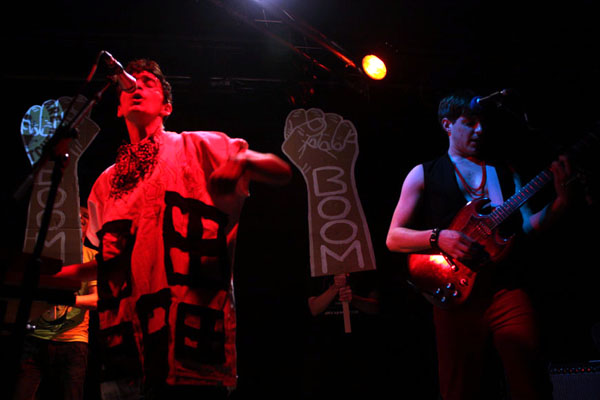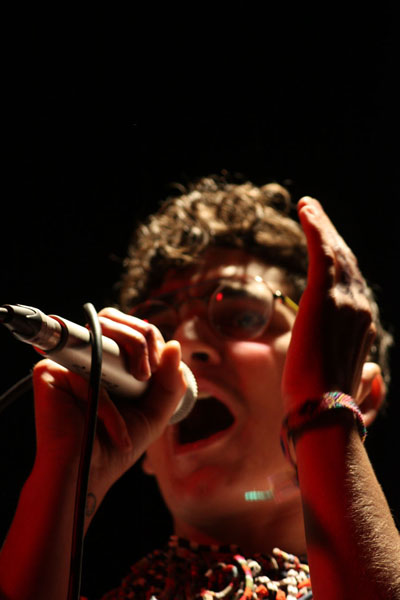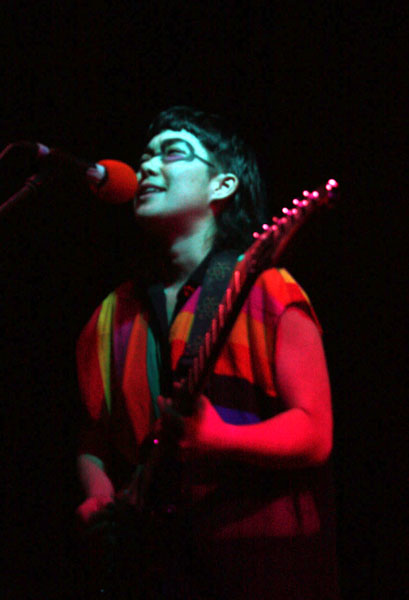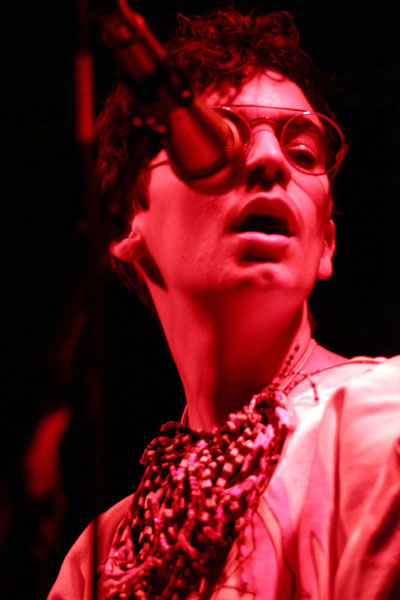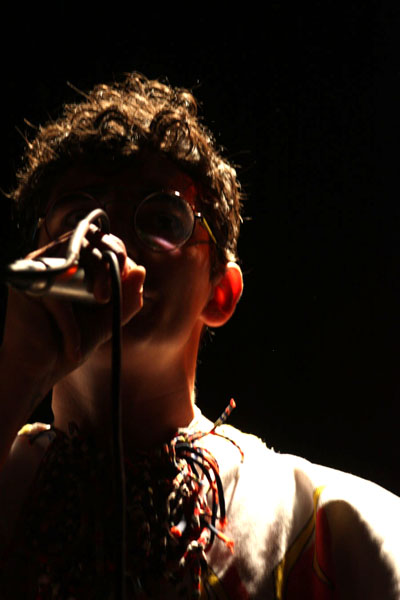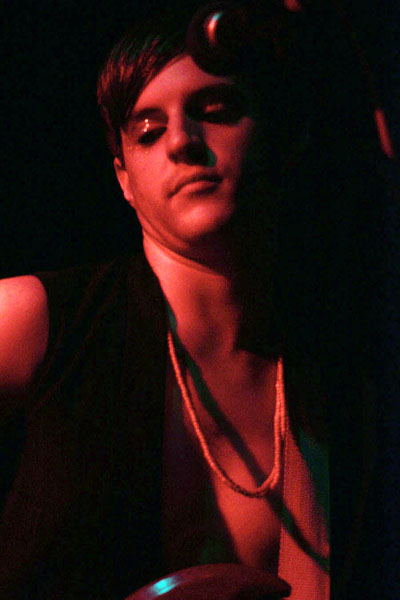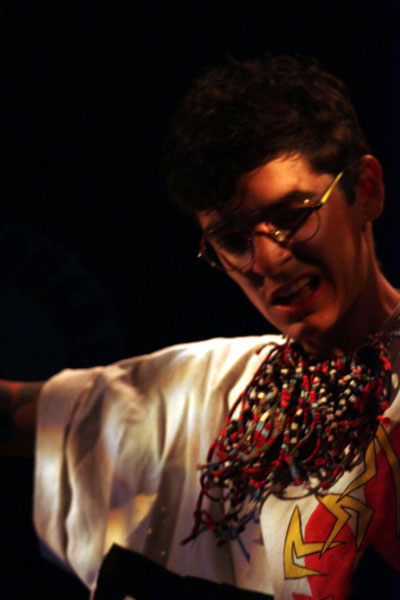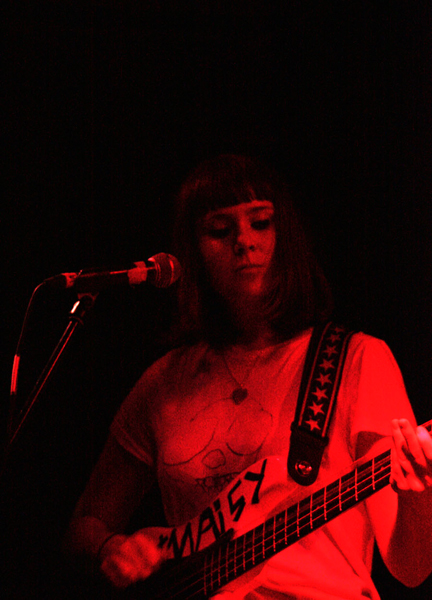 Kate Nash, The Receeders
What did you think of the gig?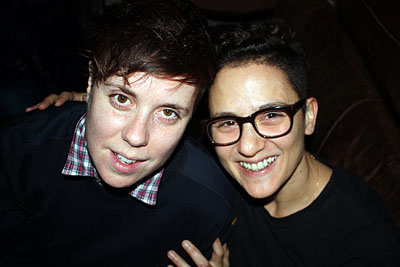 Lauren (left) and Sandra (right): 7/10.
"This is the third time we've…"
"Fourth"
"Fourth?"
"It might even be the fifth"
"Yeah, it is actually.  It's the fifth time we've seen them.  We discovered them at Out Festival"
"Politically, it's great, but if I'm honest, I preferred Le Tigre"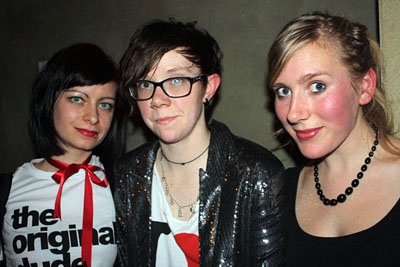 Jess (right): "Fun fun fun"
Kiri (centre): "Very sexy"
Bea (left):  "Quite possibly the best thing I've seen in a long time. Actually, scratch 'quite possibly', DEFINITELY"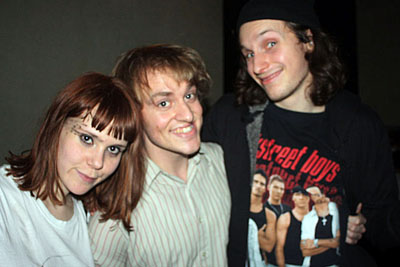 Kate Nash (left), with her band The Receeders 22, Musician: 10/10 "I LOVED IT! The whole night has been full of good people, good atmosphere and really good fun"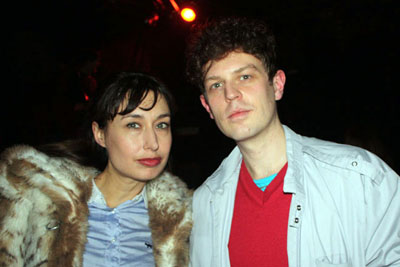 Lucine (left): 9/10 "Amazing. It was the first time I've seen them play live and I would definitely see them again. Really good night"
Words by Joe Nockles
Photography by Liz Chambers
myspace.com/men