Curated festivals are all the rage these days. Not only do you get to experience all sorts of live music all in one place, but your headline act chooses the entire line-up, giving you an insight into their tastes and highlighting some of their favourite acts in the process.
This years' At Edge Of The Sea Festival sees 80s Indie darlings the Wedding Present undertaking curation duties once again to compile a full day of music at Concorde 2. With a limited word count, it's impossible to give all of the bands credit they deserve, so here's a brief synopsis on the last three acts.
For the uninitiated, the Pinky Piglets are an all-girl Punk four-piece from Tokyo who brought more noise and smiles than any other band on the roster (perhaps). Front-girl Asuja's onstage antics were so relentless that it was hard for our photographer to even get a clear shot of her! "We Love Brighton!" She said in her cutesy Japanese accent. You'd be forgiven for thinking that butter wouldn't melt. Until her next remark. "Make some fucking noise!" The crowd erupts in a cascade of fervent approval, and the girls plow through a set of three-minute Pop gems. It wouldn't be surprising if Tarrantino gets in touch to commission a full sound-track for his next movie.

Bringing the tone to a much more reverent level is the penultimate act of the evening (and late addition to the line-up) Badly Drawn Boy, AKA Damon Gough. Performing an intimate acoustic set, Damon works his way through his prolific back-catalogue, selecting various timely tales of nearly-lost love and existential crises. Word on the street these days is that Damon has gone off the rails a little bit of late, losing his temper and cutting sets short. Judging by his composure when dealing with a heckler this evening though, he's still pretty much bullet-proof.
Last up of course are your humble curators the Wedding Present, who  have gone through various line-up changes since their inception back in 1985. The one constant since the early days has been Front-man David Gedge, who's small army of fans enjoy a nice bit of banter with the down-to-earth performer. Members of the same old-school elite as the Fall and The Buzzcocks et al, TWP specialise in the kind of raw Punk Pop formulas that classics are made of. 'Flying Saucer' gets a ravenous applause from the constantly-moshing crowd and a timely cover of Steve Harley's 'Make Me Smile' results in an ecstatic sing-along. In amongst the sweaty flock, a few official T shirts from back in the day can be seen, highlighting just how dedicated a fanbase this band has. After a candid anecdote on how this is the highlight of his year, Gedge and crew bow out gracefully, bidding everyone a fond farewell with news of a brand new record in the pipe-line. Until next year then.
Words By Jimmy Volts
Images by Elle Brown

What did you think?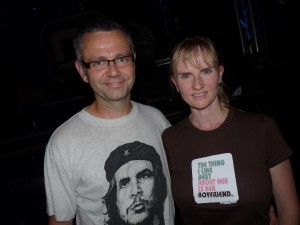 Samantha Roberts (Right)
"I'm a long time fan and I look forward to this event every year. They were brilliant!"
Mason Urwin (Left)
"I've been listening to them since their John Peel sessions back in the day and the blend of songs just gets better with time. Love em!"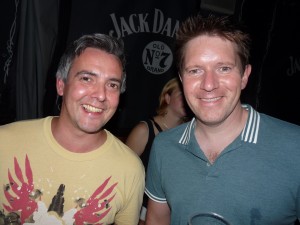 Dan (Left)
"I saw them a couple of years ago, and it was good to here a mix of old and new tunes. And 'Come Up And See Me!? Ah, just superb!"
Gyles (Right)
"I love listening to 'My Favourite Dress', I feel all nostalgic just being here. They were brilliant!"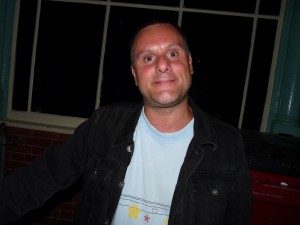 Lee
"That's one of the best gigs i've seen them do. I've seen them a bunch of times before, but that was a standout one for me. Love the new material too."