Komedia, 15th September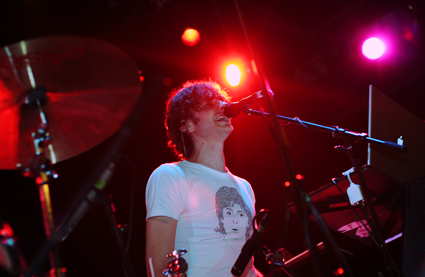 On a brisk Monday evening, still nursing the last vestiges of post-festival blues, it was left to a bunch of chirpy Aussies to bring the sunshine back into our lives as the improbably monikered Wally De Backer, Belgian-born Melbourne resident and one third of The Basics, brought his one-man extravaganza to the Komedia. Going under the name Gotye (pronounced 'gore-ti-yeah' apparently), the Australian ARIA award winner dazzled with his virtuosity and at times it was literally a case of "Where's Wally?" as he dashed from laptop to drum kit to piano, grinning all the while.
Support came from compatriot Claire Bowditch, a chatty, self-effacing lady whose spunky persona belied the touching nature of her solo laments. Accompanying herself on electric guitar, and even at one point a teapot, she proved an artist to watch out for. Mr De Backer himself is so immensely talented one cannot help but feel a twang of jealousy stirring within. For one he is a seriously good drummer, as clearly demonstrated on the hooky, bass-driven funk of opener "The Only Way". The 28-year-old is equally at ease on the piano, not to mention being blessed with a powerfully smooth voice and his second full-length "Like Drawing Blood" contains some of the most original, memorable pop music I've heard this year, despite being released Down Under in 2006. Think a quirkier, more laid back Jamie Lidell without the experimental pretensions and you'd be getting close.
With amusing, high quality visuals accompanying each track, the show encouraged wide smiles and dancing feet, with cries of "I love you Wally!" from the more raucous Antipodean clientele. The finale featuring fellow Melbourne-ites Lamplight got everyone singing and clapping along, a fittingly involving end to a superbly entertaining show.
Words by Jody White
Photographs by Ian Greenland