Komedia, 27 April 2010

Whilst the words 'brass ensemble' normally invoke sentiments along the lines of "it's grim up North" or Ewan McGregor's smug face wrapped around a trumpet mouth piece in the mum-friendly 1996 film Brassed Off, for this balmy Tuesday night they have acquired new meaning. Ushering in the sunshine vibes of April come Chicago's Hypnotic Brass Ensemble, picking up the Hot 8's baton of brash and jazzy playfulness neatly packaged up for the English soul fans. Up until now the group have largely been on the peripherals of the contemporary funk/soul scene. A few praise worthy collaborations with Erykah Badu and Mos Def aside, their limited releases have thus far failed to impact on a saturated market. In fact if you're not huddled round the wireless for Gilles Peterson in the wee hours, their name might be unfamiliar. We have perhaps become too complacent with our American 'soul searching'. A scene that started with such a rich, vibrant heritage by no means ends with Sharon Jones or the re-manifestations of the El Michels Affair.
There is so much to be loving right now and the audience tonight reflect the Brighton demographic prepared to do some digging in the crates and lurking on the forums. The support for the night, the Souljazz Orchestra, did a good job. But their Canadian brand of afrobeat-by-numbers was a little like shooting fish in a barrel for a crowd whose mindset is firmly set to groove.
Whilst Hypnotic Brass Ensemble tip their hats to their funk and jazz roots there is a consciousness of the contemporary dance floor. Modern dancing has certainly changed. No more popcorn or mash potato but the trademarks of dance music fans, all whirling arms and euphoria. No more misogyny but a fair amount of bump and grind. Their squeaky, claustrophobic trumpet lines call to mind prime Maceo Parker, Lee Morgan or even a young Pharaoh Sanders. What's remarkable is how Hypnotic Brass, despite having just a few 12"s out on Honest Jon's Records, control an atmosphere through set lists. They dictate and command through rhythm. Undoubtedly these guys are going to grow to monstrous proportions this year. The road has been paved for them, they've just got to walk it.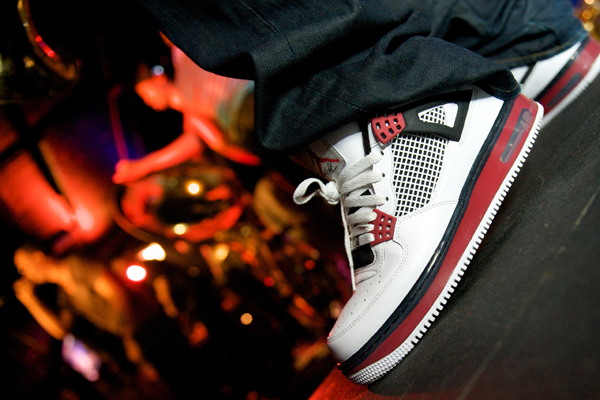 Words by Freddie Duffield
Photography by Emmest
myspace.com/hypnoticbusiness