Concorde 2, 27 April 2010, with support from Pearl And The Puppets and Eliza Doolittle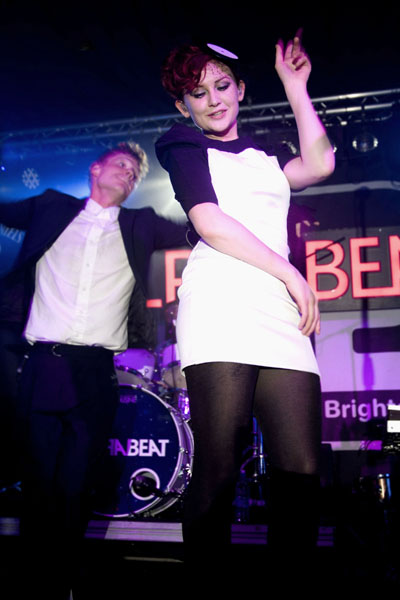 A camp clean-cut caricature of a pop group, a band that obtains so little edge that the likes of the Sugababes seem like death-metal compared to them, a band solely empowered by a rigorous PR campaign to circulate the over-subscribed chart pop genre that tortures my ears every single day. I'll refrain from lying to you, these were my preconceptions of the Danish euro-pop sextet Alphabeat and as you can gather they weren't particularly positive.
Idly dawdling at the side of the Concorde 2 like an indifferent wall fixture, perhaps one of the many Jack Daniels banners that line the venue, I find myself people-watching. Despite being a 14+ show, the buzzing of pre-show anticipation was not coming from the expected cliques of teenagers ready to wiggle and waggle to "wonky pop", but from a variety of ages.
After a playlist consisting of Daft Punk, Take That, Scissor Sisters and The B-52's had run its course, most of the Brightonians were intoxicated enough to start furiously shuffling. Pearl And The Puppets (difficult to escape the obvious comparisons to Florence + The Machine, Marina And The Diamonds) take to the stage. Pearl's vocal prowess doesn't do her any favours either, as she has a distinct faux-"mockney" twang that makes you immediately think of females such as Lily Allen and Kate Nash. But with all this in mind, Katie Sutherland, aka Pearl's warm textured sound and home-grown humble set list of stunning tracks such as 'Because I Do' definitely won over potential fans.
The stage then became dominated by a blue intensity, with the fuscia Alphabeat logo piercing through the smoke, four cheery Danes walk on stage. Slick, smart and retro in fitted shirts and bowties like a modern barbershop ensemble. The crowd deafen me with screams of deification when the Concorde catches sight of front pair, Anders and Stine, cosmetically nostalgic like their fellow palatable band line-up and there is no time for introductions. The band shower the crowd with sickly sugary sweet riffs that the fans craved, as they run through defining track 'Fantastic Six' and straight into new material 'Don't Go'. They were youthful, zesty, professional and fun, everything I didn't expect. During set annulment of modern masterpiece 'Fascination', lead Anders was dancing with such vigour I was sure one of his profusely sweaty limbs were going to detatch and fly into the sea of hands. By the time they were halfway through chart hit '10,000 Nights' I had immersed myself in the irresistible world of euro-pop glitterati and I couldn't tear my eyes away from thrashing tambourines and spinning keyboardists.
I had been proven wrong, in the most powerful way imaginable. Alphabeat are a band who maintain quality control in pop-land, writing and creating their own material and generally executing dazzling but professional performances, Alphabeat deserve every minute of their fame, especially if they can charm disapproving critics like myself. There is just no way I can muster any ill-feelings or begrudge their success after tonight's invigoratingly upbeat display.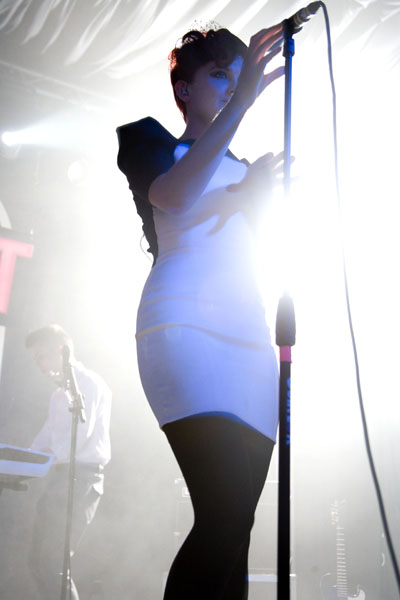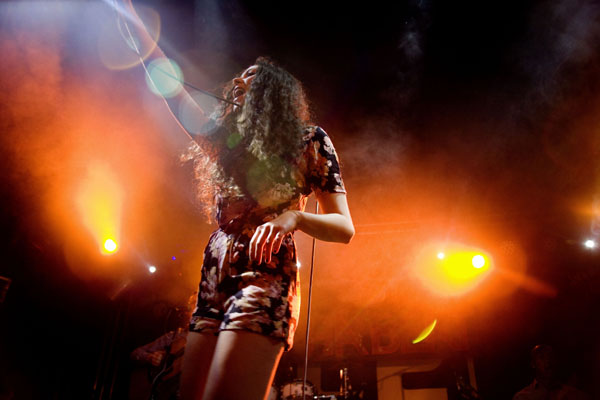 Eliza Doolittle
What Did You Think Of The Gig?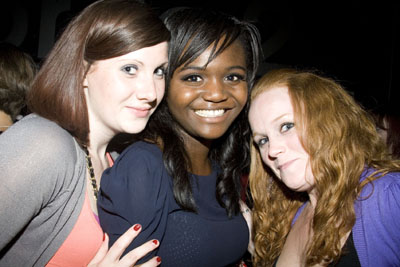 Brenda, Charlie, Hannah (left to right): "Fascination and hole in my heart were awesome! I love what he does with the tambourine."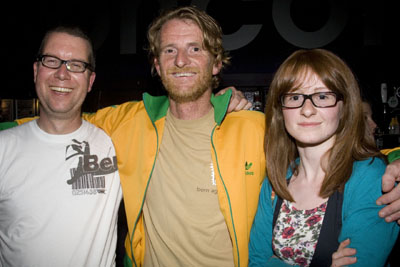 Billy and Bob McGarrigle: "Fantastic, they mixed old songs with new. Really good, euro-pop at it's best."


Hannah, Nigel, Claire and Giovanni (left to right): "They make us so happy, you can't help but smile! You can't just stand there either, you have to dance!"
Words by Amber Mellowship
Photography by Ruby Allcock
myspace.com/pearlandthepuppets
myspace.com/thisisalphabeat