Audio, 5 February 2010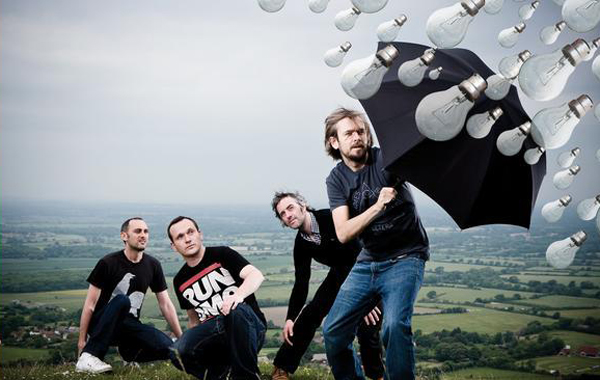 With undoubtedly one of the strangest band names ever conceived, it is no surprise that Fuijya & Miyagi are purveyors of a sound that is as inventive as it is classic. Difficult to pigeonhole, these fellow Brightonians have a vast array of influences varying from seventies Krautrock to eighties synth-pop, and they even have a smattering of the early nineties vocal house and rave scene flowing through their collective music vein.
The trio (though, a four piece live) have been steadily amassing a loyal local following since the release of their debut album back in 2000. And with their sophomore output 'Transparent Things' and 2008's 'Lightbulbs' now firmly lodged in the heads of the fans, tonight's sold-out show promises to be brimming with distilled electronic delights.
The first thing that strikes you about this band is their unfaltering devotion to 'the groove'. (No, this is not just a term thrown around by aging hippies and muso's). Put simply, the groove is the rhythmic accent that causes the listener to move their feet, gyrate their limbs and generally jig around uncontrollably like some kind of drunken fool, and this band has 'it' in spades.
Front man David Best's hushed vocals are instantly recognisable, and not unlike a young Ian Brown at his most relaxed. Lyrically, he is something of a genius (albeit a slightly disjointed one), spitting seemingly unrelated sentences with focus on rhyming couplets and scatting syllables as opposed to storytelling. The resulting mantras are key to the groups' rolling hypnotic sound and keep the audience nodding along throughout.
Likewise, drummer Lee Adams has that laid back Stone Roses/Happy Mondays groove that seems so elusive to other bands and locks tight with bassist Matt Hainsby's punchy yet satisfyingly soulful riffs. Steve Lewis' minimalist synth playing is the final and crucial component to Fujiya's sound, punctuating all of the above with Soft Cell-esque textures and gentle blissed out vibes.
In a nutshell, this band is the logical modern synopsis to (most of) the history of electronic dance music, and as the climax approaches the group unleashes its trump cards in the form of the infectious 'Collorbone' and 'Ankle Injuries'. The ensuing chants of the bands' name spread like wildfire throughout the crowd as the final tune reaches it's peak, leaving the hoard to continue they are night on a Miyagi induced high.
Words by James Watts
myspace.com/fujiyaandmiyagi