93 Feet East, 24 February 2010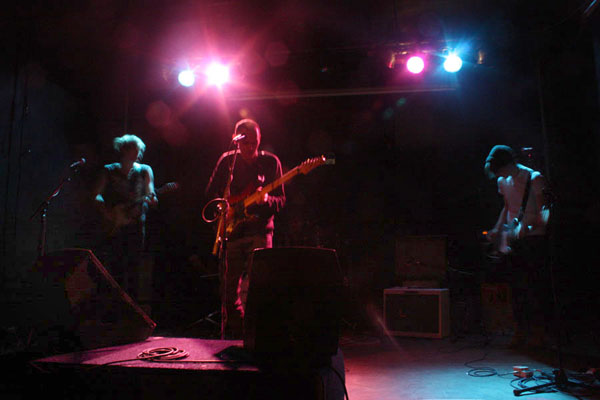 Eight Legs seem to be a completely average, run of the mill, nothing to see here, indie guitar band. You would be forgiven for assuming they had rolled straight off the North London post-Libertines production line. After all, they are currently being fawned over by all the same rags that bands of their transient breed populate and logically, they will do very well for themselves until the scene hungry audience gets full up on their then-dry carcass and moves on to some fresh beast – a la The Paddingtons, Nine Black Alps etc. Eight Legs have four members which A) means they are literally comprised of eight legs (clever) and B) they have the perfect number to form an indie guitar band – one singer/rhythm guitarist, one guitarist, a bassist and a drummer. The problem with Eight Legs is that despite their every effort to occupy a mundane sector of the music industry, they have completely failed to be mundane (unlike the support band).
Their performance; a string of perfectly tight two to three minute songs with the occasional "cheers" from guitarist Jack Wharton. Singer and consequently the front man, Sam Jolly, doesn't really interact with the audience. In song, he swings from fragile and fey to cockney and ticked off in the minute space of time between hooks, which with Eight Legs' songs are basically back to back. When each song ends, his neck retreats into his jumper, like a scared tortoise and his shoulders come up as if he's got a hunchback. Although, it is actually refreshing to see a musician who isn't permanently playing the professional front. Luckily, he has got Jack at his side to lollop about like an excitable puppy and acknowledge the fact that the room is only about 40% full: "Why don't you all move forward? We don't care about the back of the room."
Eight Legs have had an insane career thus far. Following in the footsteps of Beck, These New Puritans and Razorlight, they soundtracked Hedi Slimane's Dior Homme Autumn/Winter 2007 cat walk show. Rather than propelling to stardom, they bizarrely signed to a record label that exclusively promoted them in mainland Europe, Japan and Brazil. Their debut album, Searching For The Simple Life was for a long time only available to their meagre bunch of UK fans through the German Amazon. Like all great musicians, they retreated to Berlin and honed their craft. In 2009, they burst back on the North London scene with a new record label, a slicker less introspective sound and a bloody great fan base. Oh yeah, and their song 'These Grey Days' sound tracked an advert about binge drinking.
The NME compared them to Ronaldo, which means absolutely nothing to this reviewer. So, in response, I'll discuss them in terms of Quantum Mechanics. Eight Legs are the Uncertainty Principle of the indie pop scene. They don't seem to be able to harness the right direction at the same time as their career begins to move at the right speed. Once they master both of these, like Heisenberg, they will be an unstoppable force capable of controlling the whole universe… in theory.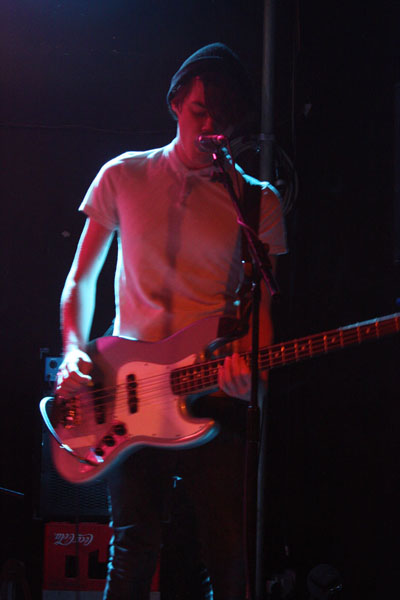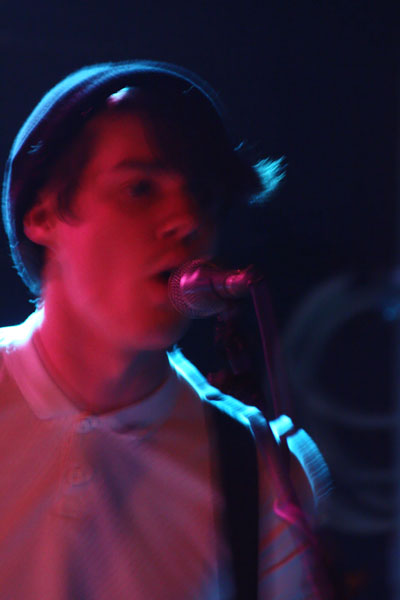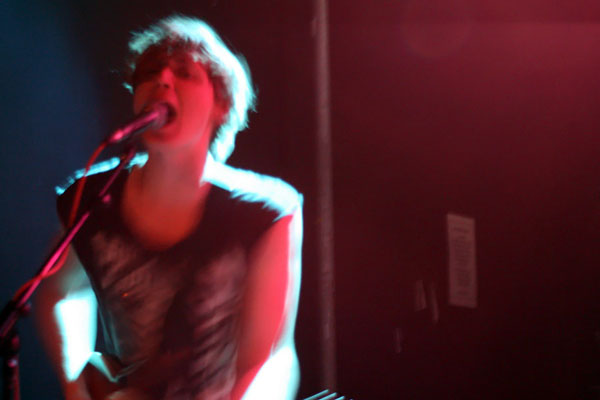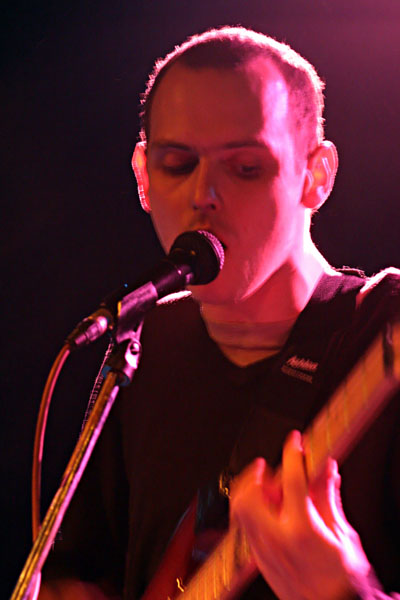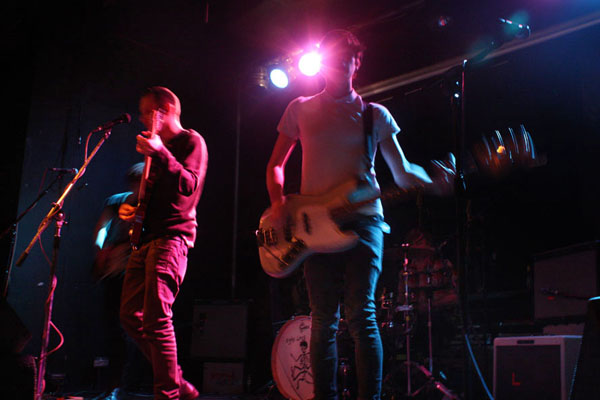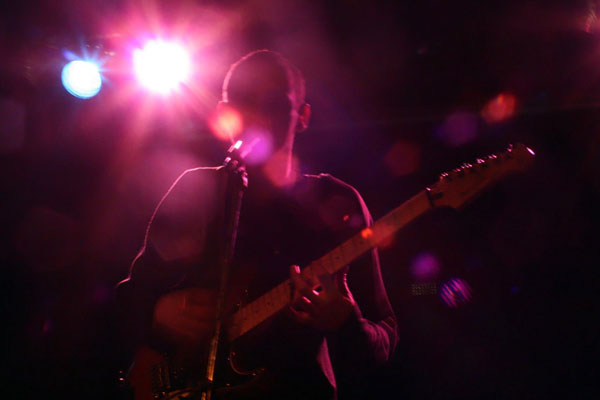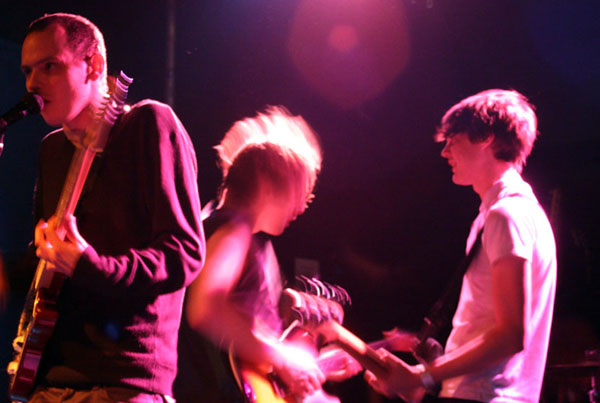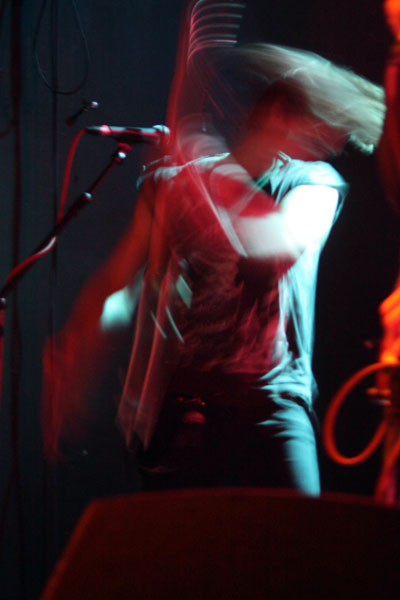 What did you think of the gig?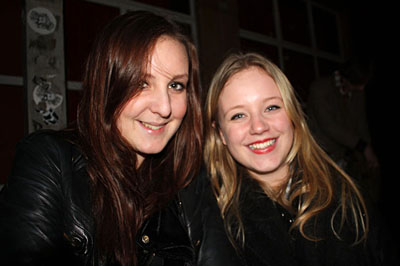 Mathilda (left) and Linnea (right): "It was cool. Really cool. We'll definitely see them again. Of course."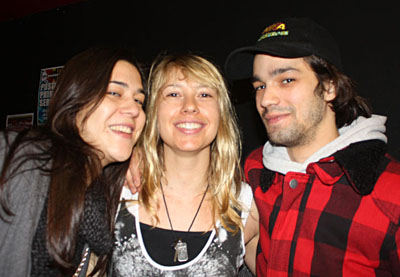 Rapheal (left): "Very cool."
Joanna (centre): "I really liked them."
Rui (right): "It was great."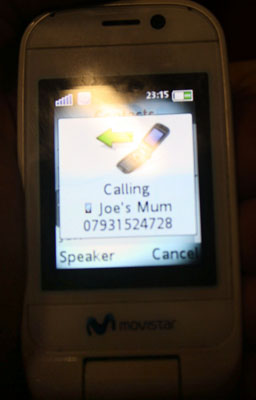 Joe's mum: "Well, I saw them a few years ago and if I'm honest, I think their songs were better then. Their new album is a bit 'punk'. I couldn't really hear much over the phone. Are they playing Scarborough soon?"
Words by Joe Nockles
Photography by Liz Chambers
myspace.com/eightlegs