Freebutt, 18 May 2010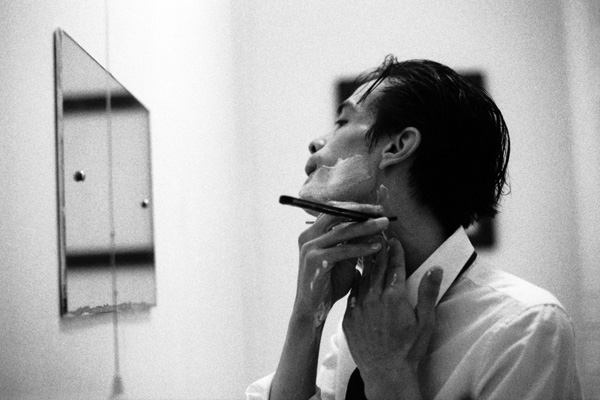 The bass drum sat centre-stage at the Freebutt is more than just a musical instrument. It's also a billboard that bestows an unassuming name; Dan Sartain. The young American is a relative stranger to these shores, having visited the U.K just a few times before for previous tours. The emblem embossed beside his name depicts his home state of Alabama, one of the spiritual homes of 'rockabilly' and the setting in which the talented greaser has honed and found inspiration for his song writing over the years.
Tonight marks the start of Sartain's tour in support of his brand new album "Lives", and joined by his troupe, he takes to the stage before a ravenous but welcoming audience and politely requests that the house lights be brought up so as to help him see who he's performing to. The stage is suddenly awash with a ghoulish green and within seconds the crowd are cavorting with nodding heads and jerking Joe Strummer-esque knees, whilst Dan's slap back vocals and tremolo-drenched guitar permeate the speakers and ricochet off the beer stained walls.
With the right kind of ears, you could almost believe we were in some dank fifties juke joint (there's certainly enough quiffs and ducktails about) and were all breaking our mama's curfews in pursuit of some hot tail. Closet sexism aside though, Mr Sartain really does seem like the genuine article, his warbling baritone belying his slight frame as he croons sweatily into his Elvis-style microphone.
After a few acoustic requests from some hardcore fans, the set begins to near its climactic finish. And just before his final number, he takes a moment to thank the crowd and humbly apologises for the slightly slapdash, rough-around-the-edges set this evening. "It is the first date of the tour after all!" The audience however, are having none of it and cheer until their lungs are raw. In fact, this self-depreciation only serves to cement his 'nice as pie' reputation among the people. He's obviously preaching to the converted. And after one final hip-swaying tune, he ditches his beaten up old six-string and slides off into the night.
What did you think of the gig?
Sam: "I thought he was amazing tonight. I saw him on his last visit to Brighton. He's just so sweet and captivating."
Fin: "I'd never seen him until tonight, my friend wouldn't stop going on about him, so I thought I'd come down on a whim. He really blew me away! Definitely gonna go check out the album."
Words by James Watts