Amanda f**king Palmer f**king amazing! Tonight was the first time I had seen Amanda Palmer live, and I really do not want it to be my last. I arrived at Concorde 2 at 6:20pm (10 minutes before doors opened) to find there was already a large crowd formed at the front of the stage. This was understandable when I later learnt that this show was just one of six, not just in Britain but Europe; no wonder it was sold out.
Bitter Ruin, a Brighton based band, performed a very intimate and striking set, that was cushioned with a layer of pristine silence as a spellbound audience watched with attentive awe. They played a 30-minute set (that included their new single 'Trust', a song you should definitely treat your ears to) with confidence and notable stage presence that was not lost when they accompanied the headliners for numerous different songs later on in the evening.
Before Palmer took the stage, the audience was treated to a belly dancer introduced as Super Kate. Something I have never witnessed before at a gig and something tells me I will never again (unless I am lucky enough to see Palmer again, then it's a possibility.) Amanda Palmer and the Grand Theft Orchestra performed an unbelievable set with Dance, Theatre, and pure unstoppable passion. Throughout their set they kept us on our toes, musically and at one point physically as we were introduced to Super Kate again and Amanda's 'Fitness Power Hour' which saw the audience stretching, bending and eventually dancing with the band who made their way bang into the middle of the audience. This was followed by a cover of Radiohead's 'Idioteque', a take on the theme tune of 'Prince of Persia: Warrior Within' and a mash up of Palmer's own 'Oasis' and 'Twist and Shout' all of which fitted perfectly into tonight's bizarre but brilliant set. As well as performing many of Palmer's solo work, we were also treated to some Dresden Dolls and some never before heard songs, which despite being described as unfinished and experimental, were performed without fault. Again: Amanda f**king Palmer f**king amazing!
What Did You Think Of The Gig?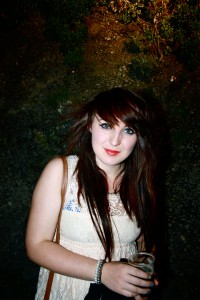 Harrie,  19, Theatre Studies Student
Rating: "Second time I've seen her, better than the first time by a long way. She's so dynamic. A strong nine out of ten."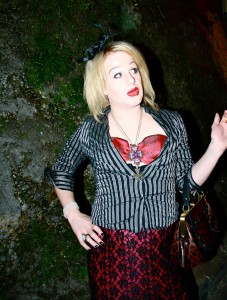 Crysi De Milo, Somewhere between 17 and 35,  Struggling Artist
Rating: "I thought it was fabulous but very rammed. She did 'Girl Anachronism' which was good so I got one of my songs."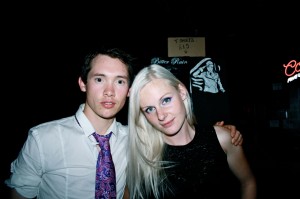 Ben Richards and Georgia Train , 25 and 24,  Bitter Ruin (Amanda Palmer's Support Band)
Rating:  "Well I thought the support band were a bit iffy (Joking obviously), but the rest of the gig was A-Mazing, Amanda always brings it regardless. Amanda is amazing and even better covered in sequins."