First rising to fame with their debut album "Permission to Land" over 15 year's ago, the rock band have taken a hell of a ride throughout their career, trumping any doubters who dismissed them for clear influences like the legendary Queen, AC/DC and Thin Lizzy. Still firmly on their game today, like a magnificent juggernaut heading for rock-town, the band have released "Easter Is Cancelled" – arguably their most ambitious album yet! Hitting the stage here in the city this month with their new material, front-man Justin Hawkins and brother guitarist Dan, drummer Rufus Taylor – son of Queen's Roger Taylor, and Frankie Poullain on bass are set to bring you more of their notorious live-show rock magic in this don't-miss concert. Find out more about the new album as they tell it in their own words….
It's somewhat of a stand-out moment for the band this year, with "Easter Is Cancelled" being the first concept album they've ever released, or as near as possible to it. "It's about as close as we're ever going to get…" guitarist Dan confirms. "With a definite thread of subjects covering life and death, and how we bring meaning to them."
A shimmering, glammed-up attempt to restore rock to its former glory, fans will love lead track "Rock And Roll Deserves To Die"; five minutes of masterful rock showing off the kind of epic riffs and lyrics we've come to expect from the band.
"A lot of bands have relinquished their duty. Rock and roll is so uniform now. Everybody dresses the same, looks the same, sounds the same." Bassist Frankie observes."It's pathetic. It deserves to die. Let's kill the cliché. Let's break the crucifix. That's partly what the album is about."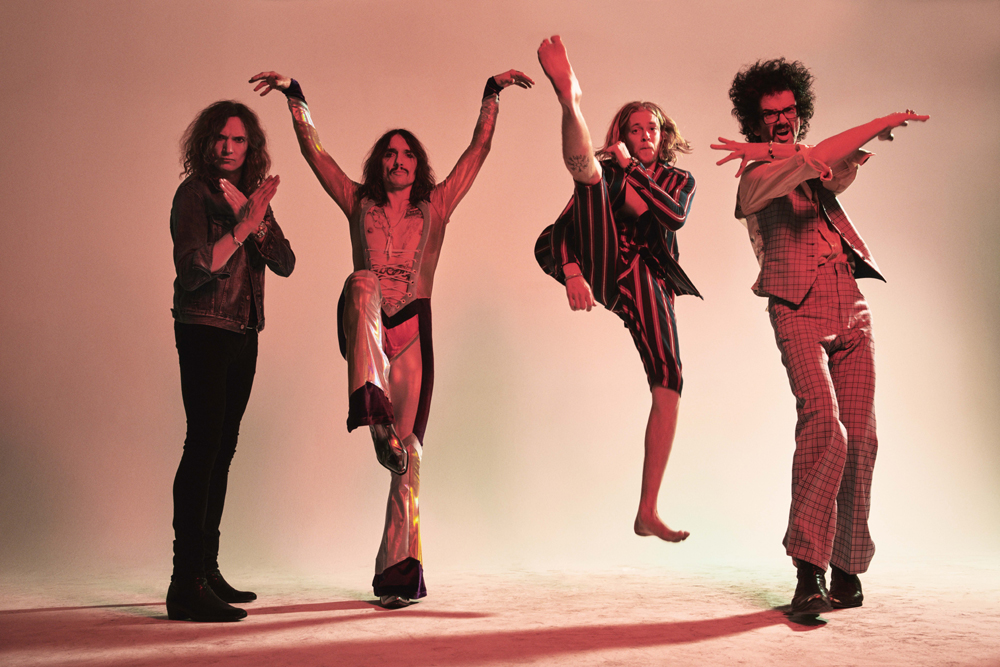 It's an impassioned call to arms from a band who've worked hard to earn their position. Last year they performed with Alice Cooper and Johnny Depp's band The Hollywood Vampires, some of the most famous musicians on the planet. "Our lives are pretty insane really" Dan reflected. "…it was amazing to be playing those shows. I'm not someone that gets star-struck, but with Johnny Depp I actually felt a bit freaked out that we were just hanging out with him. But after talking to him backstage for about half an hour, he was actually pretty down to earth."
…forget being authentic, what's needed is some innovation to move things forward.
The band also joined fellow Suffolk-raised star Ed Sheeran on his UK tour, in shows that would ultimately yield footage that served as the basis for their single, ballad "Heart Explodes". "Ed was very affable indeed." revealed Dan. "He'd come and see us before and after our shows, which was nice. He's the only person I can think of that when he's at gigs and there are fans are around, he actually goes up to people and asks them if they and their kids want selfies with him, rather than them having to ask for pictures".
It's a far cry from their journey to fame, memories of self-financing their debut singles and paying their dues on the live circuit, as Dan tells it; "Before we got our deal, nobody wanted to sign us, including the label who eventually did. It was a long wait for us to make it – I was 27 and actually at the point where I thought we'd missed our chance!"
Thankfully they stuck with it and their efforts finally paid off, culminating in a seriously impressive career in music and their latest release. "I've a slightly different take on the album to the other members as I produced it, as I have done with our past few records" Dan considers. "With the previous albums, I'd be listening back to them looking out for any mistakes I might have made, but that really wasn't the case with our latest one. I think it sounds amazing."
Recorded and mixed at the guitarist's self built Hawkland studio in Sussex, the album contains some seriously standout moments, such as "Heart Explodes", hard-rock offering "Heavy Metal Lover", and defiant closer "We Are the Guitar Men". With just a sprinkling of aggrandizing pomp, lead singer Justin summarised the album thusly: "At the end of days, humankind must consider the essential truths of existence. The Darkness, your vanguard in life's journey, have stared into the abyss. The observations we bring from the edge are set out in a new record album, titled 'Easter is Cancelled'", concluding that; "The result is a literally Biblical record, and those who have said that rock and roll is the Devil's music should listen and understand that it is, in truth, the voice of God.
Returning again to the opener "Rock And Roll Deserves To Die" – possibly the band's most exciting and diverse song to date and the very personification of their new LP, Dan discusses the musical style of the track; "For that song, we went for essentially four styles of music in one – from Led Zeppelin, a Deep Purple scream, to Black Sabbath and AC/DC. It's not something we are afraid to do with our music", he goes on to summarise; "I do think that there are some really good bands out there, but a lot of what I hear is very linear sounding. So forget being authentic, what's needed is some innovation to move things forward."
And they've certainly achieved that with "Easter Is Cancelled". Like Dan said; "It's going to be really good to be playing some material we've not played before, and the whole thing about this being a concept album will be answered on the tour…"
Ooo! We can't wait! See The Darkness live as they spread their "Easter Is Cancelled" message in their UK and Ireland headline tour this winter, in what promises to be an exceptionally special run of dates showcasing their vision for the album.
INFO: See the band December 10th at Brighton Dome
Thedarknesslive.com
Pic by Simon Emmett