Brighton is jam-packed with brilliant indie businesses, some of which have been part of the fabric of the city for decades; including Blue Dragon Tattoo! We get to know the team behind this awesome Brighton tattoo studio as they celebrate their 30th anniversary this year!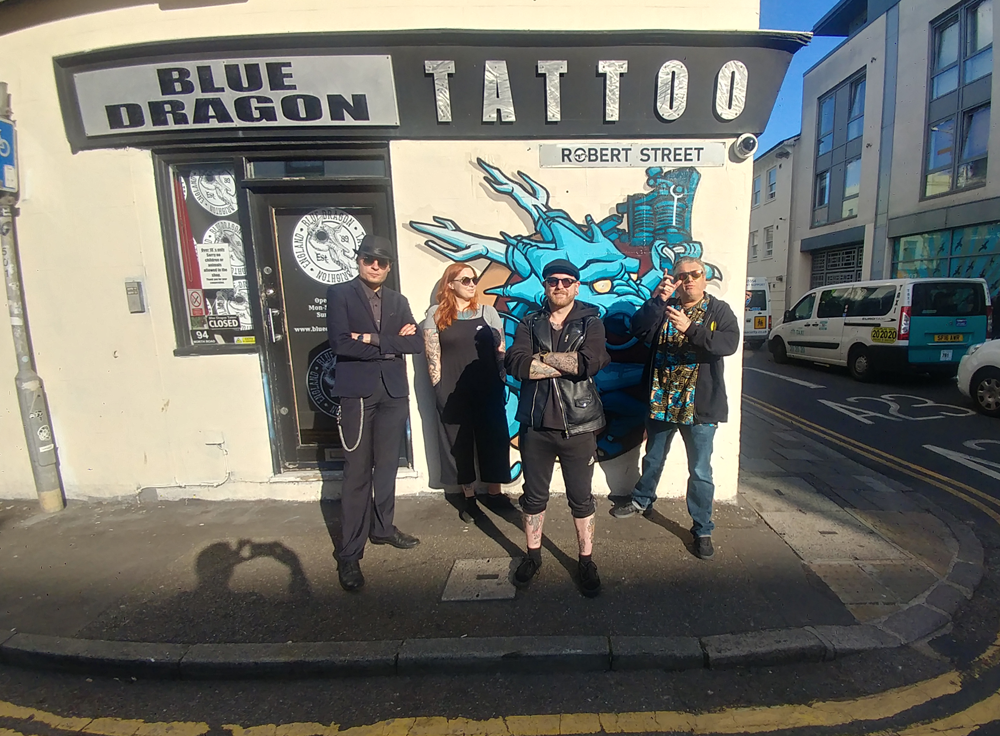 How did Blue Dragon Tattoo Studio come into being?
Mick: First of all, the Blue Dragon was started in 1989 by Danny Fuller who had been around the Brighton tattoo scene for some time – but it was '89 when it became the Blue Dragon. There were a few changes in personnel at the start (including Danny's brother) – but at the core of the shop in the 90s were Danny, Aaron Soffe, Dave Lyeach, Gordon Couser, and myself after I had taken over from a bloke called Rabbit who had introduced me to Danny – this became the perfect storm. A great bunch of misfits that gave the shop a unique feel and atmosphere which made the shop very popular, it was like the wild west *laughs*. I then took over the shop in the late 90s as Danny had opened another shop outside of Brighton.
What's Blue Dragon Tattoo Studio known for?
Mick: Quality tattoos, friendly atmosphere and working closely with our customers. We have always strived to give the best from reception to the tattoo. We also have the most photographed shop in the area thanks to the murals by Odisy.
What's your background – where are you from & what did you do before Blue Dragon?
Mick: Originally I'm from East London and I'm a self taught artist, I had crossed paths with the tattoo world but for a while I had my own business selling my art, from custom painting motorcycles to canvases, if there was a surface to paint on I would paint it. I also had some terrible jobs that spurred me on to work for myself as an artist.
How did your personal journey as a tattoo artist begin, Mick?
Mick: Well, my introduction to tattoos came at a very early age when a guy called Terry Oldham opened up a tattoo studio just around the corner to me in East London, this is in the late 70s, considering that at that time there were a handful of tattoo studios in London, it was a stroke of luck that I had a studio open up just around the corner to me. I have great memories of bunking off school and hanging out at Terry's studio with these weird and wonderful people, full of teddy boys, skinheads and rockers etc, it was an education in itself.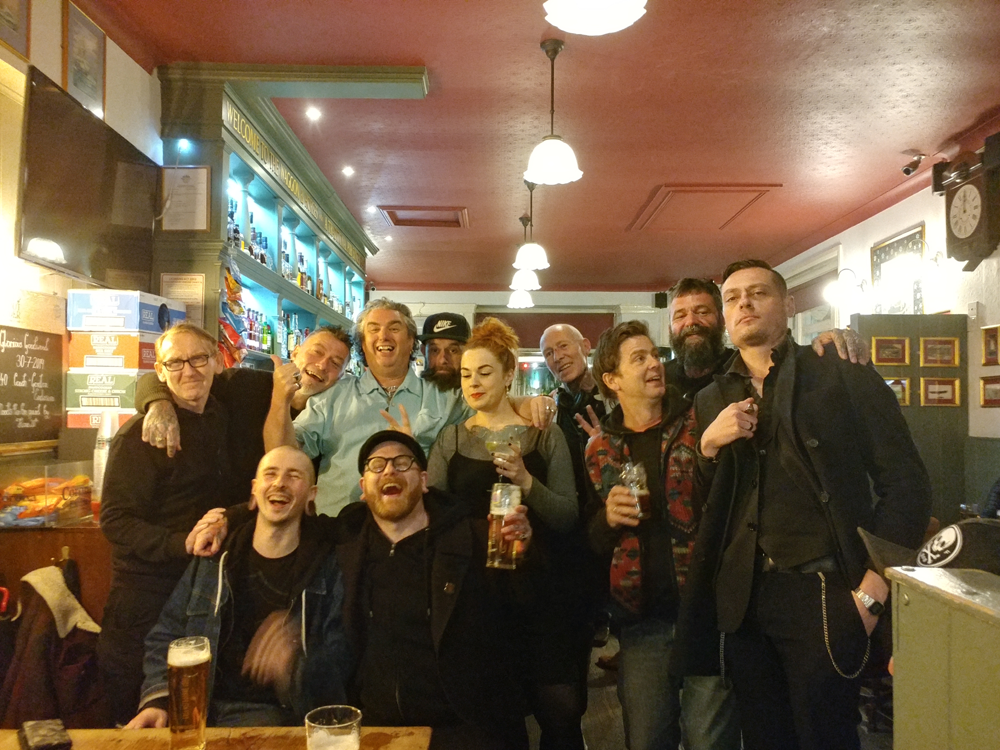 How many artists work at Blue Dragon – and what's their style / speciality / USPs?
Mick: We have Will Barbour Brown who has a new angle on Western traditional, with pop art and East Asian influences. Then Paolo Aiello who does realism, both black and grey and colour, then Liz Clements who does illustrative/neo-traditional – oh and also myself *laughs*. I tend to just do black and grey these days, but they are great all-rounders, which is a rarity.
How do the team each wind down at the end of a busy day tattooing?
Will: If it's not the pub with the rest of them then I'm heading home. Drawing, Netflix, and dumb video games.
Liz: I go to the gym.
Paolo: I like to relax with my sketch book and good food.
Mick: Pub *laughs*.
Your reviews are excellent – how does it feel to hear such great feedback from those you've served with such an important decision as creating a permanent part of their 'look' or 'person'?!
Mick: It really makes all the hard work worth it and shows we are doing the best for our customers, the shop has always gone from strength to strength in all aspects of the business.
What's your fave thing about being based in Brighton with the studio?
Mick: For me it`s been the journey, Brighton is such a different place to when I first arrived, and watching it change over the years has been great. We have been in the same road for 30 years, and I've seen it change from being surrounded by derelict buildings to a very desirable place to be. Great to be part of the North Laine area.
What's the most unusual tattoo you've been asked for?
Will: When it comes to tattooing these days, if you can think of it then it's been asked for. I tattooed a smiling pickled onion on someone a couple of days ago.
Liz: So many I can't just pick one.
Paolo: Probably the tattoo of Mount Rushmore on a customer's head.
Mick: Many, it depends what you think is unusual really. I once tattooed a realistic brain with "handle with care" on it because he was going to have brain surgery and wanted to remind the surgeon. I've seen him since so I guess it worked!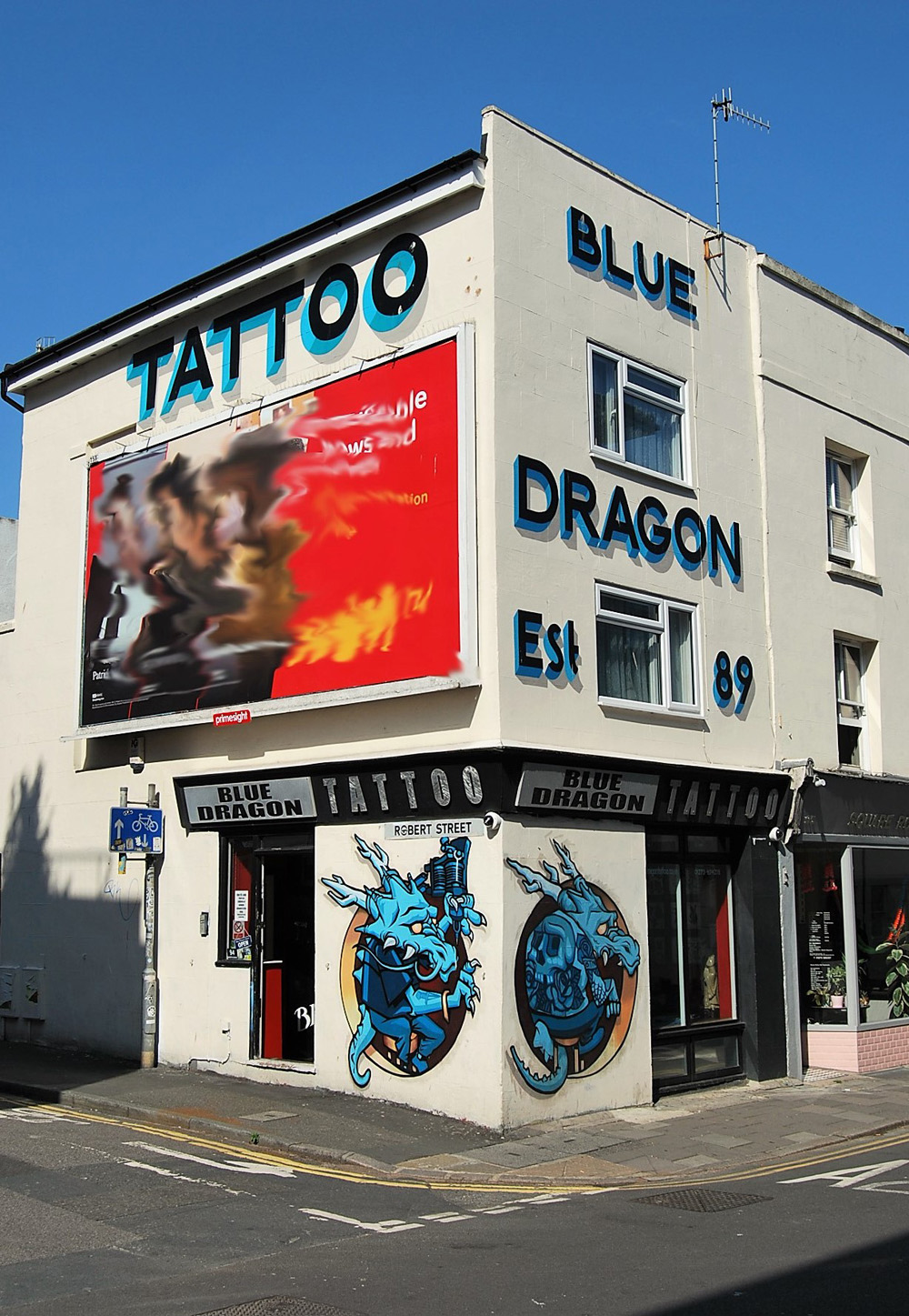 Have you done a tattoo for anyone famous?
Will: I've tattooed DanTDM before, and Emma Blackery has become quite a regular. Huge YouTube personalities and both super sound people.
Liz: Not so far.
Paolo: Natalia Starr
Mick: I wouldn't know if I had, *laughs*. Will tattooed someone with 4 million followers on YouTube. I didn't have a clue.
Have you ever had to say 'no sorry' to a tattoo?
Will: All the time. People have grand ideas for tattoos these days, which is great, but often not possible. Always better to be honest and do something that will stand the test of time.
Liz: Every day.
Paolo: Yes, quite a few times.
Mick: Many times, not all ideas make great tattoos!
What changes in the industry have you noticed in the last 30 years?
Mick: Wow! Where do I start? The main thing is tattooing going mainstream, once it became normal to everyday life it changed completely.
What do you think will happen in the next 30?
Mick: I`ll retire, haha
How will you celebrate the big 30 at Blue Dragon?
Mick: We had a party earlier in the year and I got together most of the tattooists who have worked at the Blue Dragon over the last 30 years, a great night with one person travelling from Australia to be there.
Who do you consider to be the 'No. 1' tattoo artist in the world?
Will: That's a tough question, like what's your favourite band? I see something new and exciting online every day by someone I've never heard of before. People are really pushing the boundaries with tattooing and it's a great inspiration to keep plugging away. I follow various types of artists. James Jean and David Choe have always been a driving force with me. I can't do what they do but they are just incredible machines.
Liz: Valerie Vargas
Paolo: Dmitriy Samohin
Mick: Too many to choose from, there are talented artists popping up all the time.
What advice would you give to someone considering their first ever tattoo?
Mick: Do your research about the artist you choose and the studio, make sure you're 100% certain with the design you want. There is so much information out there these days with social media the internet, it should be easy to find the artist that's right for you.
How do you think Brighton stacks up against other places in the UK for tattooing?
Will: There's no better place in England. This is where it's at.
Liz: So much choice there is an artist for everyone.
Paolo: I think Brighton is the most diverse place in the UK.
Mick: Brighton has a huge talent pool, there are some great artists here and that has been a great thing because it will always 'up' your game – and keeps everyone moving forward. I think it stands up to any town in the UK
How do you guide those having their first tattoo on their first visit?
Mick: Eat a hearty breakfast , don`t have a hangover and get a good night's sleep. Generally the better you are feeling and the more relaxed you are the easier the tattoo.
What have been some of the funniest moments during a tattoo?
Will: Paolo's music
Liz: Will's music.
Paolo: Someone farted.
Mick: Usually that would involve someone fainting, I had a guy pass out while I was dipping in the ink, I hadn`t even started the tattoo…
And your most memorable moment at Blue Dragon Tattoo in the last 30 years?
Will: I started out at the Blue Dragon so there's a lot. I guess it would be my first tattoo, a small cherry blossom on myself, the boss man and everyone sitting around watching me and guiding me. My life majorly changed that day. Liz: Meeting all the old Blue Dragon tattooist at the 30th celebration party.
Paolo: My 1st day at the studio.
Mick: Making it to 30 years, for any business it's a huge achievement
Which three words best describe each member of your lovely team 🙂
Will: Passionate, talented and funny. All of them. We laugh a lot at Blue Dragon.
Liz: Shit music tastes (this includes myself).
Paolo: Talented Mother Fu*kers
Mick: Will – Charlie big bananas, Paolo – pizza eating vampire, Liz – colourful leopard queen. They are all talented, dedicated and focused.
Bonus Questions:
What's each of your fave place to eat in Brighton?
Will: Goemon – incredible ramen that will leave you fat 'n' happy.
Liz: Franco's Osteria in Hove
Paolo: Fatto A Mano
Mick: Archipelagos and Burger Brothers
What was the last great track you listened to?
Will: "For The Damaged" by Blonde Redhead
Liz: "Billion Dollar Baby" by Alice Cooper
Paolo: "Bohemian Rhapsody" by Queen
Mick: "Velouria" by Pixies
What are you looking forward to this year?
Mick: I have a few of my paintings that will be at the 'Icons of Music' group exhibition, The Dynamite gallery, Trafalgar street 1st Nov – 1st Dec.

MORE INFO:
Check out Blue Dragon Tattoo, a Brighton institution – and find out more about the team and their work at: Bluedragontattoo.co.uk
Where to find them:
Blue Dragon Tattoo
94 North Road
Brighton BN1 1YE

Call them for info: 01273 624278
Follow them on:
www.facebook.com/bluedragontattoostudiobrighton
www.twitter.com/BlueDragonBN1
www.instagram.com/bluedragontattoobrighton
ARTWORK:
WILL: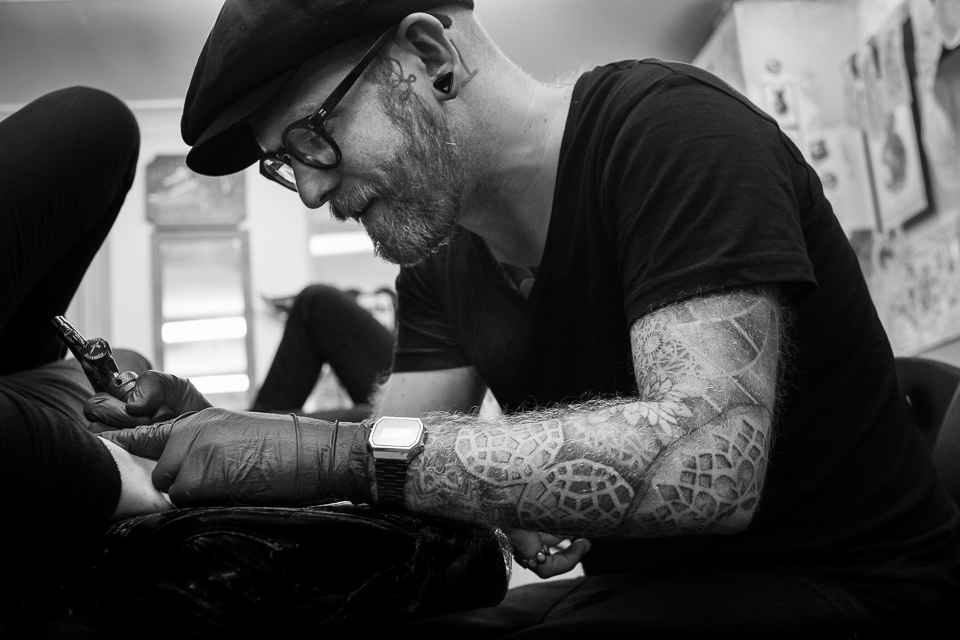 Will's work:
LIZ: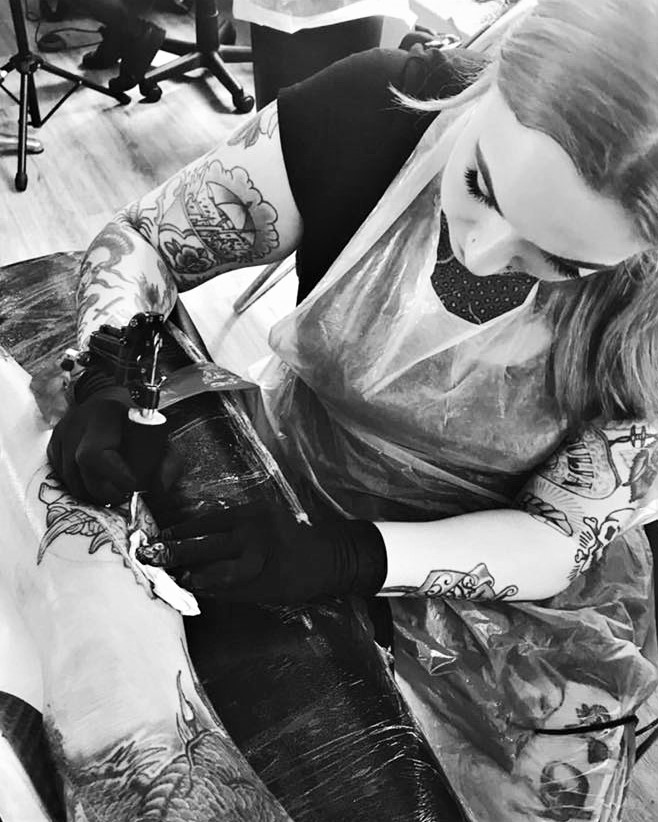 Liz's Work:
PAULO: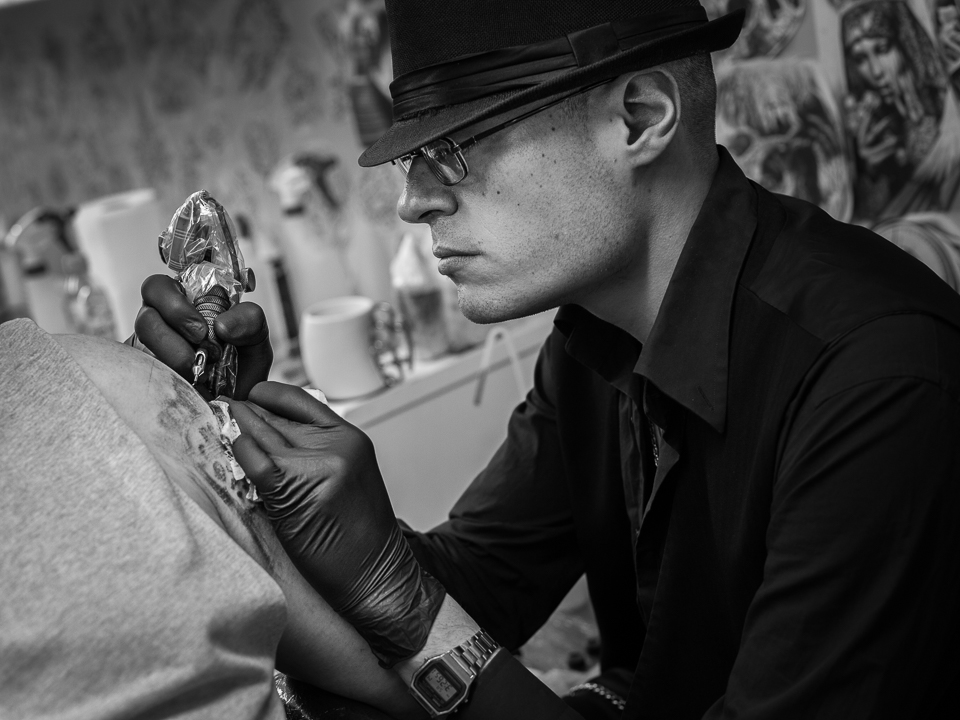 Paulo's Work:
MICK: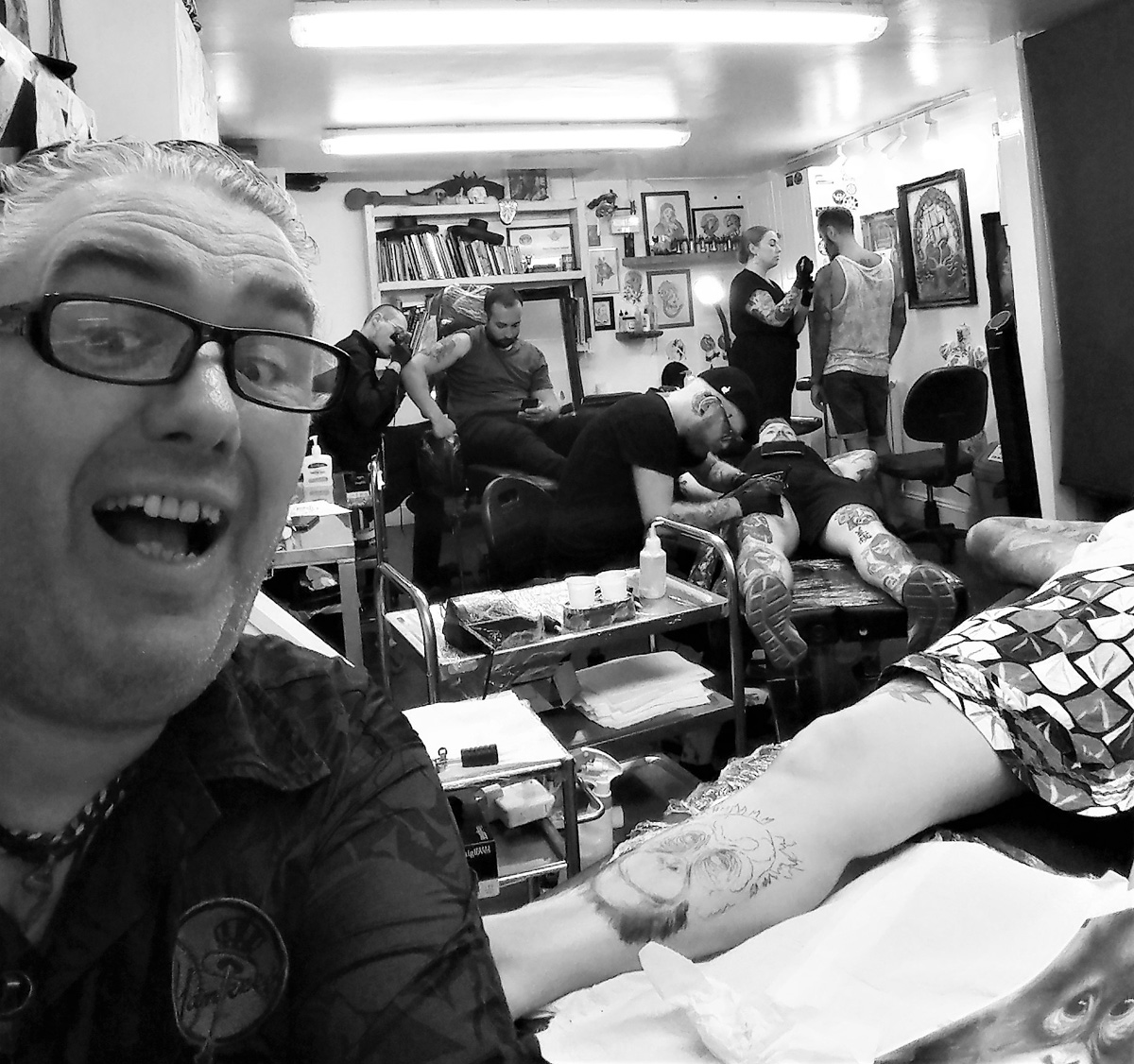 Mick's Work:
HAVE A LISTEN TO THOSE GREAT TRACKS:
Will's track:
Liz' track:
Paolo's track:
Mick's track: